UFC Megastar Conor McGregor didn't have a great 2021 for having back-to-back losses, the second loss probably being the most frustrating one of his fighting career. McGregor, the former two-division champion of the UFC was last seen at UFC 264 against Dustin Poirier where he lost the fight due to doctor stoppage after the first round when McGregor suddenly broke his shin bone in the final seconds of the round.
With how things turned out in the trilogy, it was assumed that McGregor may most likely bring something to fruition that has never been happened before in the UFC, a fourth fight with the same opponent, for McGregor, is Poirier. To a relative extent, fans and personalities around the world believe that this can happen. But how things went on in the lightweight and welterweight division and with McGregor's constant Twitter wars against many big names, we put on the top 5 UFC fights for "The Notorious" in 2022.
#5 CONOR MCGREGOR VS JUSTIN GAETHJE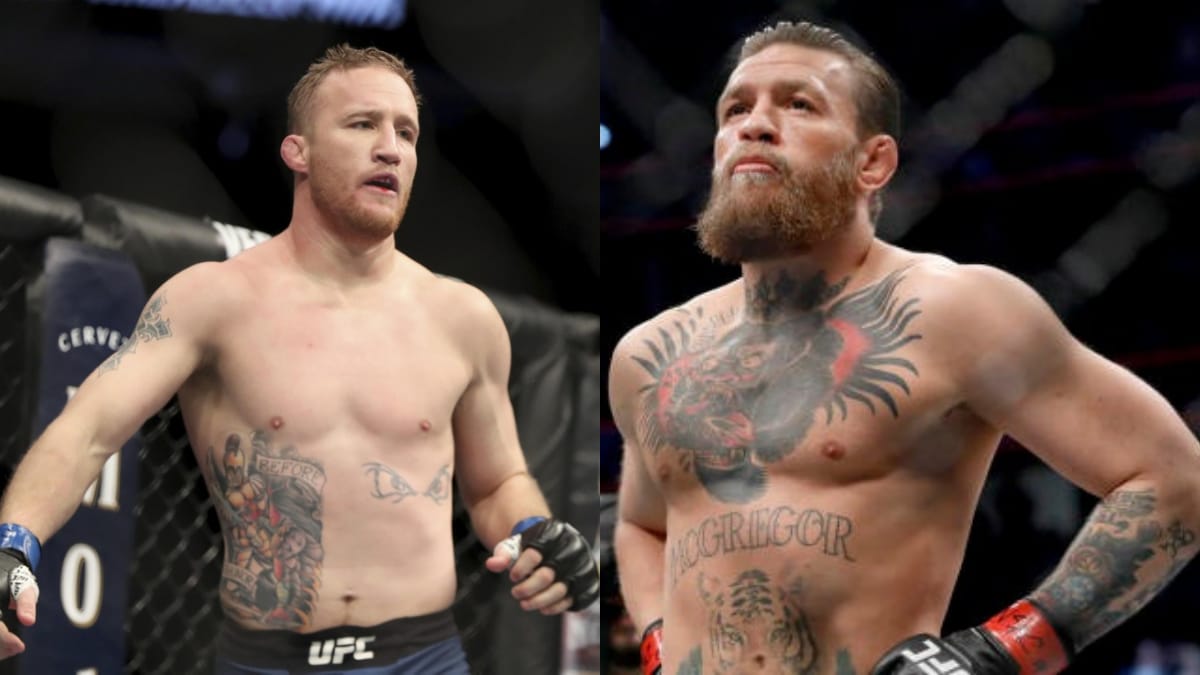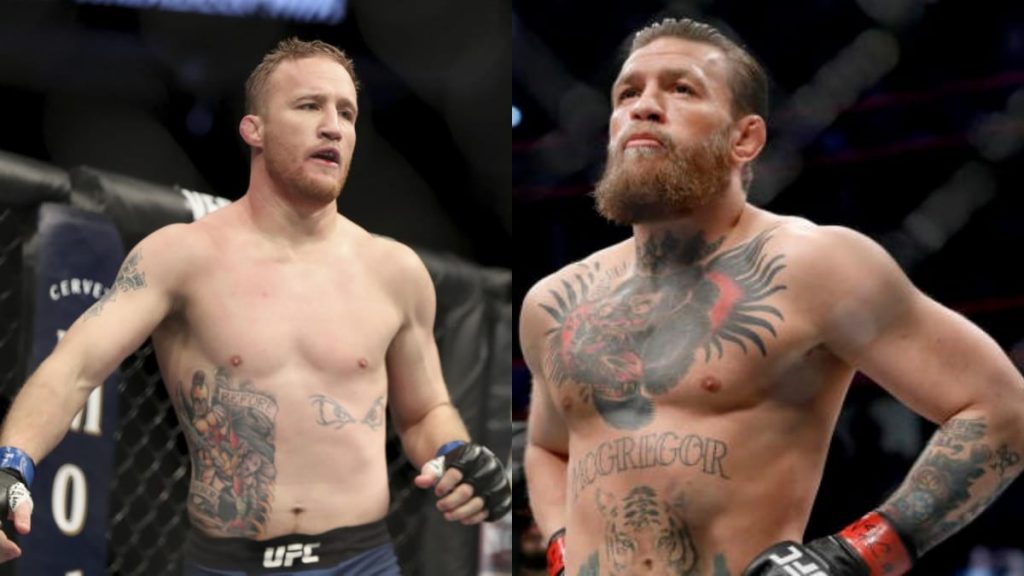 UFC Lightweight Justin Gaethje had just one fight and 2021 is already his year. Gaethje returned after a year-plus layoff at UFC 268 against Michael Chandler who already had 2 fights in 2021, including the one with a title shot, while the former was going into his first fight of the year. Other than the first round, Gaethje edged Chandler for the rest of a couple of rounds and put on a definite fight of the year candidate. With that said, the majority consensus amongst fans and pros around the world agree to Gaethje getting the title shot now against the defending champion Charles Oliveira.
Recently, Gaethje said that he will lose his mind if McGregor returns in 2022 only to take over his place to get the next title shot at the lightweight title. If that happens, Gaethje's animosity against not only the UFC but McGregor will exponentially increase, calling in for a fight filled with bad blood. The fight in itself will be a test to both the strikers offered against each other on their fighting styles. Gaethje likes to set up powerful overhands, and McGregor always keeps his powerful left hand in store for reacting to an opponent's mistake.
#4 CONOR MCGREGOR VS MICHAEL CHANDLER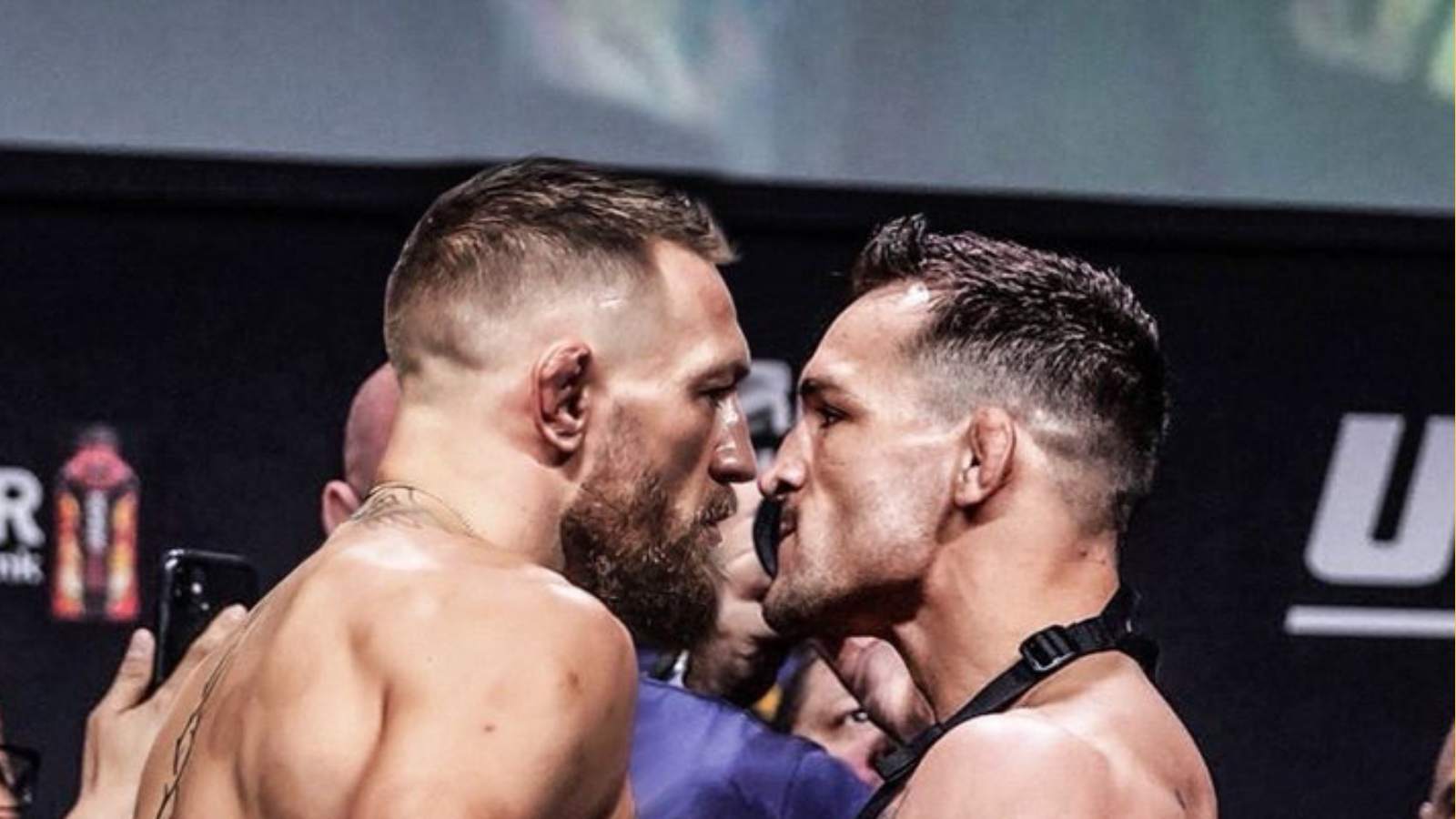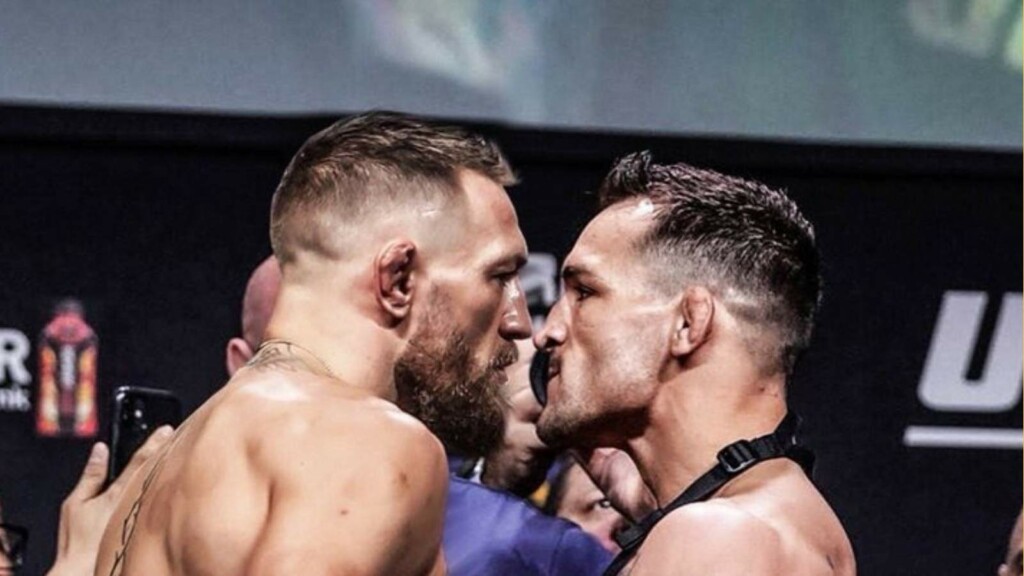 When UFC Lightweight Michael Chandler said "I'm not here for a long time, I'm here for a good time," he meant it high time. Chandler had his UFC debut with a spectacular knockout victory over Dan Hooker at UFC 257, went to almost winning the UFC Lightweight Championship at UFC 262 if it wasn't for the perfect hook from Charles Oliveira that eventually led to a TKO loss, and had his final fight of 2021 as the fight of the year against Justin Gaethje.
Right after his fight of the year with Gaethje at UFC 268, Chandler cut out a potential promo with a tweet that said "2022" and had a photoshopped picture of him facing Conor McGregor. This is the fight Chandler wants not out of the enormous money aspect that is naturally attached to McGregor's name, but for having his legacy intersected with McGregor, by having about for the ages in Chandler's vision. McGregor and Chandler would be all about not distracting from the fight even for a bit because all it will take will be just one punch for both to put on a cold knockout over each other.
#3 CONOR MCGREGOR VS DUSTIN POIRIER 4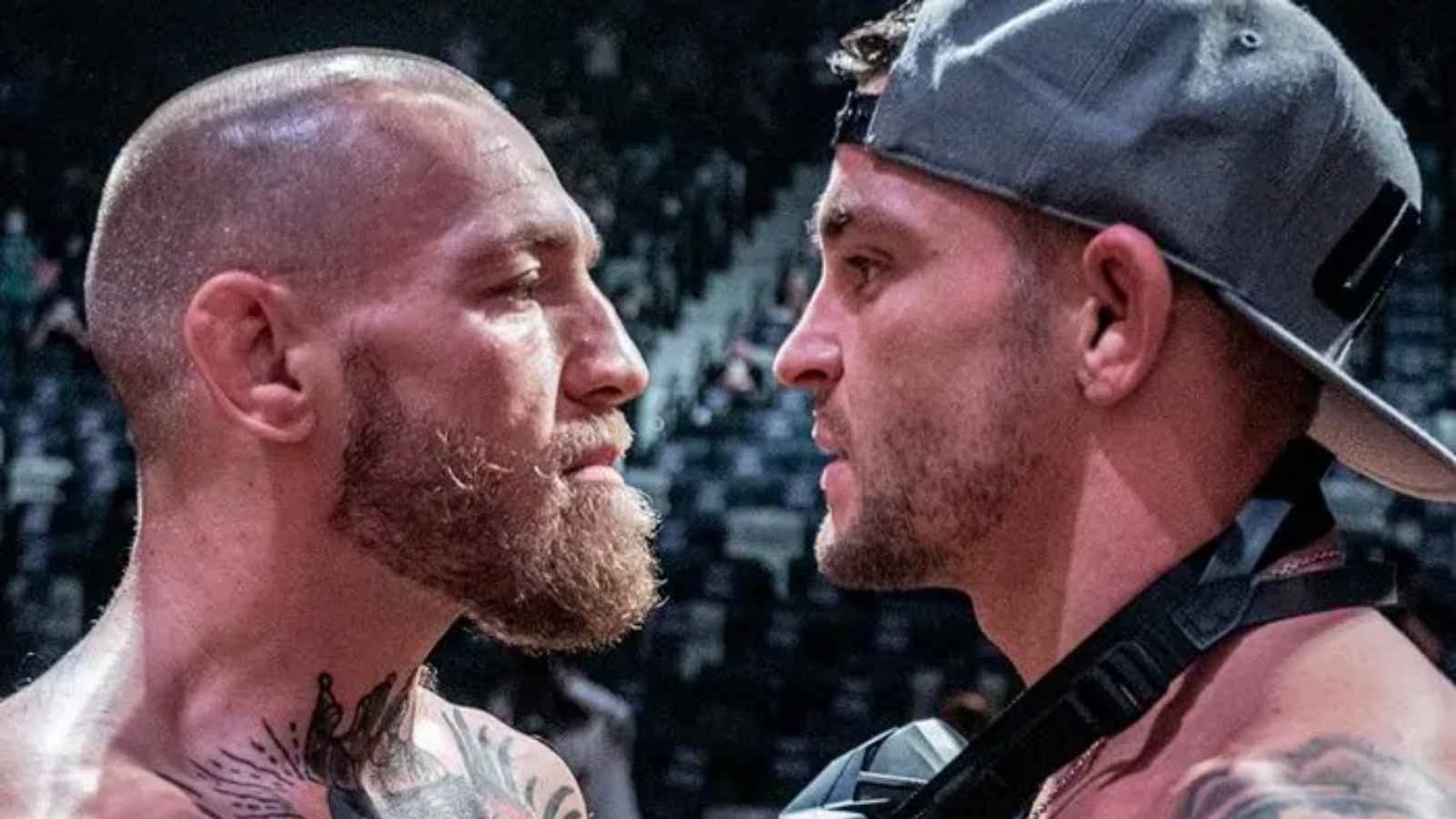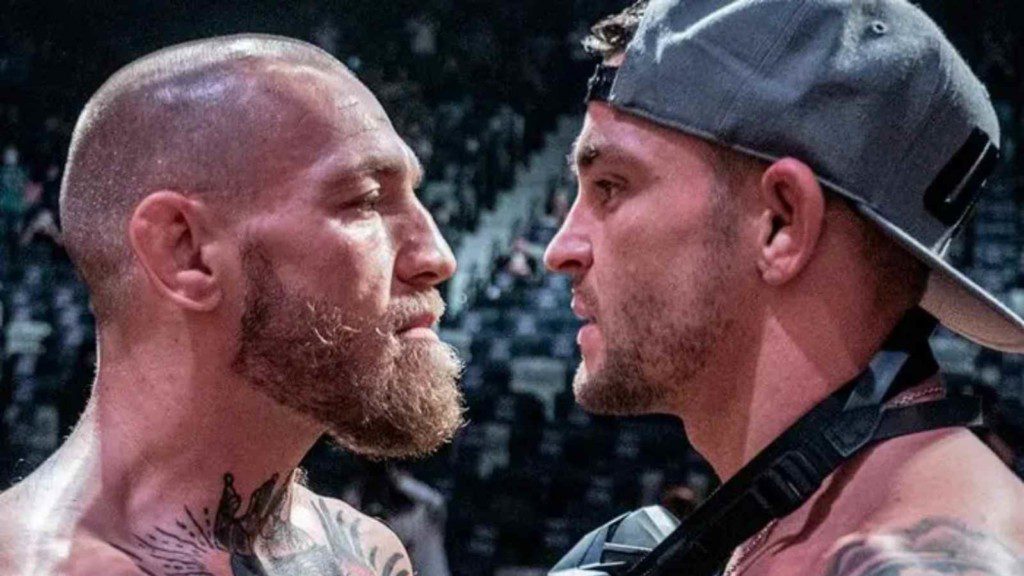 If the fans around the world ever have to see two fighters fight each other for the fourth straight time, then why not McGregor and Poirier. Earlier it was thought that had Poirier won the UFC Lightweight Championship by defeating Charles Oliveira, it would be non-sensical for McGregor to get back straight against a title shot. But in the world of craziest sports to ever exist, MMA tops that list. To the world's surprise, champion Charles Oliveira defeated Poirier in the latter's second title shot at UFC 269.
The result of Poirier's last fight at UFC 269 somehow automatically increases the possibility of the fourth fight between him and McGregor, considering the fact no matter how less he speaks of Poirier now, he simply cannot get over the frustrating ending to UFC 264 in his trilogy with Poirier. We still need answers to who is the better boxer but in the game of every martial art, it's hard to find that answer, maybe the fourth fight can!
#2 CONOR MCGREGOR VS JORGE MASVIDAL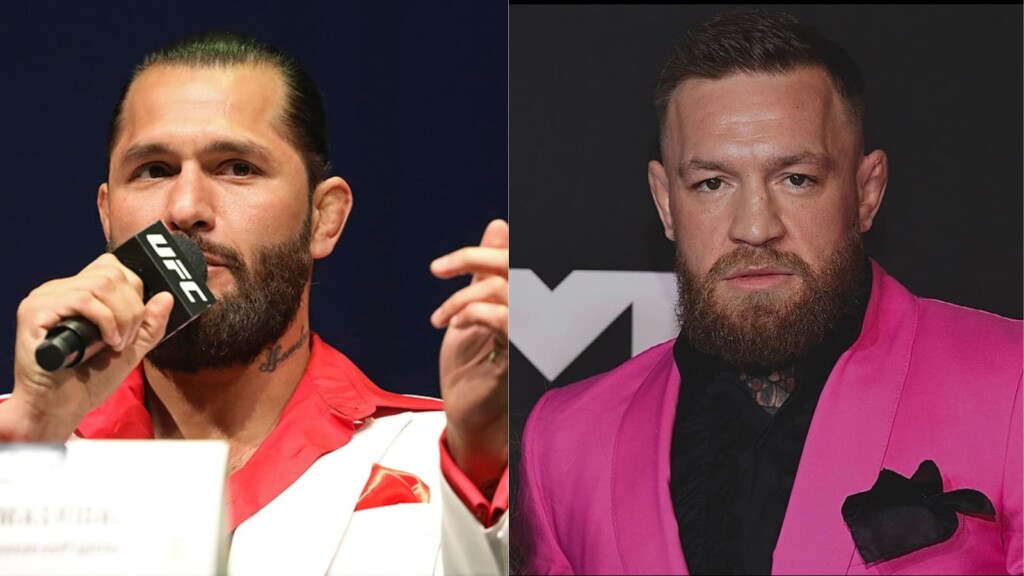 In a quite unexpected turn of events, UFC Welterweight Jorge Masvidal and McGregor had more back-and-forth on Twitter than most of the UFC fighters, other than #1 potential opponent for McGregor's 2022 in this list. This can be valued as a build-up for McGregor's fight in 2022, for this is just not any other potential opponent in front of him, Masvidal in his own right is a megastar of this sport as well. Although he lost his last fight in a title shot against Kamaru Usman at UFC 261, Masvidal still has the potential to deal through any fight he wants in the UFC.
The fighting styles of both the fighters are completely different despite both having their grounds of expertise on striking. Masvidal usually likes to throw the first shot but he is such an amazing deception artist that you will never know the strike he will knock you out with, whereas McGregor is an extremely good reader of his opponents striking patterns and will not let you know your mistakes until he knocks you out with a counter left.
#1 CONOR MCGREGOR VS NATE DIAZ 3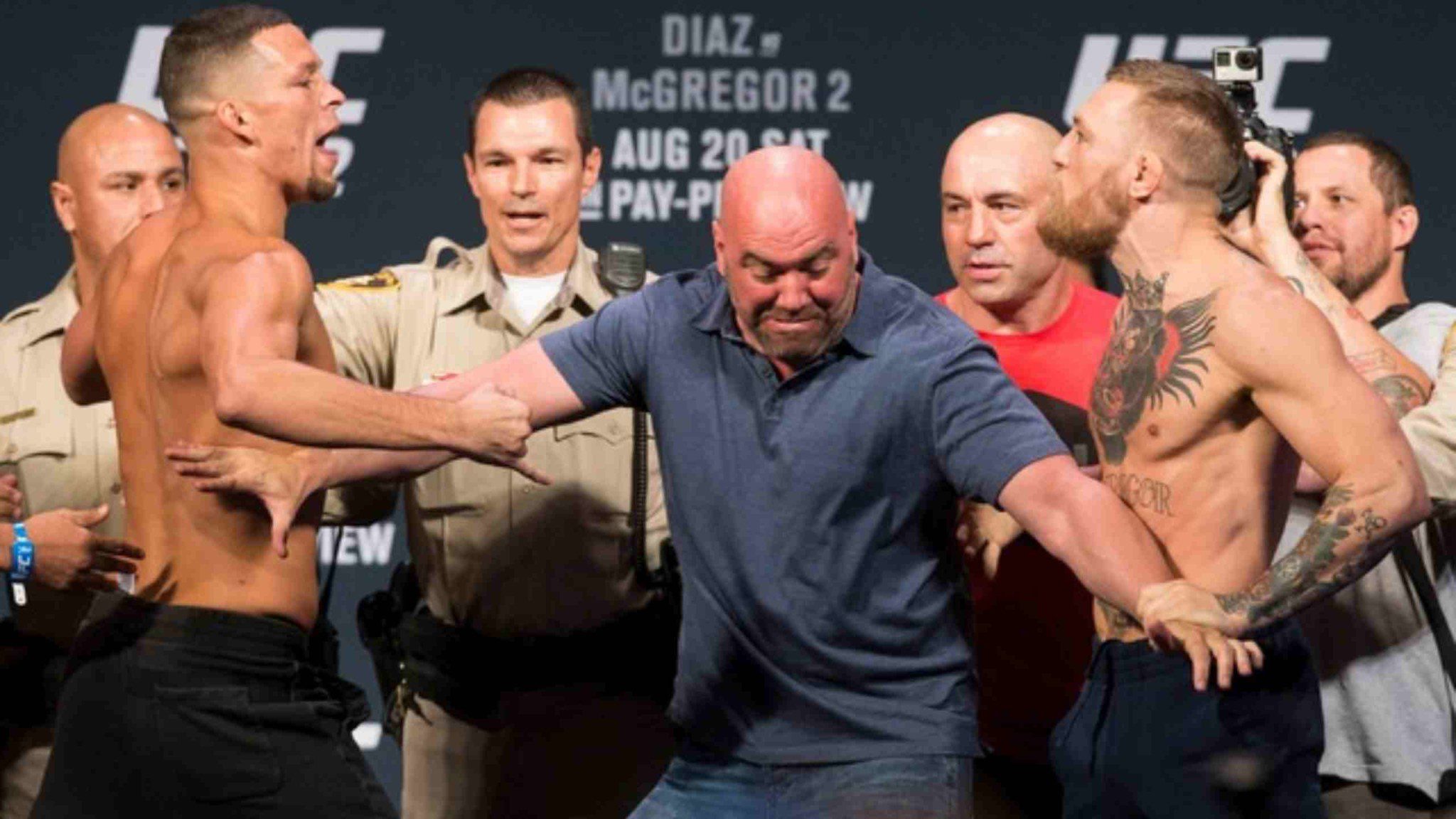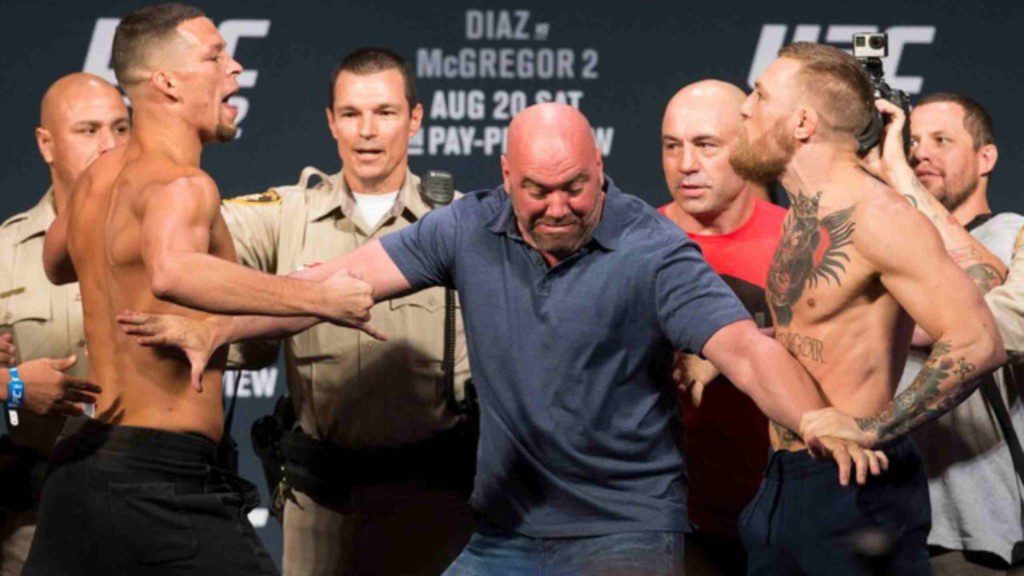 The first two fights between both these top of charts megastars were so big that they elevated the benchmark of average views on Pay-Per-Views forever. Conor McGregor and Nate Diaz run one of the biggest rivalries in this sport, and probably a perfect one for the reason they both know they hype the trash-talking over each other for business.
Not only the fight needs to happen for the sake of completing a typical rival story with the ending of a trilogy, but Diaz has been quite circling around the MMA-boxing scenes lately and therefore it cannot be assumed if he is still willing to fight for UFC or is just fighting out of his contracts now. This fight, therefore, needs to happen as soon as possible before the UFC realises they lost the opportunity of doing an evergreen main event.
Again, 2 different strikers, both different styles. But Diaz is a more complete mixed martial artist for he has submitted McGregor in the past to prove that if the fight goes to the ground, it's the former's doom made for the latter. Other than that, while Diaz is a volume heavy boxer and will probably take you out with his pace, McGregor is a one-punch knockout artist!
Also Read: McGregor vs Poirier to Covington vs Usman: Top 10 most epic UFC PPVs of 2021