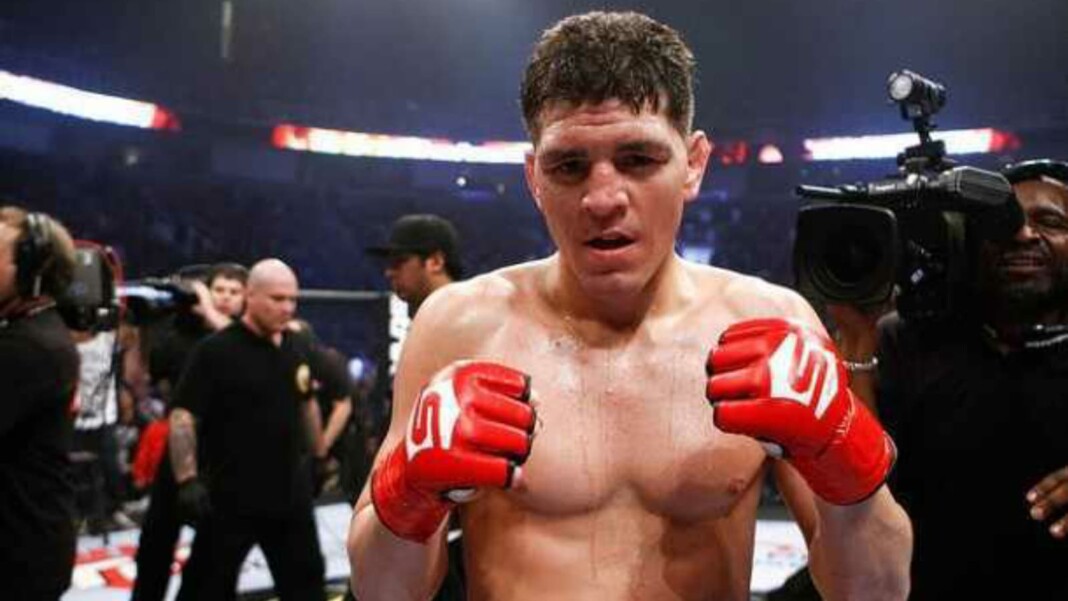 Top fights of Nick Diaz: Nick Diaz is as tough as people come. 'El Diablo' has been a part of umpteen dog fights, and will be soon making his Octagon return after almost 7 years. His last fight was at UFC 183 in January 2015, against Anderson Silva, following which he was banned due to marijuana use. At UFC 266, Diaz will be taking on Robbie Lawler in a rematch, 17 years in the making.
Here are some of the top fights of Nick Diaz you must know.
Top Fights of Nick Diaz #3 – Nick Diaz vs Marius Zaromskis
An instant Nick Diaz classic. On the 30th of January, 2010, Diaz took on Marius Zaromskis at Strikeforce: Miami for the inaugural Strikeforce Welterweight Championship. The Stockton native was on a five-fight winning streak, while the Lithuanian was unbeaten in his last (then) five fights as well.
No sooner did the bell ring, than Zaromskis came out as the aggressor. However, Diaz gained the upper hand within a few seconds. The big moment in the fight came when Zaromskis knocked down 'Diablo.' Diaz weathered the storm as Zaromskis failed to land the killer blow.
Getting back to their feet, Diaz was more aggressive this time, with a longer reach, he was easily able to tag Zaromskis. However, the Lithuanian kept eating the barrage of strikes Diaz was throwing at him. And he did throw a few of his own as well. In the last 30 seconds of the first round, Diaz landed a short, killer right hook on an already groggy Zaromskis to get the job done. He also won the Strikeforce Welterweight Championship.
Top Fights of Nick Diaz #2 – Nick Diaz vs BJ Penn
Almost 5 years of being away from the UFC, Nick Diaz returned to the promotion on the 29th of October 2011 to face the experienced BJ Penn at UFC 137. Diaz was coming off three successful title defenses at Strikeforce after he had won the same against Marius Zaromskis.
BJ Penn was coming into the fight, undefeated in his last two. The first was a massive KO win over Matt Hughes at UFC 123, and the next a majority draw against Jon Fitch at UFC 127. It was time for the welterweight title eliminator against Diaz.
Diaz and Penn put on a fight for the ages, going back and forth for the entirety of the fight. While Penn was able to land 76 strikes, Diaz outstruck him by a country mile, landing 239 strikes. However, it was Penn's toughness that kept him going.'Diablo' earned the win via unanimous decision. Another point to be noted is that, Penn never got a win after his loss against Diaz – he went on to lose his next 6 fights, before announcing his retirement.
Top Fights of Nick Diaz #1 – Nick Diaz vs Robbie Lawler
Probably the fight that made Nick Diaz. It was April 2004, Diaz was set to take on the largely-feared killing machine Robbie Lawler at UFC 47. Lawler had been knocking out opponents for fun, back then. But, he was coming off a unanimous decision win over Chris Lytle at UFC 45. Diaz, meanwhile, had beaten, Jeremy Jackson via submission at UFC 44.
The then-20-year old Diaz began the fight with his trademark taunt, and began landing the cleaner strikes. Hardly a minute into the first round, Diaz clipped Lawler with a strong right hand. However, 'Ruthless' bounced back with his aggressive approach. After several back and forths, Diaz rocked Lawler once again with a massive left hook. But, Lawler somehow stood on his feet.
A while later, he began landing the cleaner strikes. Although, he wasn't able to inflict as much damage as Diaz did to him, he did catch the older Diaz with some aggressive punches. The wild round ended.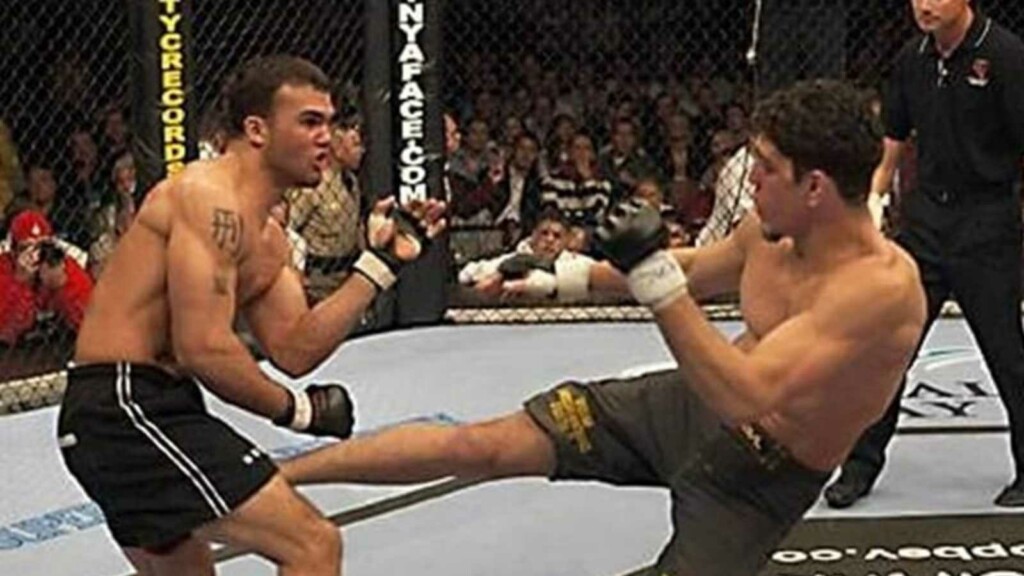 In the second round, Lawler came out wildly and accurately swinging. He hurt Diaz with a couple of combos. Just as he began regaining control in the fight, Diaz knocked him out with a short clean right hand, dropping Lawler like a fly. 'Ruthless' tried to get back to his feet, but his wobbly legs just didn't allow him.
Also Read: Everything you need to know about the Bellator 266 judging controversy – Phil Davis vs Yoel Romero
Also Read: Who was Heather Ceballos? Here's everything you need to know about the deceased UFC employee