Tyron Woodley has got himself the 'I Love Jake Paul tattoo.' The former UFC welterweight champion took on Paul in an eight-round professional boxing match at the Rocket Mortgage FieldHouse on the 29th of August. The fight went the distance and Paul ended up winning the fight via. split decision.
Tyron Woodley felt that he deserved a rematch, and called out Jake Paul for a rematch at the post-fight interview, in the presence Jake, his brother Logan Paul, and crew. The brothers who were initially reluctant, then came up with a plan. Jake wanted Woodley to get a tattoo that read – 'I Love Jake Paul', for him to agree to a rematch.
And now, Woodley has got himself the 'I Love Jake Paul tattoo in what looks like his middle finger. He took to Instagram to share the same and callout Paul, determined to hand him an 'a** whipping." He also gave credits to the tattoo artist who inked him.
"I love you son" – Tyron Woodley to Jake Paul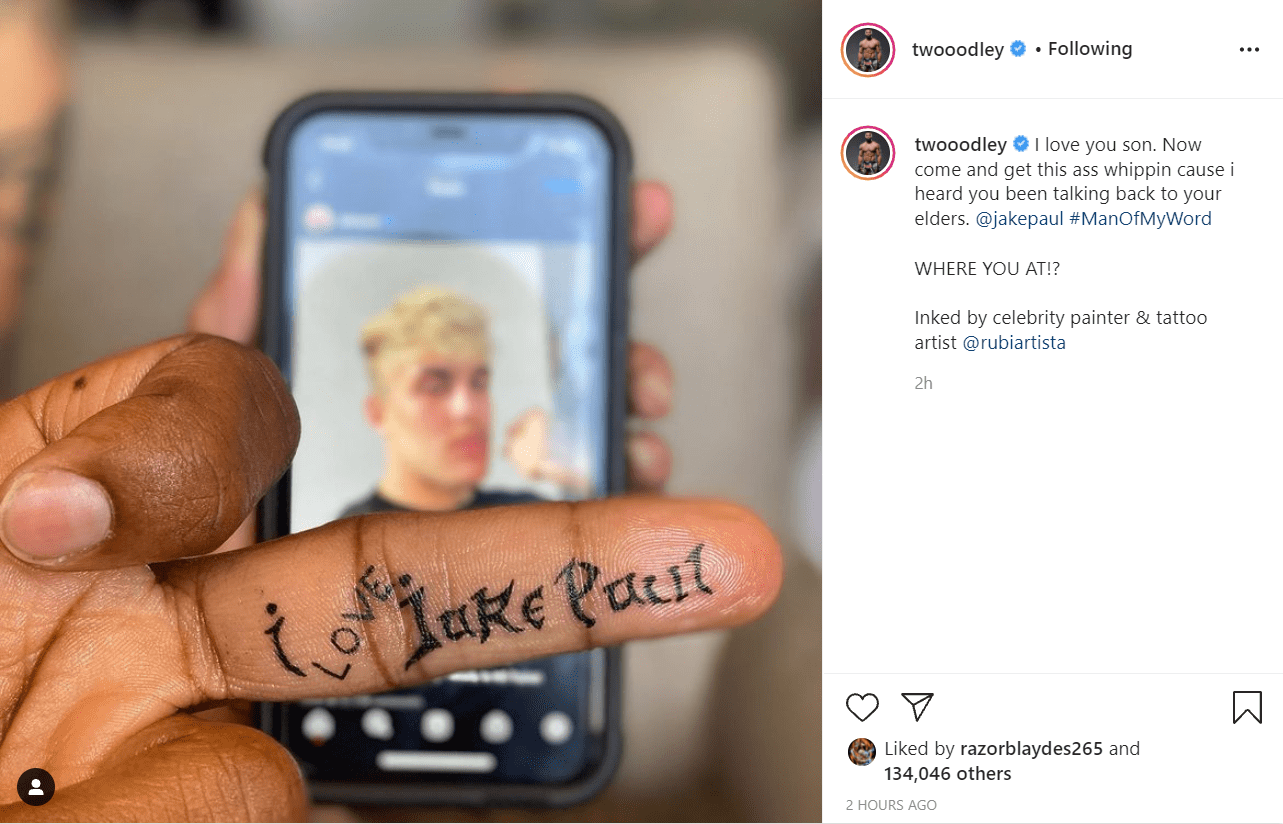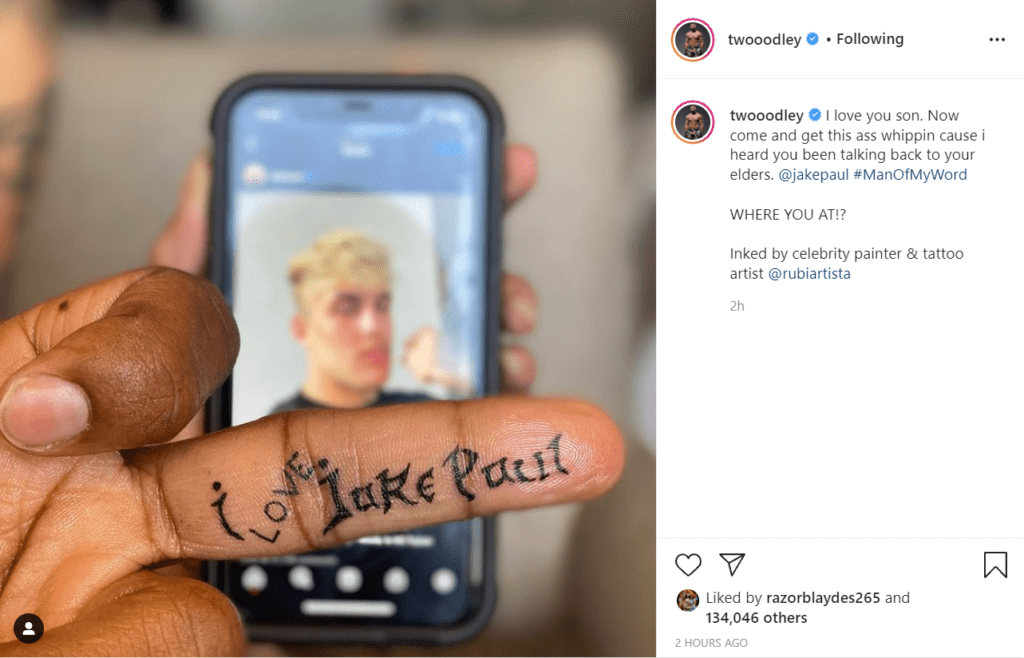 Woodley's post on Instagram read, "I love you son. Now come and get this ass whippin cause i heard you been talking back to your elders. @jakepaul#ManOfMyWord WHERE YOU AT!? Inked by celebrity painter & tattoo artist @rubiartista."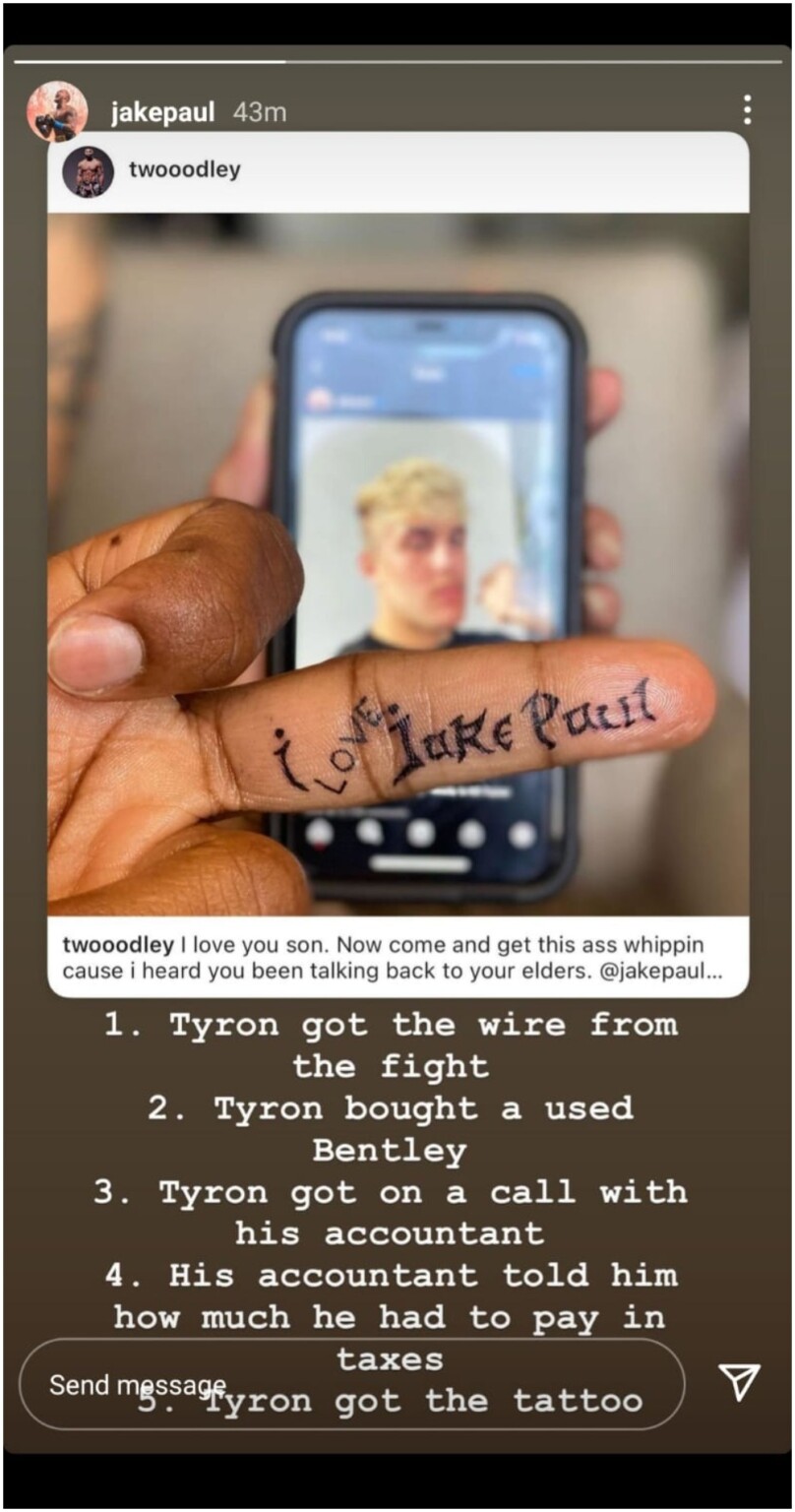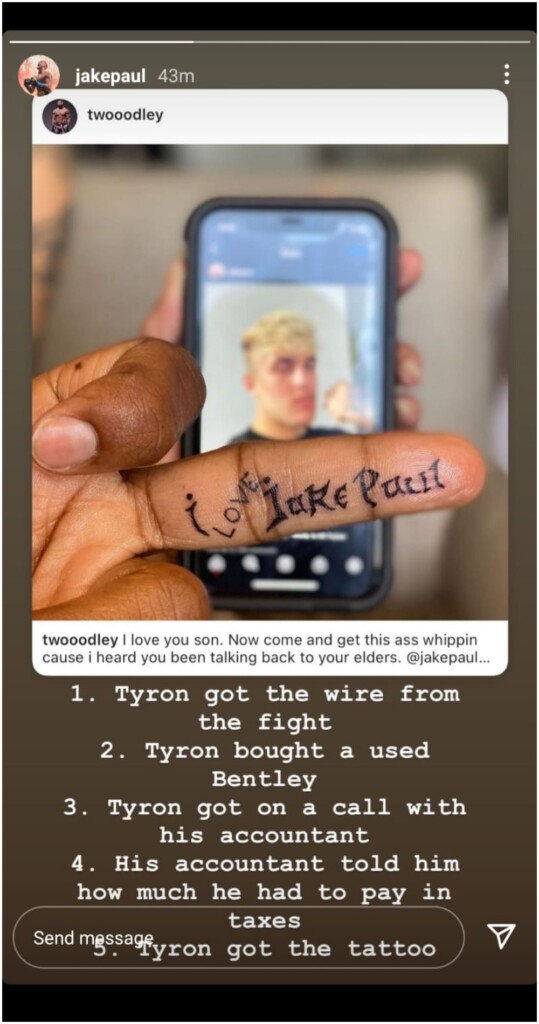 Paul took to Instagram to hilariously sharing his take on what lead Woodley to get the tattoo.
All the while, Paul had been flirting with the possibility of fighting Tyson Fury's half-brother Tommy Fury. The pair even had an altercation following Paul's win over Woodley. Now, that Woodley has got himself the tattoo Paul wanted him to get, a rematch between the two looks very much possible.
Paul will be looking forward to keeping his winning momentum going. He is currently 4-0 up in his professional boxing career. Although, he is yet to face a real boxer, the level of difficulty of his opponent has been gradually increasing, starting from YouTuber AnesonGib to Woodley, last.
Also Read: Jon Jones arrested and charged with battery domestic violence
Also Read: Is Anthony Joshua the tallest boxer in the heavyweight division?