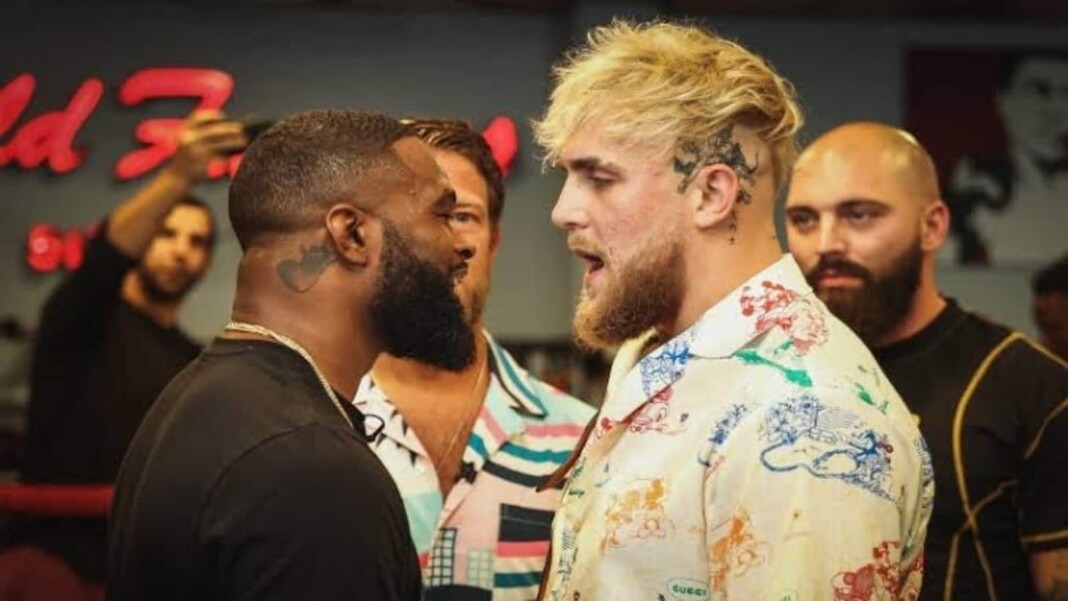 Jake Paul vs Tyron Woodley will be taking place on the 29th of August at the Rocket Mortgage FieldHouse in Cleveland Ohio. The fight will be an eight-round pro-boxing bout in the cruiserweight division. The contest marks the pro-boxing debut of Tyron Woodley who was recently released from the UFC.
Jake Paul, on the other hand, is currently 3-0 in his pro-boxing career, after beating YouTuber AnesonGib, Basketballer Nate Robinson, and UFC fighter Ben Askren, in his first three fights. 'The Problem Child' knocked out all the three opponents without any effort, and has planned to do the same to Woodley as well.
'Jake Paul and Tyron Woodley just made a bet'
The pre-fight press conference between Tyron Woodley and Jake Paul just concluded in Los Angeles. There was a bit of trash-talking from the pair, although both the fighters didn't go overboard. During the presser, Paul made a bet that the loser must get the name of the winner tattooed on their body. Woodley wasn't amused with the deal, but agreed seconds later.
The offer was met with cheers from those in attendance. Paul will be hoping to make a mark as the Rocket Mortgage FieldHouse which is home to the Cleveland Cavaliers is in Paul's hometown (Cleveland, Ohio).
Tyron Woodley vows to provide violence and damage!
In a recent interview with MMA Fighting, Tyron Woodley had nothing but violent intentions for Jake Paul. He stated that winning alone wouldn't curb his hunger, and hence vowed to bring violence and damage.
Woodley was quoted as saying, "From now on, there's no point of me going out there and just winning any more. My whole goal is to go out there and f*cking provide violence and damage and win in a fashion where it looks like me and then everybody else."
Also Read: Watch video: Conor McGregor breaks his ankle against Dustin Poirier at UFC 264
Also Read: UFC 264 (main event): Dustin Poirier beats Conor McGregor as 'The Irishman' breaks his leg; doctor stoppage victory