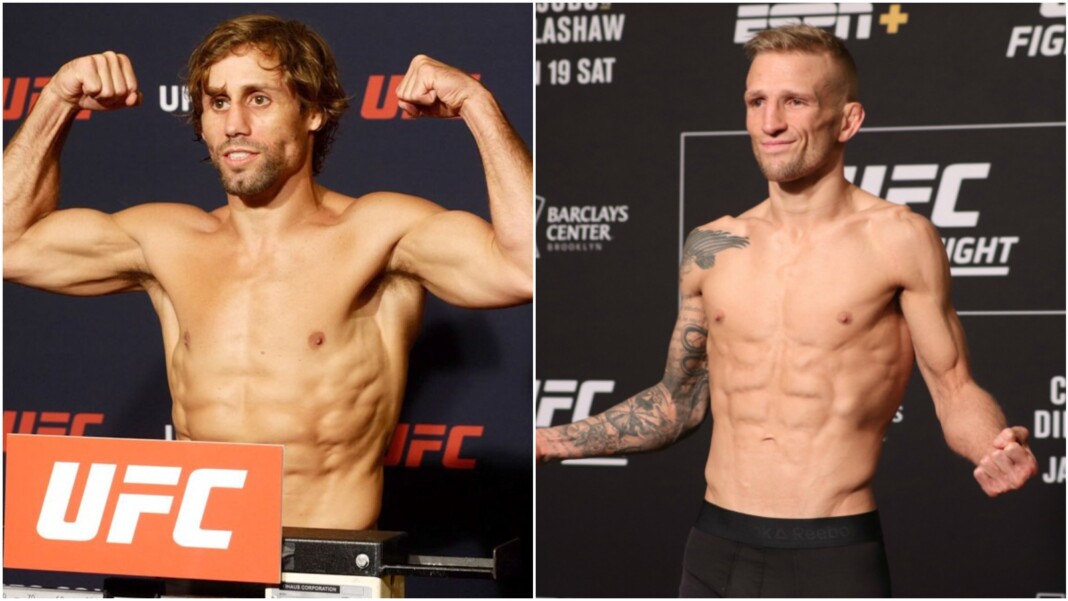 Urijah Faber and TJ Dillashaw were pretty close when Dillashaw was a part of Team Alpha Male from the year 2009-2015. The gym founded by Urijah Faber has produced a number of champions over the years. The UFC bantamweights are now veterans of the sport, and are probably in the twilight phase of their career, especially Faber.
In a recent interview with Submission Radio, Urijah Faber discussed the possibility of fighting with TJ Dillashaw. He then revealed that he had learned through UFC Match Maker Sean Shelby, Dillashaw and his team weren't interested in a fight with Faber. Probably because they were all part of the same team?
"They said they couldn't do that, blah, blah, blah" – Urijah Faber
Faber was quoted as saying, "Sean Shelby was asking, hey, when are you gonna fight T.J. And [Sean Shelby] said, oh, it sounds like his camp isn't interested in that fight. And I'm like, okay. And then I talked to Tiki who manages T.J., and he told me kind of behind the scenes that they'd offered him something, but then kind of said they couldn't do that, blah, blah, blah."
TJ Dillashaw, recently returned to the UFC after two and a half years of absence due to a drug ban. He beat the dangerous Cory Sandhagen via. a narrow split decision to get back into the mix. The former two-time bantamweight champion believes that he still has a lot to offer.
As for Faber, he last faced Petr Yan at UFC 245 and was demolished by a head kick from the Russian. He is currently 42 years old, and is entering the last phase of his career. He has not ruled out a return to the Octagon.
Also Read: Zhao Shuai Net Worth: Know all about The Chinese Taekwondo practitioner, Bio, Career achievements, Coach, Parents, and more
Also Read: Jang Jun Net Worth: Know all about The South Korean taekwondo practitioner, Bio, Career achievements, Coach, Parents, and more