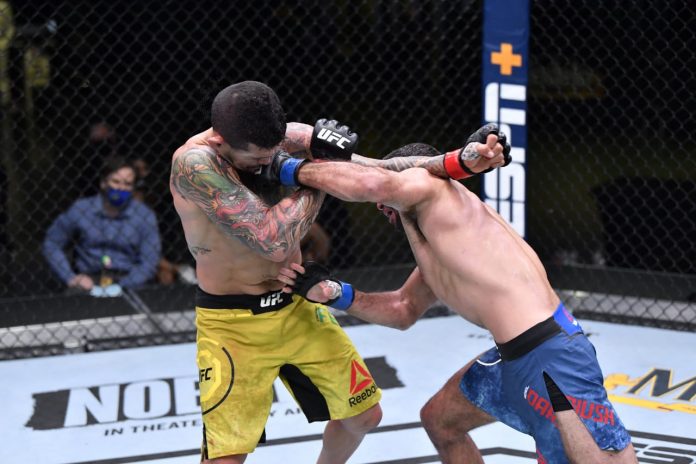 In the lightweight contest of UFC Vegas 18's main card, Beneil Dariush and Diego Ferreira entered the Octagon against each other. Both of them faced each other in 2014 and Dariush won that match. In the rematch Beneil Dariush took his score to 2-0 in the rivalry.
Round 1: Dariush started the round with a knee strike to the body of Ferreira. Both of them started the round slow and Ferreira landed a knee of his own. Dariush immediately changed the levels and attempted a takedown. Ferreira is dangerously in the clinch trying to scramble.
Both of them get up after landing some shots and Ferreira attacks the right leg and Dariush spins it through and Ferreira defends well. Ferreira lands a big front kick as the round ends.
Round 2: Ferreira and Dariush started the round by trading some shots in the beginning. Dariush lands a nice kick to the body. Both men cracking and Dariush again changed the levels. Ferreira's corner asks him to scramble and Dariush is controlling him.
Dariush tries to close his range but Ferreira strikes from the ground and Dariush changed levels again. Dariush stands and drives past and dives in with a big left hand. The round ends.
Diego Ferreira seems to have no answer for Dariush's ground control
Round 3: Ferreira looks to score a knockout in this round and Dariush defended his early shots very nicely. Defending these shots he lands some crisp left hands. Dariush again looks for a takedown and Ferreira defended it well. Less than two minutes and Dariush again attempts a takedown. They grind until the end and the fight ends.
Result: Beneil Dariush def Diego Ferreira via split decision (28-29, 29-28 , 29-28)
Also Read: UFC Vegas 18: Danilo Marques defeated Mike Rodriguez via rear-naked choke