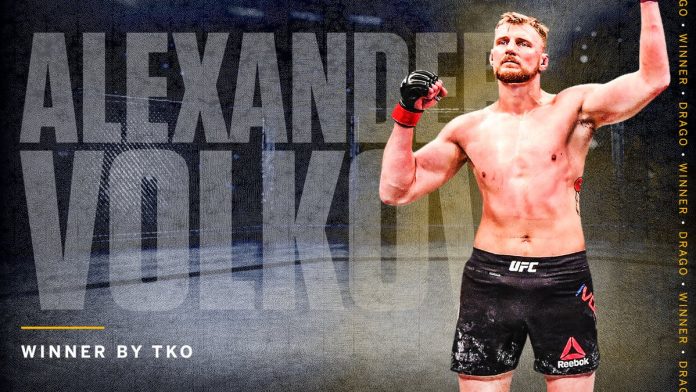 One of the most decorated UFC Heavyweight fighter Alistair Overeem stepped inside the octagon against Alexander Volkov in the main event of UFC Vegas 18.
Round 1: Volkov started the round with an early low kick and Overeem rattled a bit and covers his head for incoming shots. Volkov holding the center and looked to move forward. The front kick from Volkov caught by Overeem and he fires a right hand. Volkov attempted a takedown and pushes Overeem into the canvas.
Low kicks from Volkov and Overeem holds his guard high and sneak through a bit. Overeem took hell of a beating and Volkov won this one for sure.
Alexander Volkov dropped Overeem with his heavy shots
Round 2: Overeem is drenched in blood at the end of round 1 his nose busted open. Volkov scored punches right in the middle of the round. Overeem fakes a takedown and Volkov counters with a powerful one-two. Overeem drops for the takedown and Volkov sees it.
Overeem's energy is gone and Volkov is ready for finish and he scores with a right hand followed by a left hand and Overeem crumbles to the floor. That's it Volkov wins this one.
Result: Alexander Volkov def Alistair Overeem via TKO (Punches) (Round 2, 2:06)
Also Read: UFC Vegas 18 (Co-Main Event): Cory Sandhagen knocked Frankie Edgar with a perfect jumping knee