UFC Vegas 26 that takes place at UFC Apex, Las Vegas host Carlos Diego Ferreira and Gregor Gillespie in the main card of the event. Carlos is ranked #12 in the lightweight division and is coming off a defeat against Beneil Dariush and is a fighter with a record of 17-3-0 coming into the fight. Meanwhile, his opponent Gillespie is $14 in the rankings coming off a loss too against Kevin Lee. Both the fighters will be looking to get back on the winning charts after UFC Vegas 26.
Round 1: The round begins as Gregor and Ferreira look to throw strikes at each other. Gillespie with a couple of shots to the body of Ferreira. Good movement from both the fighters. Gregor goes for the takedown but Ferreira has top-class defense and hits me back with a left to his nose. Gillespie gets hold of his leg and is hurt by those shots by Carlos. Gillespie with a takedown but Ferreira counters and now has Gregor on his back. Almost has a choke in place but can only manage to ground and pound. Bell goes and Ferreira is dominating.
No mercy from Gregor Gillespie to knockout Ferreira at UFC Vegas 26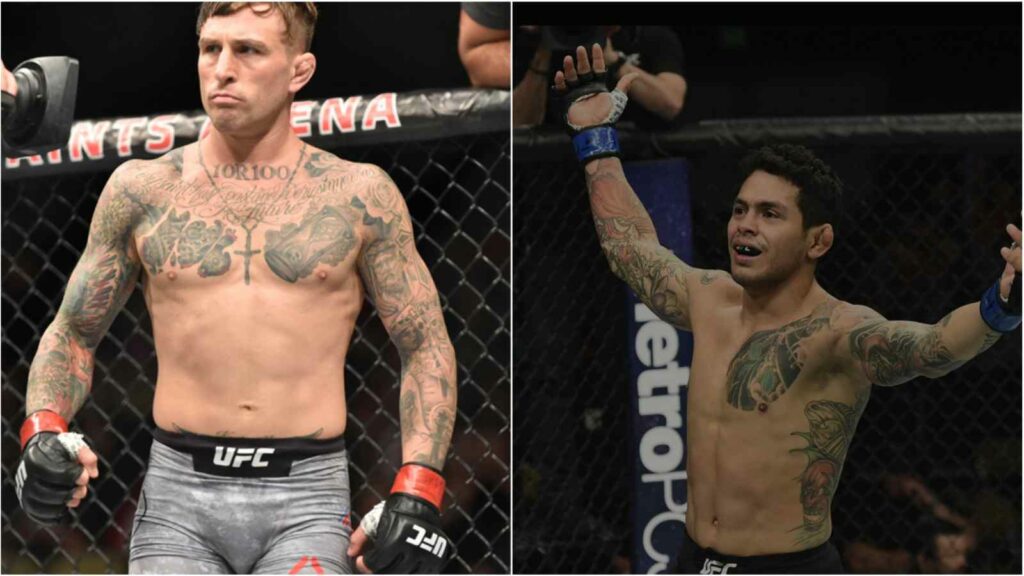 Round 2: Ferreira is the aggressor in the second round. Carlos is looking great with a 1-2 combo looking to hurt the already damaged Gregor. Gillespie goes for the takedown. Both the fighters trying to get the other to their back but Carlos is now a little tired. Carlos' corner yelling at him to stand up and fight. But Gillespie controlling the fight from the back. Ferreira now on his back with Gregor pounding him on top of him. Gregor is absolutely pounding on Ferreira.
Gillespie shows his veteran experience in the game. He is showing absolutely no mercy to Carlos on the ground. The incredible pace in his ground game. Another flurry of punches from Gillespie. No movement from Carlos and Gillespie has broken him. The referee calls the fight. What a comeback from the first round by Gregor Gillespie.
Result: Gregor Gillespie def. Diego Ferreira via TKO (punches) – Round 2, 4:51
Result: Gregor Gillespie def Diego Ferreira via TKO (Punches) (Round 2, 4:51)
Also read: UFC Vegas 26: Phil Hawes def Kyle Daukaus via Unanimous Decision
UFC Vegas 26: Marina Rodriguez vs Michelle Waterson Prelims Results.