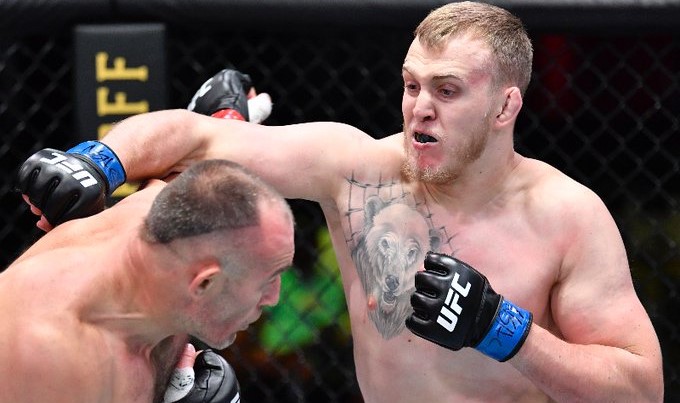 The co-main event of UFC Vegas 29 hosts a spectacular fight between Aleksei Oleinik vs Sergey Spivak. Both the fighters are will be fighting in a heavy weight showdown.
Aleksei Oleinik is a veteran of the sport and has an incredible record of 59-15-1. The veteran heavyweight is coming into UFC Vegas 29 from a loss against Chris Daukaus. Meanwhile, his opponent is fairly new to the UFC. Sergey Spivak is coming off a win against Jared Vanderaa at UFC Fight Night: Blaydes vs Lewis. He has a record of 12-2-0 and is riding on a two-fight winning streak.
Round 1: Oleinik began the fight with a low kick. The veteran does not go for precision but rather goes for power at the beginning of the first round. Aleksei right away goes to do what he's best at with a clinch. Spivak was able to move away from the clinch. Jabs traded from both the heavyweights. Oleinik is looking to get the clinch once again. But Spivak able to get free. Aleksei moves forward with some bombs thrown towards his opponent. Oleinik finally takes down Spivak and wraps his body around. Aleksei looks for a choke but does not get it.
A bloodbath between the two heavyweights at UFC Vegas 29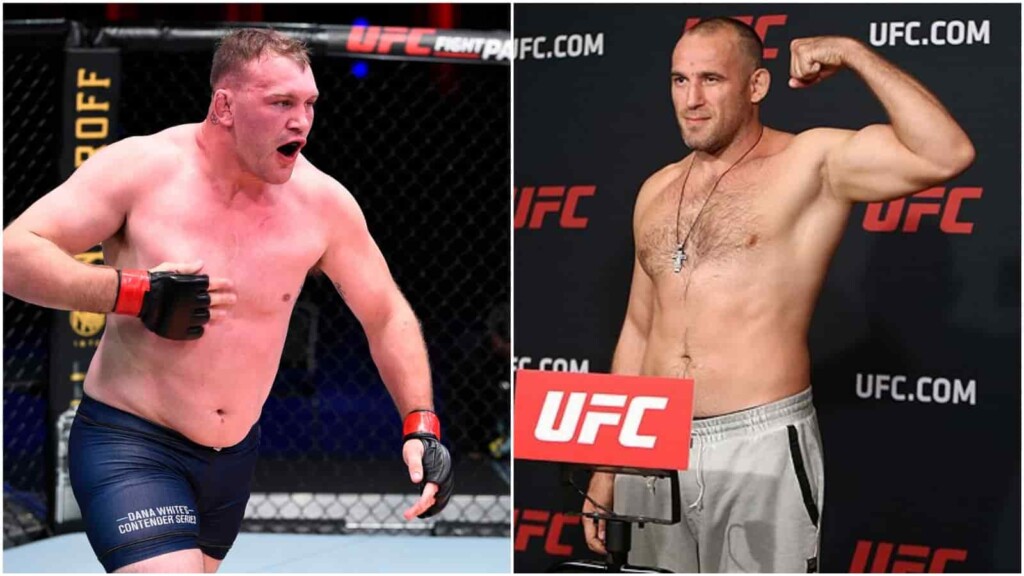 Round 2: Oleinik started off the second round similar to the first. A low kick to start off. Spivak tries to keep distance in order to avoid the takedown from his opponent. Low kicks from Aleksei. Spivak is on top of Oleinik and is very carefully to not give away anything to the submission master. Short punches and elbows thrown from Spivak before Oleinik sits up. The veteran pushed down again and is being handled by Spivak. Sergey looks for the neck to choke with very little time left on the clock. The times up before Spivak could get a tap.
Round 3: Oleinik is looking tired from the last round and does not have much in his tank. Spivak takes advantage of the veteran's half guard and hits him with a jab. Spivak has some damage as cut opened on the forehead. Blood pouring down his face. Spivak still goes for the takedown. Sergey has been great defending all the takedowns from Oleinik. The fighter pushes the 43-year-old up the fence and mounts on top. Spivak has control now. Punches and elbows thrown from both the fighters as the final round ends.
Result: Sergey Spivak def. Aleksei Oleinik via unanimous decision (29-28, 29-28, 29-28)
Also read: UFC Vegas 29: Seung Woo Choi def. Julian Erosa with a vicious left hook