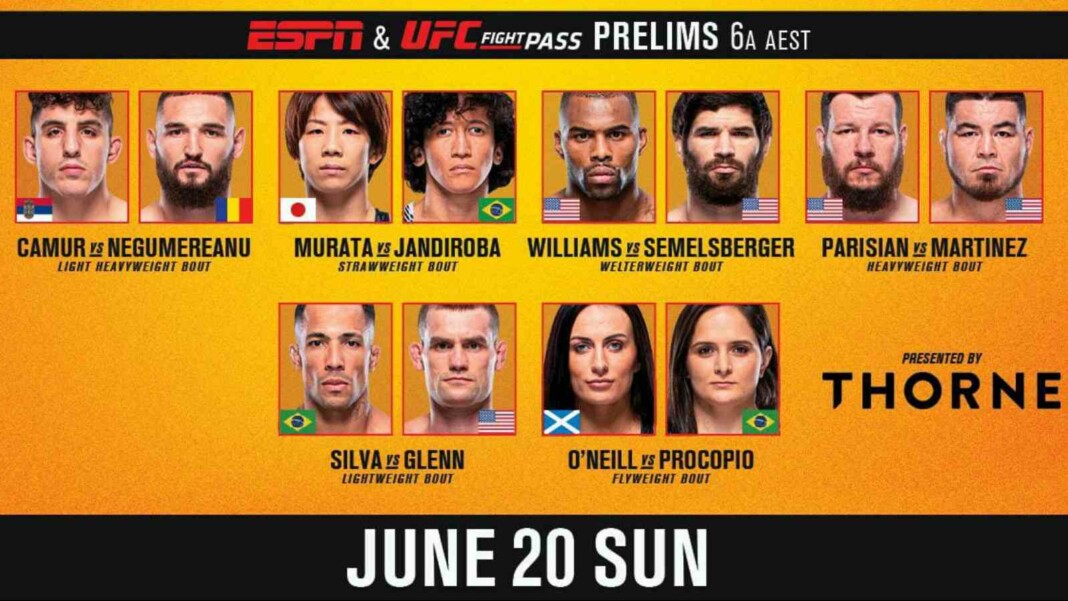 UFC Vegas 29 or UFC on ESPN 25 is set to be underway soon. It is headlined by a featherweight bout between the fan favourite Korean Zombie Chan Sung Jung and the up and coming star Dan Ige. Chan Sung Jung is currently ranked number 4 in the featherweight division, while Ige is ranked number 8.
The Korean Zombie is coming off a unanimous decision loss against Brian Ortega in October, last year, whereas Dan Ige is coming off a stunning knockout win over Gavin Tucker, earlier this year. But, before that, we had the prelims which went down first.
Women's Flyweight: Casey O'Neill vs Lara Procopio
Round 1:
Both the fighters threw a few strikes in the beginning. Then they exchanged knees to the body. Left hand from O'Neill landed. Then Procopio rocked O'Neill with a big right hand. Procopio was finding her grove. She then executed a successful takedown. The round ended with Procopio having the edge. 10-9 Procopio
Round 2:
The second round was all O'Neill. Right from the beginning of the round she showed improvement. She clipped Procopio with a few strikes and then had her on mount for the majority of the round. She landed some clean elbows on the grounded Procopio. The round ended with both the fighters attempting respective submissions. 10-9 O'Neill
Round 3:
O'Neill continued where she left off in the third round. Once again she took the fight to the ground and began raining strikes on Procopio. After a brief struggle, all Procopio was able was to make O'Neill change her position. In doing so she allowed O'Neill to go for the rear-naked choke. The Australian tightened the grip and won via. submission.
Winner: Casey O'Neill def. Lara Procopio via. submission due to a rear naked choke (Round 3)
Lightweight: Joaquim Silva vs Rick Glenn
Round 1:
Just 30 seconds into the fight, Glenn landed a left-hand flush on Silva's chin. Silva was rocked but tried valiantly to get up, but Glenn kept raining down strikes and the referee waved it off. What a win!
Winner: Ricky Glenn def. Joaquim Silva via. KO punches (Round 1)
Heavyweight: Josh Parisian vs Roque Martinez
Round 1:
The round was largely dominated by Martinez. Martinez began the round well. He kept catching Parisian with some heavy blows. Parisian had only a few good moments in the round. Otherwise it was all Martinez as he had streaks of heavy punches landed on Parisian. However, Martinez was not able to deliver that killer blow. 10-9 Martinez
Round 2:
This time Parisian came out stronger. He landed a few strikes and took the fight to the fence. There was a brief pause due to a groin strike from Parisian. Parisian then landed a flurry of strikes on a defenseless Martinez. However, Martinez ended the round strongly, with a submission attempt. 10-9 Parisian
Round 3:
Parisian started off well, but Martinez then picked up the pace. He then landed several elbows and clean strikes, but Parisian refused to back down. Parisian tried his best to get himself back in the round. He was successful, landed a few good strikes of his won. There was a brief strike due to a groin strike from Parisian. The fight then ended with both the fighters trading strikes. 10-9 Parisian
Winner: Josh Parisian def. Roque Martinez via. split decision (28-29,29-28×2)
Welterweight: Kalinn 'Khaos' Williams vs Matthew Semelsberger
Round 1:
Round 1 was one of the most action-packed rounds of the night. Williams started strongly, as he caught with a combo of 7-8 strikes that cut Semelsberger's nose bridge, causing him to bleed profusely. Throughout the round, Williams went for combos, although he let his guard down while ending his combo. 10-9 Combo
Round 2:
Both the fighters kept the same intensity in the second round. While Williams was going for a barrage of strikes with quick combos, Semelsberger was going for that one decisive punch to finish of Williams. The round was pretty even. 10-9 Williams due to more significant strikes.
Round 3:
The third round was pretty identical to the first two rounds. Once again Williams was the one landing the more significant strikes, whereas Semelsberger once again looked for that decisive shot. 10-9 Williams
Winner: Kalinn Williams def. Matthew Semelsberger via. unanimous decision
Women's strawweight: Kanako Murata vs Virna Jandiroba
Round 1:
An action packed round saw Jandiroba dominate for the first 3 minutes of the fight. A small mistake from Jandiroba allowed Murata to land a few strikes on the grounded Jandiroba. However, Jandiroba got back into the fight with an armbar attempt. The armbar did some serious damage on Murata. 10-9 Jandiroba
Round 2:
Round 2 was total domination from the Brazilian. Murata's left arm was clearly dislocated. All she did in this round was she kept eating a barrage of strikes and kicks from Jandiroba. She was clearly helpless. 10-9 Jandiroba. Just as the third round was about to begin, the doctor checked Murata and deemed her 'unable to continue' due to a dislocated arm.
Winner: Virna Jandiroba def. Kanako Murata via. TKO (doctor stoppage – Round 2)
Light-heavyweight: Aleksa Camur vs Nicolae Negumereanu
Round 1:
The first round of the prelims main event was a very close one. Camur and Nicolae both started the round well. But Camur was hitting well with heavy blows. During the middle part of the round, Nicolae gained control as he rocked him with a combo. He also executed a successful takedown. Camur once again came back towards the end of the round. 10-9 Camur
Round 2:
Nicolae began the second round well. He rocked Camur with a few strikes and then took the fight to the cage, and had clinch control for almost 2 minutes. Once they broke free, the pair traded a ton of exchanges, but Nicolae had done enough to win the round. 10-9 Nicolae
Round 3:
Nicolae was again looking the stronger one, although Camur was doing his part as well. Towards the end of the fight, Nicolae was warned by the referee for grabbing the fence. 10-9 Nicolae
Winner: Nicolae Negumereanu def. Aleksa Camur via. split decision (28-29, 29-28×2)
Also Read : 'They sparred and made money' – Khabib Nurmagomedov mocks Logan Paul vs Floyd Mayweather
Also Read : 'Borrachinha is totally right' – Patricio Pitbull Freire rips into UFC over Fighter Pay Issue