The main event of UFC Vegas 31 features the fight between the number 9th ranked Lightweight fighter, Islam Makhachev facing the number 14th ranked Lightweight fighter, Thiago Moises. Makhchev stepped into this fight with a seven-fight win streak.
Makhachev won his latest fight against Drew Dober on UFC 259 and Thiago Moises is coming into this fight with a three-fight winning streak with his latest win coming against Alexander Hernandez on UFC Fight Night: Rozenstruik vs Gane.
Round 1: Moises starts the fight with an early high kick, blocked by Makhachev. Moises moved lightly on his feet and tried to tag Makhachev. Makhachev inched closer and lands a jab, Moises again fired a leg kick that was blocked again. Makhachev lands a nice kick to the body. They both tried to change position against the cage and Makhachev lifts and slams Moises on the canvas. The round ended with Islam Makhachev being on top.
Round 2: Makhachev opens the round with a pawing jab and Moises lands a nice right hand. Makhachev fires a left hand followed by knees to the body. Moises gets away from the fence and he lifts Makhachev and drops him on the canvas. Makhachev grabs the neck as they fall but somehow Moises saved himself from the guillotine. Makhachev transits into body lock and Moises was saved by the bell from an armbar.
Round 3: Makhachev again lands the jab to start the fight, Moises tries to land body shots but misses. Makhachev punches his way forward and holds Moises again in the clinch. Moises locks the body but Makhachev tosses him with a hip throw and Moises controlled him from the back. Makachev lifts him up and slams on the canvas again. He landed some heavy shots right on the face of Moises just as the round ends.
Islam Makhachev dominated Thiago Moises throughout the fight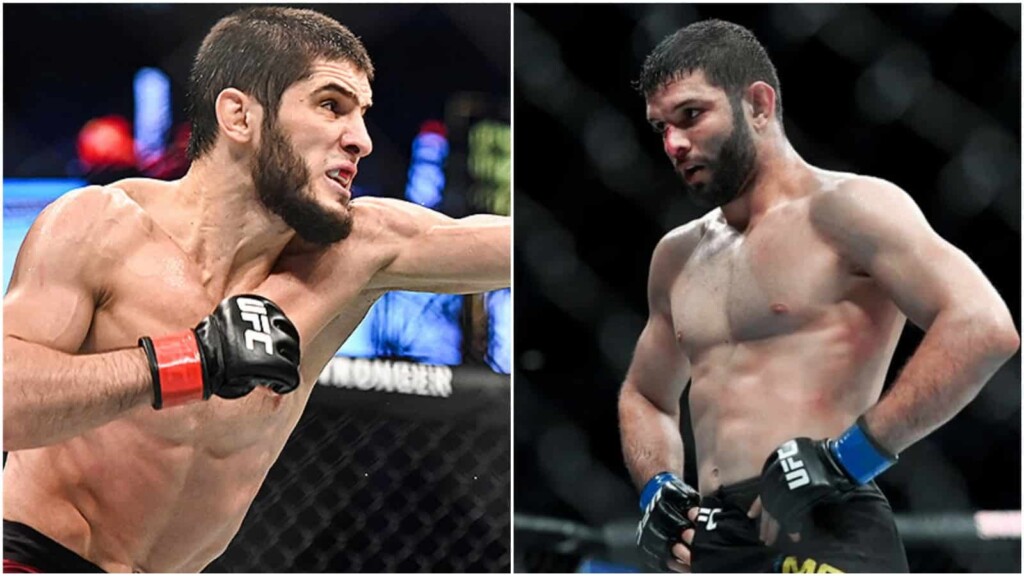 Round 4: Moises tried to increase the pace, low kicks lands. Makhachev changed levels and lifts Moises and slams him onto the canvas. Makhachev lands him a shot to the body and Moises scrambles to his knees, Moises tries to stay compact but Makhachev grabs his neck and sinks in the choke. That's it Makhachev secures his eighth straight win.
Result: Islam Makhachev def Thiago Moises via Submission (Rear Naked Choke) (Round 4, 2:38)
Also Read: UFC Vegas 31: Miesha Tate def Marion Reneau via TKO on her comeback.