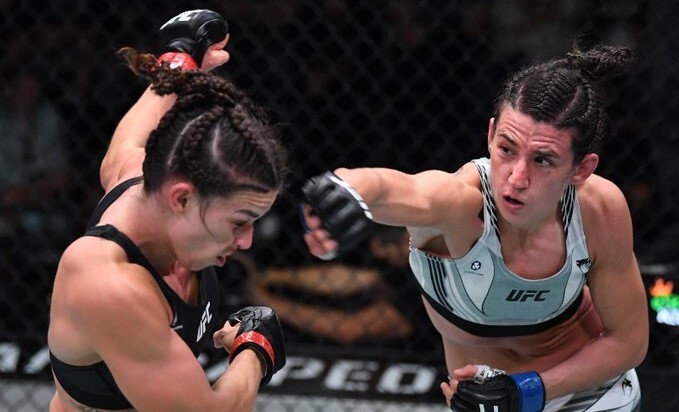 The main event of UFC Vegas 39's fight card features the fight between the number 4th ranked UFC women's strawweight fighter, Mackenzie Dern facing the number 6th ranked women's strawweight fighter, Marina Rodriguez. Dern will be coming into this fight with a four-fight win streak, with her latest win coming against Nina Nunes in April.
Rodriguez will be coming into this fight at UFC Vegas 39 with her latest win coming against Michelle Waterson, at UFC Fight Night: Rodriguez vs Waterson.
Round 1: Rodriguez faints a jab and lands a leg kick. Dern also tries to land a leg kick but misses. Rodriguez lands a big right hand, Dern tries to rush forward and eats one more shot. Dern fires a big overhand right, Rodriguez got her back against the fence and Dern pulls away. She lands a nice right hand followed by a shot to the body. Spinning backfist lands from Dern just as the round ends.
Round 2: Rodriguez pushes forward and lands a front kick right at the target. Dern also pushes forward and tries to hold her in the clinch, she gets inside and scores a takedown. Side control for Dern and she tries to lock up a D'Arce choke, Rodriguez tries to kick herself free and Dern gets to a crucifix on her back. Dern comes in top-mount and rained punches from the top, Rodriguez barely saved her, and the horn sounds.
Round 3: Rodriguez kicks the leg to start the striking on this round followed by a jab. Dern lands a right hand followed by a one-two combination, Rodriguez tries to land a high kick but it got landed partially. Dern fakes a takedown and eats a jab. Dern tries to rush forward but didn't get her hands on Rodriguez. Dern changes level and rushed forward and stays on top towards the end of the round.
Marina Rodriguez turned dominated Mackenzie Dern after second round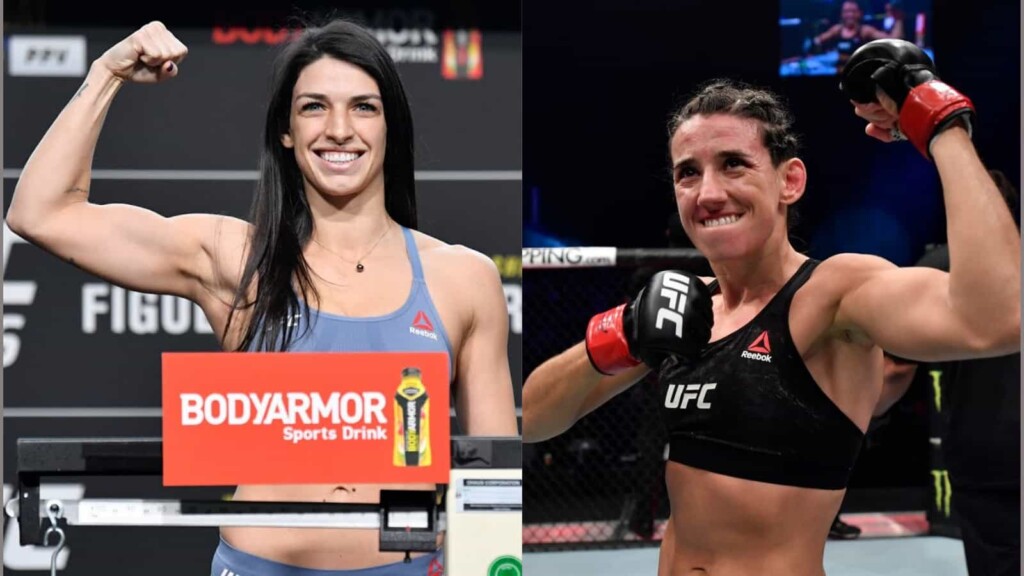 Round 4: Dern started the round with aggression and Rodriguez moved and landed a right hand. Dern backs away and eats a high kick on the back. Rodriguez pressed forward and lands a right hand followed by a kick to the leg. Dern holds Rodriguez and she throws her down on the canvas. Dern gets on the top and she tries to land an armbar, Rodriguez saved by the bell.
Round 5: Dern looks for a finish as the round starts and Rodriguez keeps the distance using her kicks and punches. Dern staggers a bit but she stayed upright and she moves forward once again but Rodriguez kept her away and didn't let her close in. One minute left and Dern dives forward but Rodriguez defended it well and the fight ends.
Result: Marina Rodriguez def Mackenzie Dern via unanimous decision (49-46, 49-46, 49-46)
Also Read: UFC Vegas 39: Mariya Agapova dominated Sabina Mazo to secure the submission victory!.