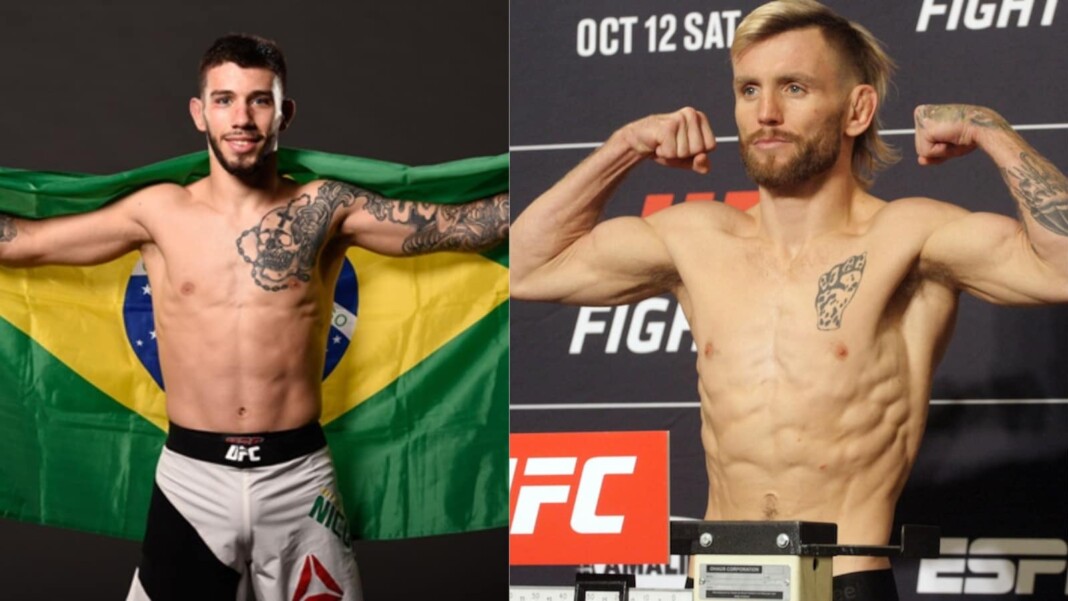 The flyweight contest between Tim Elliott (17-11-1 MMA, 6-9 UFC) and Matheus Nicolau (16-2-1 MMA, 4-1 UFC) was one of the most anticipated fights of the night.
Round 1 – Elliott moved well and started the fight with his signature hands-down stance. Nicolau landed a couple of leg kicks, but the counter punches from Elliott kept him at bay. He was using a front kick to the body to avoid any big strikes from Nicolau and succeeded in doing so for most of the round.
Round 2 – Elliott started the round with a takedown attempt. He got it but Nicolau got right back up. A crispt right hand from Elliott and it partially dropped Nicolau. Nicolau is not looking better he's landing some clean punches, and he stunned Elliott with a nice timed hook.
Matheus Nicolau beats Tim Elliott via unanimous decision at UFC Vegas 39
Round 3 – Nicolau is not looking sharp he's perfectly timing his shots, and they have started to take their toll on Elliott. Elliott is trying to gain some space, and he lands a nice two-punch combo but Nicolau just ate it. Elliott went for a takedown but got stuffed, Nicolau then secured a takedown of his own and spent the rest of the round on top.
Result: Matheus Nicolau def. Tim Elliott via unanimous decision (29-28, 29-28, 29-28)
Also read – UFC Vegas 39: Dern vs Rodriguez prelims results
UFC Vegas 39: Mariya Agapova dominated Sabina Mazo to secure the submission victory!