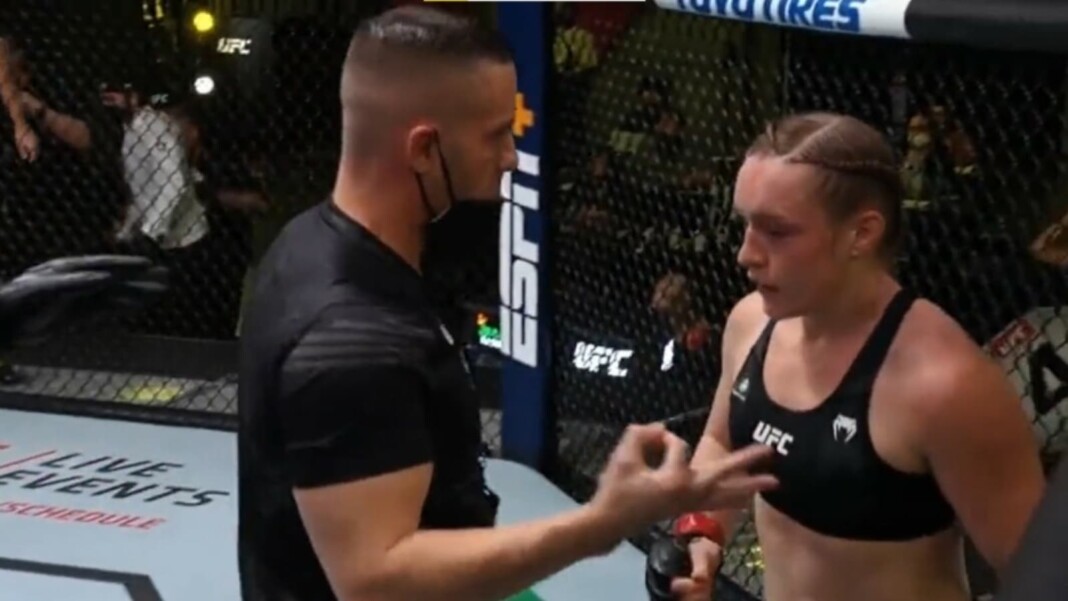 Aspen Ladd fought one of her worst fights at the UFC Vegas 40 main event against Norma Dumont. But what caught most people's attention was the coaching she received in between rounds by her coach, Jim West.
Aspen Ladd agreed to fight Norma Dumont in a short notice fight at the main event of UFC Vegas 40. The bantamweight fighter stepped up a weight class and took the fight. Norma won the fight via unanimous decision by completely outclassing Ladd in all five rounds. Aspen and her coach, Jim West have a very intimate relationship as the two are also dating each other.
West has been caught before showing some "over the top" emotions in between rounds to motivate his fighter. Today it was really weird to see West talking to Ladd the way he did when she was clearly struggling to be the best fighter. "You are down 3-0, please tell me what you are doing. You have to throw more than one punch," said West in the below video.
Miesha Tate and Kevin Holland react to Aspen Ladd in UFC Vegas 40
Despite the beef between Miesha Tate and Aspen, "Cupcake" found it disrespectful of Jim West to be talking to Ladd in between rounds like that. "This is ABUSE, what a douche," wrote Tate in her initial tweet. A fan later pointed out that Jim coached her the same way in her last fight and the fighter managed to knock her opponent.
"She woulda done that without him it's who she is. He will take credit for her win but never for her loss. Trust me she can only take so much of this abuse before it breaks her spirit," Tate wrote in reply to the fan.
What are your thoughts on Jim West's coaching of Ladd?
Also read: UFC Vegas 40 (main event): Aspen Ladd outclassed by Norma Dumont in an intense battle