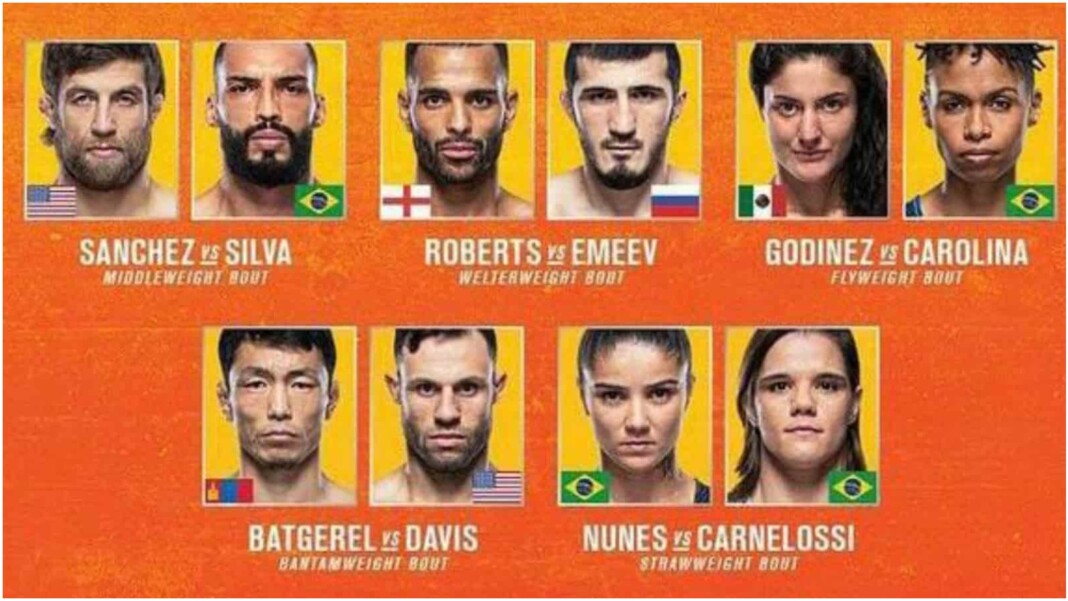 UFC Vegas 40: The UFC once again returns to their Apex Facility following UFC Vegas 39. The event is set to be headlined by a women's featherweight fight between Aspen Ladd and Norma Dumont. Ladd is coming off a TKO win over Yana Kunitskaya at UFC Fight Night: Overeem vs Rozenstruik, way back in December 2019. Dumont, on the other hand, is coming off a split decision win over Felicia Spencer.
However, before that, we had the prelims that kicked things off. Here are the results from the UFC Vegas 40: Aspen Ladd vs Norma Dumont prelims.
Women's Strawweight: Istela Nunes vs Ariane Carnelossi
Round 1:
Wild swinging from both the women began the round. Carnelossi looked more aggressive. Nunes and Carnelossi both swung, Nunes landed well. Body kick from Nunes. Carnelossi threw everything and put Nunes in a clinch. Knees to the body from Nunes. They continued swinging into the final minute. 10-9 Nunes
Round 2:
Both the fighters began swinging but Nunes landed the cleaner shots. Knee to the head from Nunes after she broke free from a Carnelossi clinch. One-two from Nunes. Takedown number 2 in Round 2 for Carnelossi. 10-9 Carnelossi
Round 3:
A couple of punches landed for both the fighters. Right hand from Nunes was followed by a big left hand from Carnelossi. Takedown for Carnelossi. Carnelossi went for the rear-naked choke and earned a submission win.
Winner: Ariane Carnelossi def. Istela Nunes via. submission due to a rear-naked choke (Round 3)
Bantamweight: Danaa Batgerel vs Brandon Davis
Round 1:
Aggressive start from Batgerel. He clipped Davis a couple of times. Big right hand from Batgerel. Massive right hand from Batgerel knocked down Davis. Davis crashed to the cage but tried to hang on. Batgerel then swarmed all over him, even as Herb Dean waved off the fight. What a win!
Winner: Danaa Batgerel def. Brandon Davis via. TKO (Round 1)
Women's Flyweight: Lupita Godinez vs Luana Carolina
Round 1:
Brilliant start from Godinez with a big right hand. Carolina followed it up with a knee. Action shifted to the cage, and Carolina landed another knee. Elbow on the break from Carolina. Single leg takedown from Godinez followed. Side control from Godinez. Just as the round was coming to a close Godinez set up an armbar but the bell saved Carolina. 10-9 Godinez
Round 2:
Carolina began the round with a leg kick. Knees to the body from Carolina. Several take down attempts from Godinez failed. Step in knee from Carolina. Big right hand from Godinez. Leg kick to the head from Carolina. 10-9 Carolina
Round 3:
Aggressive start from Godinez in Round 3. Big right hand from Godinez midway into the round. Knees to the body from Carolina. The round ended with Godinez attempting a takedown. 10-9
Winner: Luana Carlona def. Lupita Godinez via. unanimous decision (29-28 x3)
Welterweight: Danny Roberts vs Ramazan Emeev
Round 1:
Left hand from Emeev kicked things off. Heavy exchange from both the fighters. After an exchange of submission attempts both the fighters got back to their feet. Big exchange from both the fighters ended the round. 10-9 Emeev
Round 2:
Wild swinging from both the fighters one minute into the round. Quick one-two from Roberts. Stiff quick jab from Emeev followed. 10-9 Roberts
Round 3:
Aggressive start from Roberts began the round. Roberts was landing the cleaner strikes this round. Big combo from Emeev. Emeev with a big overhand. Roberts struck Emeev with a few strikes from his arsenal. Wild throw of punches from both the fighters followed. 10-9 Roberts
Winner: Danny Roberts def. Ramazan Emeev via. split decision
Middleweight: Andrew Sanchez vs Bruno Silva
Round 1:
Measured start from both the fighters. Silva got the better on the early exchange. Sanchez then got the takedown. A number of delays due to low blows from Sanchez. 10-9 Sanchez
Round 2:
Silva got a bit sloppy with the striking and gave his back to Sanchez who executed a takedown. Frantic elbows from Silva when Sanchez put him on the mount. Another takedown from Sanchez followed. And another one. 10-9 Sanchez
Round 3:
Aggressive start from Silva. Big shots were landed by Silva. Another low blow from Sanchez resulted in one point being minused. Silva was hammering at Sanchez with a fussilade of blows. Heavy body shots followed. Sanchez then responded with a few of his own. Combo from Sanchez. Silva then followed it with a ton of combos to finish Sanchez. What a comeback win.
Winner: Bruno Silva def. Andrew Sanchez via. TKO (Round 3)
Also Read: UFC Vegas 39: Dern vs Rodriguez prelims results
Also Read: Throwback to when "The Gypsy King" Tyson Fury mocked Deontay Wilder ahead of their rematch weigh-in in 2020