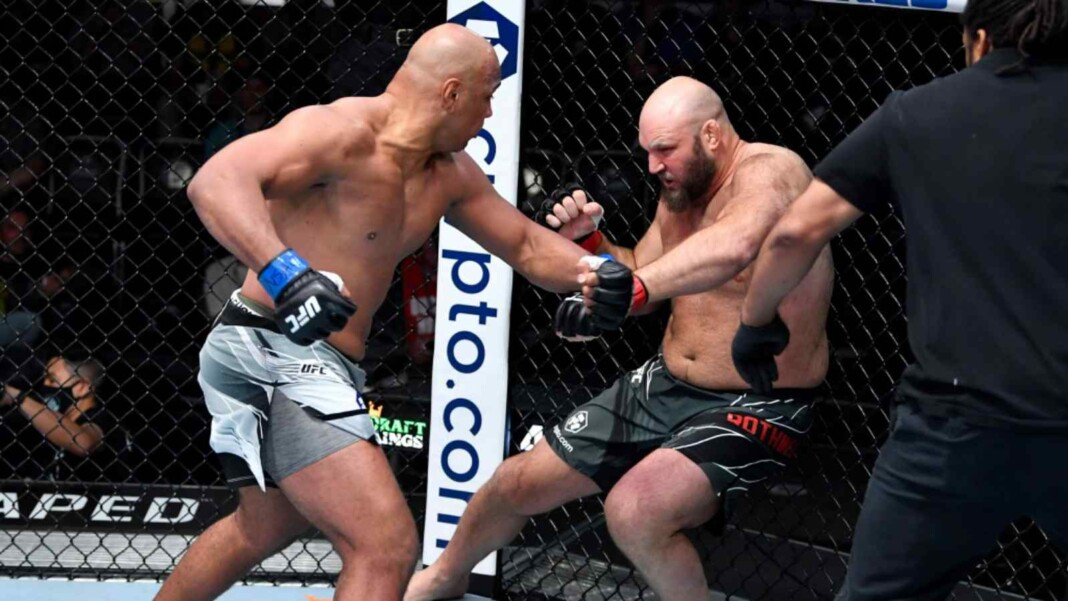 The UFC veteran referee, Herb Dean is again in trouble for one more controversial stoppage at the co-main event of UFC Vegas 42. This has been a really rough year for Dean and he has been on the opposite ends of many such controversial stoppages.
In the co-main event of UFC Vegas 42, the Heavyweight veteran, Ben Rothwell entered the Octagon to face Marcos Rogerio de Lima. After the initial seconds of the fight, De Lima landed a fury of punches on Rothwell. He tried to defend some of them but at one point in time, he appeared to be out.
Herb Dean first tried to restrain De Lima but Rothwell appeared to secure a takedown and De Lima tried to counter him with a choke. But due to Dean touching and holding him from the back, Marcos Rogerio de Lima looked back at Herb Dean confusingly.
At the point of time, Dean revealed that he already stopped the fight at the starting 32 seconds of the very first round. This time the UFC president, Dana White also criticized Herb Dean for his controversial stoppage. Talking about the same in the UFC Vegas 42 post-fight press conference, Dana White says,
"Herb needs to stop touching guys unless the fight's over. He goes in and grabs him by the waists, and decides, oops, maybe I . … The good thing about this was, the fight should have been stopped when he stopped it. You didn't see Ben jumping up and arguing about it."
Dan Hardy, Ariel Helwani, Aljamain Sterling, and others reacted to Herb Dean's stoppage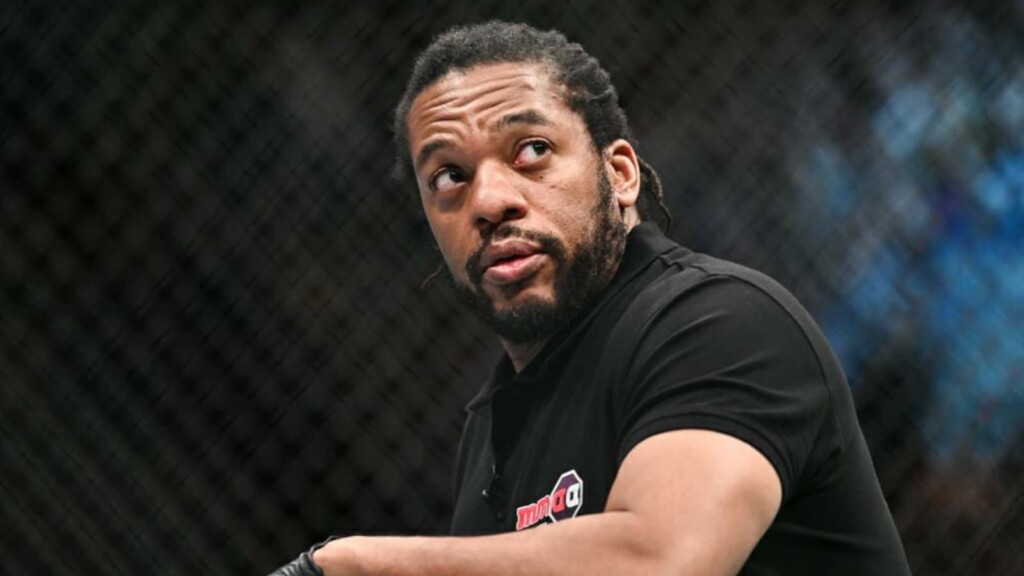 The former UFC Welterweight fighter and ringside commentator, Dan Hardy left UFC after his dispute with Herb Dean while calling a fight and now after doing Dean the same mistakes again and again, he fired shots at him with his tweets which say,
"This dude is a liability," and "G… Old Standard," The UFC Bantamweight champion, Aljamain Sterling also weighs in on this one saying,
"That was SO BAD! Smh! How is the commission still allowing terrible referring? It's not an easy job, but dude, you can't play hot potato with stopping fights like that. Because he looked at you?? Crazy man"
In the end, Dana White concluded by talking about him saying, "He's gotta pull the trigger and stop touching guys – don't touch them unless you're going to stop the fight when they played it back in slow motion, he's kind of like, dancing like he doesn't know what to do, whether he's going to jump in or not jump in. I like him personally – he's a nice guy. But he's got to stop touching people until he's ready to stop the fight."
Also Read: UFC Vegas 42 (co-main event): Marcos Rogerio de Lima knocks out Ben Rothwell in the first round.