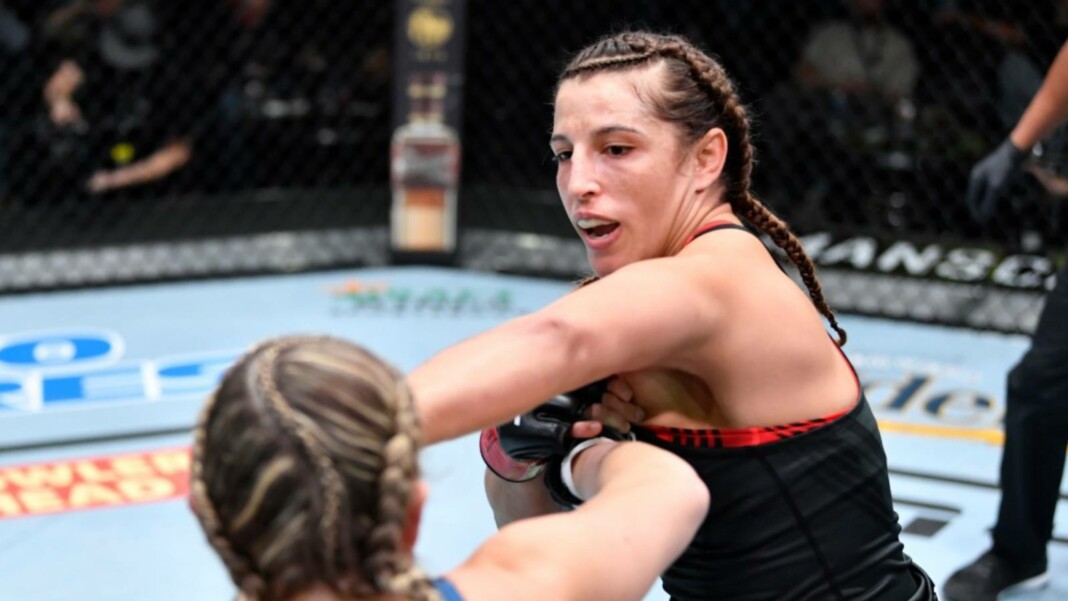 UFC Vegas 42 had a night of great action delivered from the men but also, the ladies as well. Case in point, former UFC featherweight title challenger "The Phenom" Felicia Spencer earned a notable knockout victory over the very tough Leah Letson. Here is the round-by-round result of the fight.
Round 1: In her 8 wins coming with 4 first-round finishes, Spencer and Letson take the centre of the octagon. Spencer tries to put on the pressure with the jab. Letson tries to get control in response by clinching. Letson's back is on the cage side while Spencer tries to wrestle her. Knee strikes were exchanged from both sides. Spencer's pressure for takedown attempt is immense Letson's takedown defence is commendable enough. The ladies get back to the centre, only to come back at the cage side after a couple of elbow exchanges. FirstSportz scores this round 10-9 Spencer.
Round 2: This round too starts again with cage wrestling, Spencer secures a takedown within the first minute. Letson gets out of the position getting back on their feet, only to wrestle more cage side. Spencer does some good dirty boxing coupled with beautiful elbows and knees. Spencer secures the second takedown, Letson gets back again. Spencer keeps the striking scores ahead with her dirty boxing cage side. Spencer secures the third takedown and lands powerful punches with a more powerful knee. FirstSportz scores it 10-8 Spencer.
Felicia Spencer displays ground and pound mastery in defeating Leah Letson
Round 3: The final round begins with Letson securing a takedown of her own. So far Letson has some decent pressure on the ground. She's in guard, but Spencer reverses the position only to get Letson's back and land some nasty left-hand hooks. Spencer is just dominating in here. Letson gets back face to face with her opponent. Spencer lands a powerful elbow. Throughout the fight, Spencer has dominated the clinching position. She secures the fourth takedown suddenly. The pressure is high on the ground. The ground and pound by Spencer are volumes heavy and too much. The referee stops the fight.
Result: Felicia Spencer def. Leah Letson via TKO (ground and pound) in the third round.
Also Read: "This guy wasn't even legal," UFC Heavyweight champion Francis Ngannou exposed by former coach for ungrateful nature; details sad incident involving latter's girlfriend