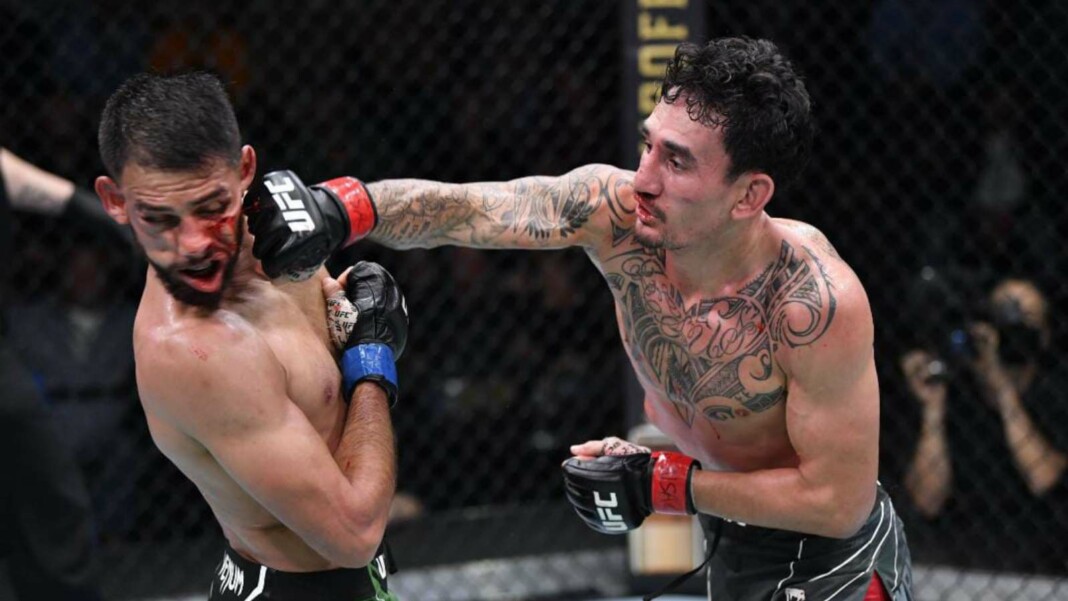 At the main event of UFC Vegas 42, Max Holloway and Yair Rodriguez exceeded what was advertised about them on the paper of their UFC records. Holloway, a former UFC featherweight champion welcomed Rodriguez after the latter's two years layoff. Even though Holloway won, Rodriguez proved that he always belonged to the top class of the UFC roster. Following is the round-by-round result of the main event.
Round 1: Holloway and Rodriguez take the centre of the octagon. Both the fighters took their time to throw the first strike. Rodriguez found a way for a teep kick. A little bit of exchange had Rodriguez down for a moment who returned with an up kick. A clean roundhouse kick was missed by Holloway. Yair is throwing powerful overhands, landing some. Holloway is calculating his move, he is landing with level changes. Rodriguez frequently proceeds with a punch and a body kick combination.
Rodriguez is throwing some calf kick. Rodriguez throws some powerful shots, returned by Holloway. Rodriguez keeps on getting powerful with his punch-kick combination. Rodriguez looks like he never left the octagon. Yair looks for a flying attack but falls and starts throwing up kicks. FirstSportz scores this round 10-9 Rodriguez.
Round 2: Holloway attempts for some pressure. Rodriguez maintains the distance with his kicks. Little intervals of exchanges keep taking place in the second minute of the round. Holloway's right side of the abdomen is swollen. Rodriguez attempts a flashing spinning wheel kick but misses. Rodriguez lands some good body kicks as well.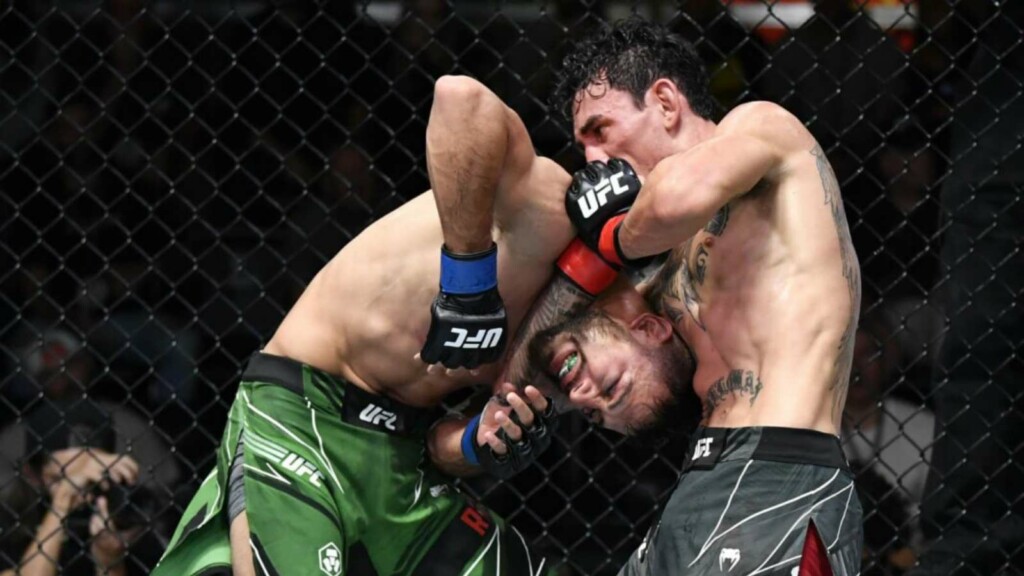 Rodriguez starts landing calf kicks halfway to the round. Holloway is trying to find his openings, moving forward and landing his own combination. Holloway is showing a bit more despair. Rodriguez sneaks up an elbow attack when cage side. The left overhand by Rodriguez is thrown often. Minute left and Holloway is throwing good body shots. Holloway is keeping up the pace now. FirstSportz scores it 10-10 even.
Round 3: Holloway's corner believes they are the fresher one with the later rounds. Holloway precisely lands a flying knee and closes the distance immediately. The fighters get back to exchanging in intervals. Holloway gets Rodriguez on the ground in the exchange and now gets on the high mount over the latter. Holloway is trying different submissions to end the fight unexpected way. But as of now, nothing more than ground and pound. Holloway is on Rodriguez's back.
Both the fighters are scrambling slowly but each and every move is intense. Rodriguez gets back and throws bombs on Holloway. Rodriguez gets a takedown but Holloway gets up. This fight is off the charts. Wild exchanges but with calculation. Holloway nicely times a takedown by leveraging from one of Rodriguez's kicks. FirstSportz scores it 10-8 Holloway.
Max Holloway picked Yair Rodriguez apart in later rounds to the get the victory at UFC Vegas 42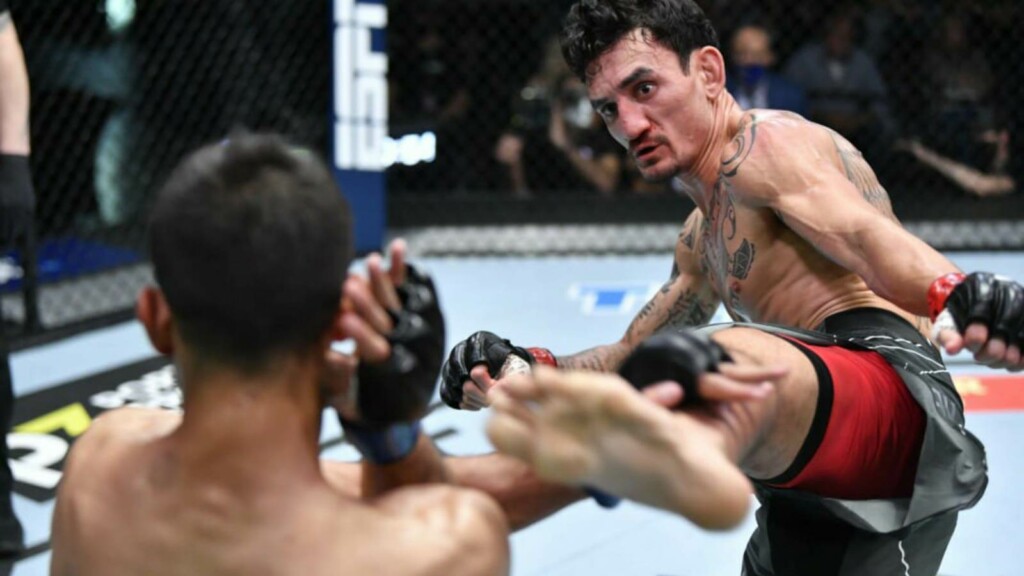 Round 4: A fiery exchange starts of the Round. Max is changing levels between head and body for his punches. Rodriguez lands some good hands as well. The fighters get in a clinch. Holloway secures a hold for a guillotine hold. But Rodriguez escapes in some moment. Max is trying to take the mount but Rodriguez lands some brutal elbows. Holloway tries to get back up, gets down again to get Rodriguez's back. Rodriguez rolls back to try guard position, gives up his back again.
The fighters get back standing. The chess match of striking exchanges continues. The fight is stopped suddenly by an accidental eye poke received by Rodriguez. Everything is good, the fight continues. Rodriguez tries a flying knee. Rodriguez is still throwing big kicks to the body. Round ends. FirstSportz scores it a razor edge 10-9 for Holloway.
Round 5: Rodriguez's corner advice to get more creative. The fight starts with a respectful gesture. The exchange with punches and kicks continue. Rodriguez is still throwing with power. Holloway throws some shots only to bait Rodriguez into a knee. Holloway has taken some big shots in a long time in this fight. Yair suddenly lands a powerful jab and follows with a combination that ends in a calf kick. Rodriguez throws a flashing cartwheel kick that slips him into the ground.
The round is halfway done. In a series of scrambling into the ground, Yair tries some submission attempts. Fights get back standing. Holloway ate a punch to come up with his combination and close the distance. Holloway. The fight is stopped briefly for Holloway getting his eye poked this time. More wild exchanges. A modern-day kickboxing classic. The fight ends being one of the best stand-up fought in UFC History. FirstSportz scores this 10-10 draw.
Result: Max Holloway defeated Yair Rodriguez via unanimous decision (49-46 x 2; 48-47)
Also Read: Daniel Cormier jokes on shocking removal from commentary desk; abstain from commentary for family time