Rani Yahya proves that none of his opponents has a chance against him on the ground, even his opponent Kyung Ho Kang tonight at UFC Vegas 43. Follow up through the round-by-round breakdown on how Yahya used the Kang's back dominantly to get the last two rounds in his favour.
Round 1: The fight originally scheduled for July takes place now, Kang and Yahya take the centre of the octagon. The exchange begins quick. Kang looks for an overhand right. Yahya gets in for a takedown. But Kang looks to defend it pretty well. Yahya switches for a scoop position and gets a double leg. Kang tries to punch on Yahya's sides. Kang gets up somehow, only to be pushed into the cage by Yahya. Both the fighters get back for an exchange. Kang throws some stiff yet flashy jabs.
Yahya tries to go low with leg and oblique kicks. Kang looks like the faster fighter. Yahya is clearly showing a reach disadvantage. Yahya gets down with Kang's exchanges. Kang allows getting Yahya back up. Kang lands a great uppercut. The fight is stopped briefly for a potential low blow. Yahya now goes for another takedown, Kang is doing a good job of not getting on the ground. FirstSportz scores this round 10-9 Kang.
Round 2: Kang lands a good leg kick, Yahya catches the second leg kick incoming, he secures a takedown. Now Yahya is on the top, and shifts to Kang's back in just a few seconds. Yahya tries to secure a rare naked choke but Kang is doing a good job of dealing with the hands to avoid getting them on his throat.
Yahya has trapped Kang's body tightly with his legs. Yahya starts attacking with hooks from on Kang's back. The fight stays on the ground so far in 3 and a half minutes. Yahya keeps on punching from his opponent's back. There's no other activity much going into the final minute. The round ends on the ground. FirstSportz scores it 10-8 Yahya.
Rani Yahya defeats Kyung Ho Kang via unanimous decision at UFC Vegas 43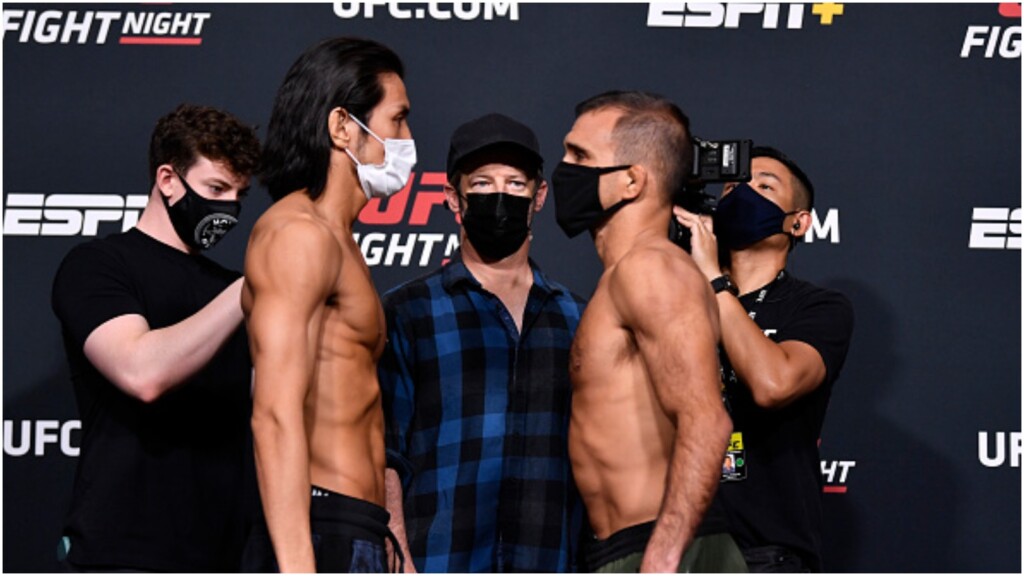 Round 3: Entering the third round Kang wants it standing and Yahya wants it on the ground. Kang starts getting dominating and shaking Yahya on standing up. As Yahya falls, he reignites his grappling power. Yahya takes Kang to the ground and gets back on Kang's back again. Yahya shifts to a half-guard position very smoothly. He has Kang exactly where he wants. Yahya so far has 6+ minutes of ground control in the fight.
Kang is in dire need of getting back to his fight. Kang has got Yahya in his guard, but Yahya's pressure is too much for Kang to do anything. Yahya is doing everything to not let any escapes available for Kang. This fight stays in the ground to the final minute. This fight to ends on the ground. Yahya goes over 10 minutes of ground control time. FirstSportz scores it 10-8 again for Yahya.
Official Results: Rani Yahya defeats Kyung Ho Kang via unanimous decision (29-28 x 3)
Also Read: "That interests me," UFC Champion Kamaru Usman not letting go of making the fight with P4P king of boxing