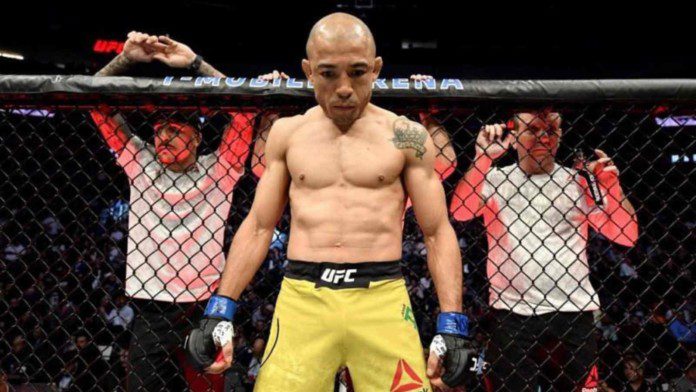 Despite already attaining the legend status, UFC's former featherweight champion Jose Aldo is not stopping until he becomes a two-division champion by winning the bantamweight belt.
Arguably the greatest featherweight of all time, Jose Aldo is on a new venture as he fights in the bantamweight division. The Brazilian is set to face top-ranked Rob Font in the upcoming main event of UFC Vegas 44. The legend is not taking this fight easily and looks at it as a pathway to achieving bantamweight gold.
Jose has fought four times in the bantamweight division and has a record of 2-2. In his last fight against Pedro Munhoz, Aldo put on a striking masterclass and defeated his fellow countryman via unanimous decision at UFC 265. Aldo is confident in his ability to bounce back from losses and thinks that will help him achieve the belt.
"It shows me that I'm capable of getting this title. It's another two steps to get there. It just showed me that I can be a champion tomorrow," said Aldo in the UFC Vegas 44 press conference. "Now the division is a little bit weird so I think that if I win this fight I am not going to the title right away. I have one more stop before going to the title."
Glover Teixeira's career gives Jose Aldo hope to become bantamweight champion
Recently at UFC 267, MMA veteran Glover Teixeira became the new light heavyweight champion at the age of 42 years. Aldo is now 35 years old and is very young compared to the light heavyweight champion. The Brazilian believes if Teixeira can do it, even he can do it.
"If you look at Glover Teixeira, I'm still a kid. I want to continue doing this, and I am not going to stop until I get this title, and I am going to continue fighting at this high level," said Aldo to the reporters.
However, Jose might not have it easy in the bantamweight division given it is one of the most stacked weight classes in UFC. Even if Aldo gets through the amazing Rob Font, he would have the likes of T J Dillashaw and Cory Sandhagen to beat in order to get to the top. Do you think Jose Aldo can go all the way to the bantamweight gold?
Read From Rags to Riches: How Jose Aldo fought poverty and became a UFC legend

Also read Head coach Eugene Bareman has lost respect for Khabib Nurmagomedov: "He got all Hollywood"