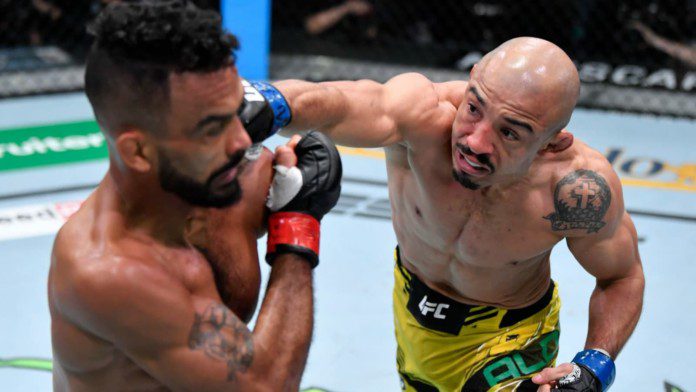 The main event of UFC Vegas 44 is here with a spectacular bantamweight matchup of Rob Font vs Jose Aldo.
UFC Vegas 44 takes place at the UFC Apex in Las Vegas, Nevada. The event is headlined by a spectacular bantamweight fight between Rob Font and Jose Aldo. This fight could turn out to be a very decisive fight in the division's rankings. Rob Font is looking to get his title shot by defeating UFC legend Jose Aldo. Rob is coming off a masterclass of a win against Cody Garbrandt in his last fight.
Meanwhile, UFC legend Jose Aldo has been decent in his move to the bantamweight division. The Brazilian is coming off a win against Pedro Munhoz. Aldo is hoping to get closer to the bantamweight title fight after beating Rob at UFC Vegas 44. Continue reading to see how the fight goes down.
Jose Aldo defeats Rob Font at UFC Vegas 44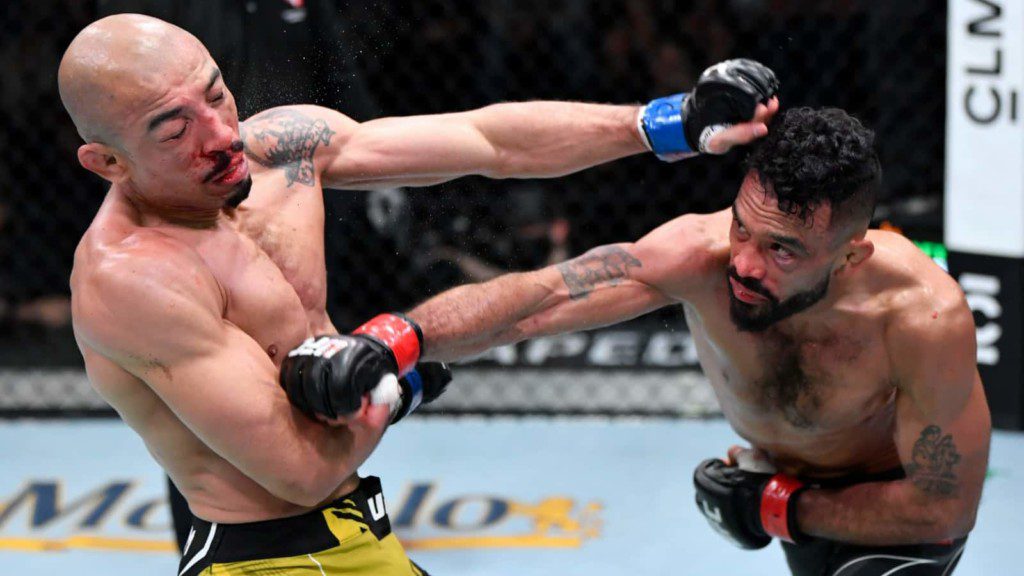 Round 1 Font wasted no time and acted as the aggressor. Rob lands a straight jab. Jose not finishing the range yet. Rob with a beautiful takedown and Jose held up against the cage. An uppercut to Aldo from Font. Aldo with a counter to Font's right hand. Final seconds of the round and Aldo clips Font and almost knocks him out. Font saved by the bell.
Round 2 Font with continuous jabs troubling Aldo. A shot to the face by Aldo as Rob Font walks forwards. Jose hurts Rob once again. Font still walking his opponent down by landing jabs. Another great body shot from Jose Aldo. Rob ended the round on a high.
Round 3 A stunning low kick from the Brazilian. Rob with a takedown but Aldo ends up on top with his transition. Aldo took the side control with Font's attempt to take a hold of his hand. Aldo and Font get on their feet. A leg kick for Aldo and Font slips to the canvas.
Round 4 A huge combo for Jose Aldo and Rob Font was hurt really bad. Aldo not being able to follow up with the Font gave his opponent time to recover. The Brazilian wraps himself on the Boston fighter. Aldo looking for a mount but Font did everything in his power to stop. Nice elbows for Font from the ground.
Round 5 Rob Font acts as the aggressor in the final round. A big uppercut for Font. Aldo hurts Rob and follows with a barrage of punches. Aldo finds himself on top of Font with one minute to go. Aldo tries a body triangle but does not get the finish. WHAT A FIGHT!
Results Jose Aldo def. Rob Font via unanimous decision (50-45, 50-45, 49-46)
Also read UFC Vegas 44: Alex Morono def Mickey Gall via unanimous decision and secures his third consecutive win