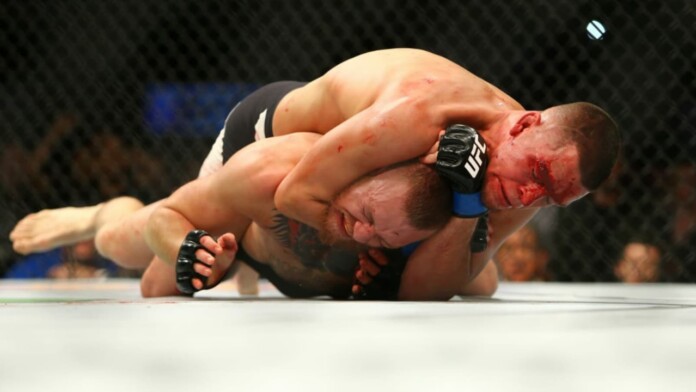 Nate Diaz put the whole combat sports world on high alert when he defeated Conor McGregor at UFC 196. McGregor was initially scheduled to face the then lightweight champion Rafael Dos Anjos, in a title bout. But, hardly two weeks prior to the fight, Dos Anjos pulled out due to an ankle injury.
In stepped Nate Diaz. 'The Stockton Slugger' took the fight on just eleven days notice, and the bout went ahead as a welterweight bout due to the lack of time available for weight cutting. And since McGregor usually walks around at 170lbs, he agreed too. The fight was scheduled to take place at the MGM Grand Garden Arena in Las Vegas, in front of approximately 15000 fans.
Nate Diaz hands Conor McGregor his first-ever UFC loss!
Conor McGregor was coming into the fight, unbeaten in his UFC career. He was coming off a seven-fight win streak, and had only recently won the featherweight title against Jose Aldo at UFC 194. He had already become the face of the fight game by then. Nate Diaz, on the other hand, was coming off a unanimous decision victory against Michael Johnson at UFC on Fox: Dos Anjos vs Cerrone 2. It was a lightweight bout.
Coming to the fight; there was a lot of trash-talk leading up to the fight, with both the fighters trading hefty-expletives at the press conferences and staredowns. The fight began, and McGregor seemed to be landing the cleaner hits, as he bloodied Diaz in no time, mainly because of Diaz's attribute to bleed soon (due to excess face scar tissues). McGregor had the edge at the end of a bloody first round, with Diaz staying firm, cool and steady despite receiving some critical hits from the Notorious.
Nate Diaz delivers the unexpected!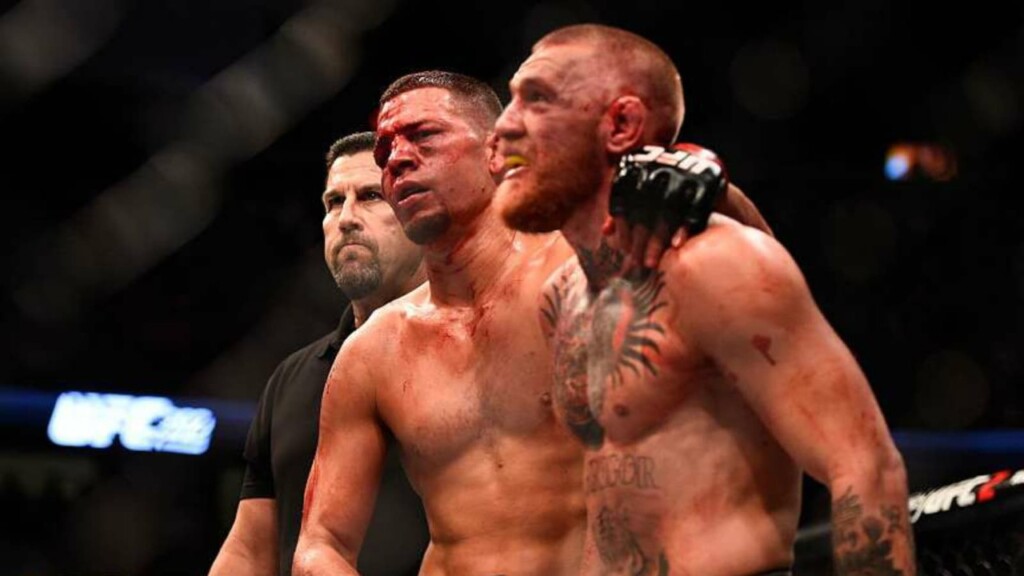 Nate Diaz did the unthinkable in the second round. He switched gears this time, and went toe-to-toe with Conor. Both kept trading blows, and there was a point in the round where both the fighters got rocked at different times. Just towards the end of the round, Nate Diaz knocked Conor to the floor and executed a perfect rear-naked choke. McGregor tried to hold on, but there were almost 50 seconds left for the bell, and Diaz was tightening his grip.
The Irishman ultimately gave in, and Diaz emerged the winner. The whole stadium was stunned, and so were the people watching all around the world. McGregor had lost for the very first time in his UFC career. At the post-fight interview, Diaz uttered his famous line, "Hey, I'm not surprised m****f****rs!"
Nate Diaz beating Conor McGregor and also the pair's rivalry will be talked about for years and years.
Also Read : Michael Bisping and Daniel Cormier slam the judges for awarding Michael Chandler a 10-8 in the first round against Charles Oliveira
Also Read : 'Rían McGregor' – Conor McGregor is now a dad of three!