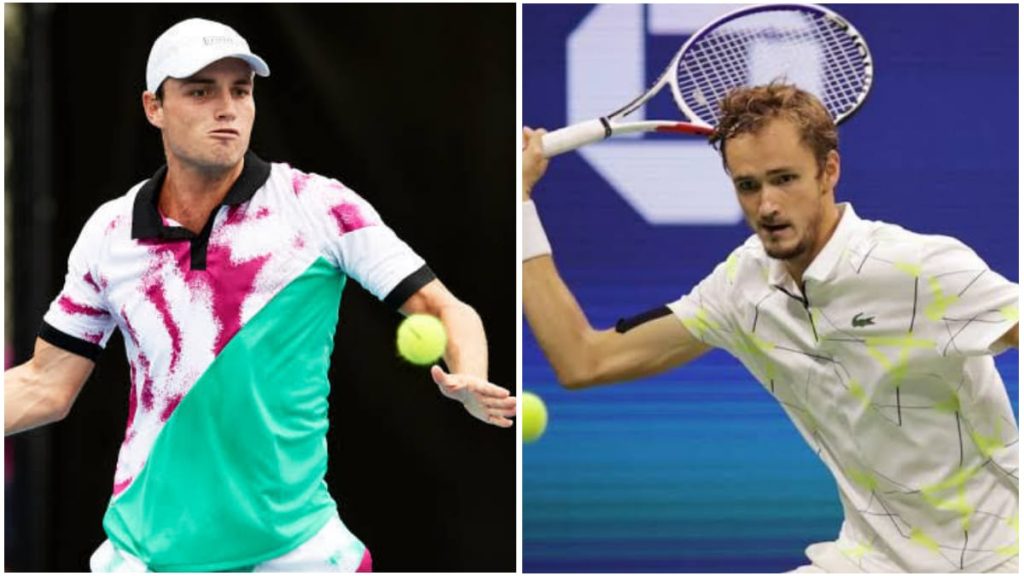 Summary:
Daniil Medvedev was on a role against Christopher O Connell today. Clearly there was no chance for the Aussie to challenge Medvedev in such form. The Russian was in full flow today. This was indeed a comfortable win for Medvedev over the Australian.
The Russian won the match by 6-3, 6-2 and 6-4 in straight sets. Christopher struggled with his back and also was unable to find any kind of rythm in this match. Daniil Medvedev looks all set to play in the 3rd round now.
US Open 2020 Live Updates: Daniil Medvedev beats Christopher O Connell
6:18 IST: Game! Set! and Match for Medvedev. A comfortable win here gets him through to the 3rd round.
6:16 IST: Medvedev 5-4 O Connell. Now Medvedev is serving for the match.
6:12 IST: Some good shots were on display from O Connell but eventually Medvedev takes the game and is leading by 5 games to 3 now.
6:05 IST: Medvedev is leading 4 games to 3 as Christopher is showing some character by holding on to his serves.
5:56 IST: O Connell saves his serve this time. 3-2 Medvedev is leading in the 3rd set.
5:52 IST: Medvedev is now leading by 3-1 and is ahead in this game by 30-0. Clearly the Australian is struggling here with form and fitness both.
5:47 IST: Nice determination from the Aussie. O Connell hold on to his serve after a long game. Medvedev leading 2 games to 1.
5:34 IST: O Connell is looking a bit tired now. Maybe he concerned about his back. As Medvedev is easing his way towards a win . 1-0 in third set.
5:27 IST: 6-2 for Medvedev in the second set. Just one set away now from the next round.
5:26 IST: Medvedev with 3 break points to his name in the 2nd set.
5:20 IST: Medvedev 4-1 O Connell. The Australian seeking some medical help as he having some issues with his back.
5:08 IST: Medvedev showing complete dominance over O Connell. 3-1 the lead for Medvedev now.
5:05 IST: Medvedev leading 2 games to 1 in the second set. He is playing some great shots while being on the run.
4:55 IST: 1-1 for all. Stunning from him as the Aussie now is looking out of sorts.
4:48 IST: Its raining heavy in New York. What a relief as they have roofs on the court.
4:45 IST: Long battle in the 1st game of 2nd set. O Connell finds a way to hold against Medvedev. 1-0 Connell leading.
4:35 IST: Comprehensively Medvedev wins the 1st set by 6 games to 3.
4:34 IST: Too good from Medvedev. What a great drop shot. 30-15 .
4:31 IST: 2nd break point of the set and Medvedev makes the most out of it. He is leading 5 games to 3.
4:26 IST: Both the men holding on to their serves till now. 4-3 Medvedev leading.
4:24 IST: 3-3 games all. O Connell is looking to be aggressive here. He is covering a lot of ground also. But the question is how long can he keep this tempo up in this match!
4:21 IST: Medvedev is leading 3 games to 2 as he holds on to his serve.
4:17 IST: O Connell wins the game and its 2-2 now. A good touch was seen from Connell in the form of drop shot in this game.
4:12 IST: Medvedev 2- 1 Connell. Good from Medvedev but the Australian isn't doint bad either.
4:09 IST: Connell holds to his serve. 1-1 all.
4:07 IST: Its a deuce in the second game. Connell saves the break point.
4:05 IST: Great shot from Connell. An extended forearm. Looking good with his serves as well. 40-30.
4:03 IST: Medvedev wins the first game of the match and starts pretty well in his service game.
Welcome to the live updates of the US open 2020 match between D. Medvedev and Christopher O Connell.
Preview: D. Medvedev vs C. O. Connell
We are in the second round of US open 2020. Daniil Medvedev has started his journey in the tournament with a straight-forward victory against F. Delbonis. On the other hand Christopher O Connell will be high on confidence. The Australian registered his first Grand Slam main draw victory on Tuesday, defeating Laslo Djere 4-6, 6-4, 7-6(2), 6-4 in the opening round.
The third seeded, Medvedev is searching his maiden Grand Slam Title. The rust that was witnessed in Cincinnati open has vanished in the US open 2020. Indeed the Australian needs to bring in aggresion and determination of highest level to put up a challenge against the Russian.