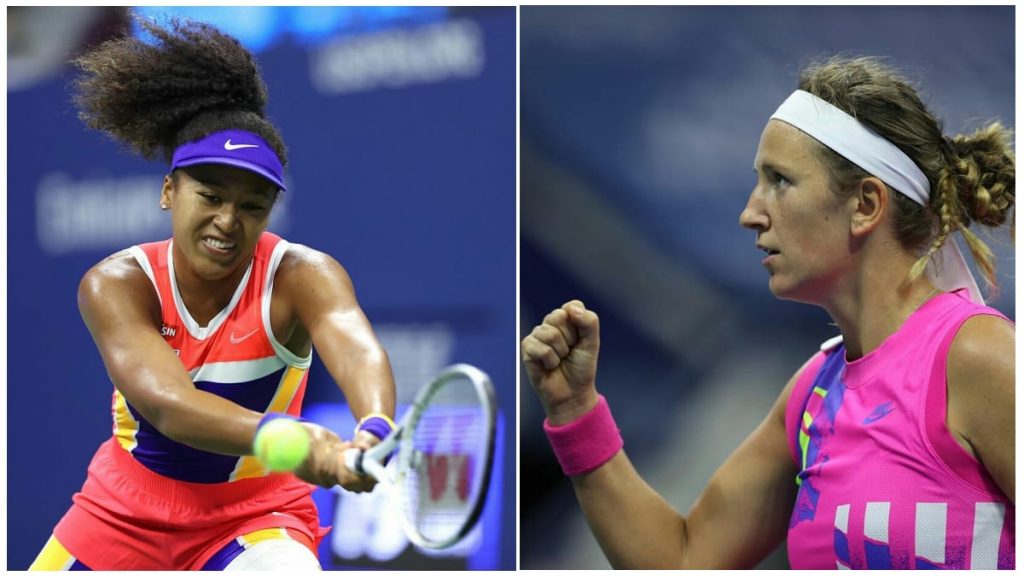 Summary:
The stage was set on fire today when both Naomi and Azarenka made it on the Arthur Ashe stadium. The 4th seeded Osaka didn't started of pretty well. Conversely it was her counterpart Victoria Azarenka who looked at her prime in the beginning. Vika took the first set 6 games to 1 and stamped her authority in this match. Moreover she took the first 2 games of the 2nd round as well. Everyone believed its all over for Osaka. On the contrary the Japanese had different plans. She stunned the whole world with amazing skills and temperament on court. She won the second and third sets 6-3 and 6-3. Now Naomi Osaka have got 2 US open titles in her kitty. She is for sure a new star in the making.
Azarenka played some of the best tennis of her life today. But she ended up on the losing side. Nevertheless nothing can be taken away from the Belarusian as she was absolutely durrific throughout the tournament.
Osaka has shown the world that she has got the skills to be one of the best tennis players and also the positive frame of mindset. The way she soaked the pressure in so crucial match was breathtaking. Everyone for sure is expecting to see more of Naomi Osaka's brilliance in the upcoming years.
US Open Live: Naomi Osaka beats Victoria Azarenka, LIVE Updates
3:40 IST: 2nd time US open champion, ladies and gentlemen put your hands up for Naomi Osaka.
3:35 IST: Osaka breaks and leads by 5 games to 3. She is readyvto serve for the championship.
3:30 IST: Amazing Azarenka breaks. Back on serves now. Its even stevens here.
3:28 IST: Azarenka showing complete resistance here. What a forehand down the line. Its deuce.
3:25 IST: Gem of an ace to make it 4-2 by Azarenka. She is still fighting and the match is completely turned on here.
3:24 IST: Vika fighting hard to stay in this match. Osaka determined to make the double break.
3:15 IST: Osaka saves 3 break points. Opportunity goes in vain for Vika. She is trailing by 4-1.
3:11 IST: Here is the first break. Osaka has done it. She leads by 3-1 in the final set.
3:05 IST: Osaka holds. This is tennis at its very best. Both the players looking very strong here. Its a matter of who breaks first temperamentally. 2-1 Osaka leading.
3:03 IST: Azarenka grunts loud as she holds and the score is 1-1 all now.
2:59 IST: Perfect start for seed no. 4 in the 3rd set. She is up by 1 love.
2:54 IST: Osaka takes the second set 6-3. The sting in her shots is back. Now it looks a completely even game. All depends on the third set.
2:44 IST: Osaka has arrived in the battle just at the right time. She leads by 5-3 now.
2:40 IST: Here we go now. Osaka breaks and leads by 4-3. Is this the momentum shift seed 4 was looking for.
2:37 IST: Osaka is looking settled with her serves now. 3-3 all.
2:34 IST: Azarenka is leading 3 games to 2 and looking unbelievably brilliant with her serves.
2:31 IST: Tremendous ace to make it 2-2 all now by Osaka. She is finding her way back in this finals and the game is on here. Nevertheless sensational Azarenka doesn't misses the chane to show her tricks.
2:26 IST: Osaka breaks and we are back on serves in the 2nd set. The game has not finished yet. 2-1 Azarenka is leading.
2:22 IST: No stoppings today for Vika. She is ridiculously amazing today. Osaka unable to hold and Belarusian is leading by 2-0.
2:19 IST: Azarenka is serving big today. Good start in the 2nd set as well for her. 1-0 Azarenka leads.
2:15 IST: Osaka needs to up the anti here. Its now or never for her in the second set. Azarenka will look to carry this momentum forward in the next set. Moreover she could seal the championship in straight sets as well.
2:14 IST: Azarenka on top of her game. She is in the zone. Osaka looks awful in the first set. Vika wins the set 6-1.
2:10 IST: Azarenka is leading 5 games to 1. Osaka is loot frustrated as she throws her racquet on ground in disgust.
2:05 IST: Osaka not looking so good but Azarenka is looking in fine touch here. As she leads by 4-1.
2:00 IST: Couple of magnificent shots from Vika to hold this game. She is looking in red hot form here. Azarenka 3-1 Osaka.
1:56 IST: Osaka gets on board here. She needs to back her game. 2-1 Azarenka in the lead.
1:53 IST: Right from the word go Vika looks to dominate this match. She holds and is now leading by 2-0. Vika looking in great touch here.
1:50 : Experience coming in the way here. Azarenka breaks Osaka in the very first game of the finals. 1-0 Azarenka is leading.
1:42 IST: The ladies have made it to the centre. Inches away from the start of US open 2020 finals.
Welcome to the LIVE Updates of US Open 2020 Women's Single Final Between Naomi Osaka and Victoria Azarenka. Follow all LIVE Updates here.
US Open Live: Naomi Osaka vs Victoria Azarenka, Preview
The stage is set for the Women's Singles Final at US Open 2020 as the unseeded Belarusian, Victoria Azarenka comes up against 3rd seeded Naomi Osaka at the Arthur Ashe Stadium on Saturday. We witnessed two classic semifinals on Thursday night as Azarenka beat Serena Williams and Naomi Osaka got past Jennifer Brady in 3 grueling sets respectively.
We are set to witness a rematch of the Cincinnati Masters Finals which we could never quite witness because Naomi Osaka had to pull out of the finals against Azarenka which took place just before the US Open.
Naomi Osaka, 3rd seeded Japanese had to battle her way past one of the tournament surprising semifinalists, Jennifer Brady in three tough sets to book her place in the finals. Naomi Osaka won the first set clinching it in the tiebreaker, 7-6 with Jennifer Brady coming back in 2nd set before Naomi Osaka regained her composure and won the 3rd set 6-3.
She had to defeat fellow Japanese, Misaka Doi in three tough sets in the first round and M.Kostyuk of Ukraine in another 3 sets in the 3rd round. She defeated A.Kontaveit of Estonia in straight sets in the 4th round. Against Shelby Rogers in the quarterfinals, Naomi Osaka was on top of her game defeating her in straight sets, 6-3 and 6-4. Overall, her journey to the final has been comfortable and she has looked solid in her game except for a few hiccups in a few rounds.
Victoria Azarenka, the unseeded Belarusian, shocked the tennis world when she defeated the 3rd seeded and 23-time grand slam champion, Serena Williams in 3 sets in the 2nd women's semifinal. After losing the first set comprehensively, 6-1, she came back and won the next 2 sets to upset Serena and book a place in the final.
This was the first time Azarenka beat Serena Williams in a Grandslam match. Victoria Azarenka is probably playing her best tennis defeating 5th seeded and fellow Berlausian, Aryna Sabalenka in straight sets in the 2nd round hardly breaking any sweat. She had just dropped one set this tournament against the 20th seeded Karolina Muchova in the 4th round before her semifinal clash against Serena Williams.
In her quarterfinal game against Elise Mertens, she absolutely breezed past her giving her not even a single chance winning 6-1, 6-0. She has carried on her amazing form from Cincinnati Masters where she won her 21st career title just before the US Open.