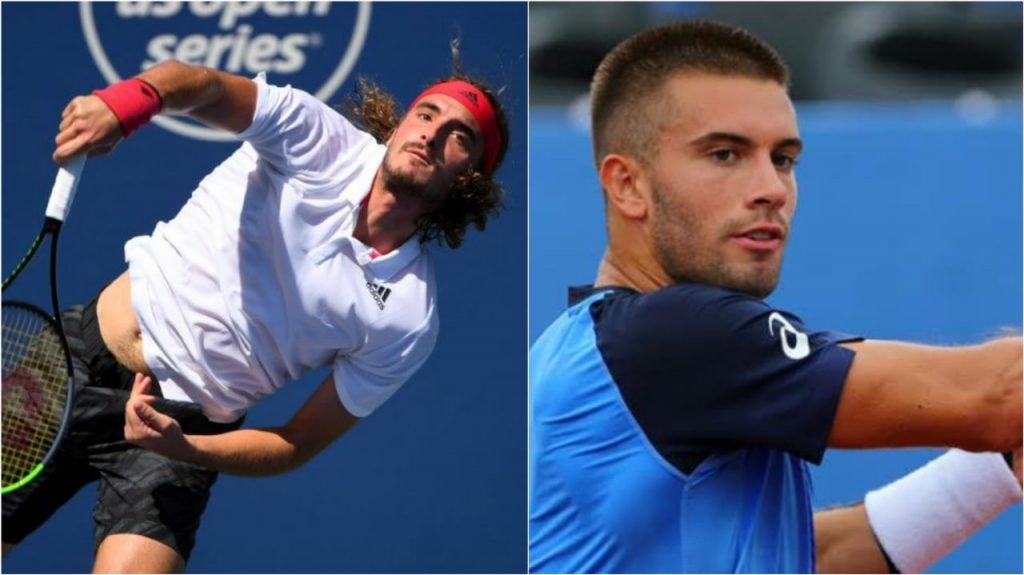 US Open 2020 Live Updates: Stefanos Tsitsipas vs Borna Coric
What a win for Borna Coric…He saved six match points in 4th set and here we are…he moved to 4th round on US Open 2020.
Borna Coric 6-3 Stefanos Tsitsipas in the tiebreaker. Second double Fault of the tiebreaker by Tsitsipas…he had only one in while match…whats going on here. MATCH POINT for Coric…first one saved by Tsitsipas…. CORIC WINS
Deciding moments now…4 hours 24 minutes…. Tsitsipas serves at 5-6, and first point to Coric. Pressure on Tsitsipas…0- 30 behind…15-30 and its 30 all…well played Tsitsipas. ACE at the right time…40-30 and game to Tsitsipas and we are into the tiebreaker.
Coric on serve 5-5. 15 all as Tsitsipas wins a point on net. Ohhhh h what Coric was doing here….he goes for volley and played on net… another unforced error by Coric…break point for Tsitsipas. Can he convert? No he couldn't for now… DEUCE ….poor by Tsitsipas and advantage to Coric. GAME TO CORIC
Tsitsipas to serve at 4-5, he need to win this to stay in this match. Ohhh…just out…Coric missed a chance to win a point here and put pressure on Tsitsipas. Tired response by Tsitsipas and it's 15 all. Good serve, 30-15 it is. Well played by Tsitsipas on net and game point for Tsitsipas here. And he holds, 5-5 in 5th set.
Good rally going and Coric wins the point here, 4-4. Quite a reply by Tsitsipas, 15-15. Wow…. Tsitsipas on break 40-15. Coric saves one break point. DEUCE, CORIC SAVES TWO MATCH POINTS. Tsitsipas advantage, can he break? DEUCE AGAIN, Tsitsipas slipped on court as he decide to hit a forehand. Now Coric on advantage. DEUCE NUMBER 3. Coric Advantage, and he holds 5-4 it is.
Tsitsipas to serve, 3-4 it is. Well played Tsitsipas, moved forward and had open court to get a point. Good deception by Tsitsipas as he leads 40-15 on serve. Coric looks fired up but lost this game 4-4 it is.
Coric serve on 3-3, good forehand Return by Tsitsipas and Coric played in net. Game it is Coric 4-3 Tsitsipas
Tsitsipas leading 3-2, on serve. Deuce it is. Coric on break. And Coric breaks Tsitsipas.
Both players are good on their serve, it's 2-2 now and Coric will be serving now. WELL PLAYED TSITSIPAS,Coric on serve, 2 break points for Tsitsipas. Coric saves first one, can Tsitsipas get a break here? Ohhhh!!! Cours Deuce now, Coric saved two break points here. TSITSIPAS BREAKS CORIC. Leading 3-2 and serving.
If Tsitsipas lose today, it will haunt him, as he was leading 2-1 and 5-1 up in fourth set.
Third game of 5th set, Coric on serve. Tsitsipas couldn't find a break and Coric leads 2-1. Tsitsipas is on serve now.
In the fifth set and Coric leading 1-0, Tsitsipas serving. Coric played well to take the first point on Tsitsipas serve. But Tsitsipas won the game, 1-1 it is.
We are into the fifth and final set. Borna Coric played well to take it that far. He was 5-1 down and made a stunning comeback.
Welcome to the live updates of 2020 US Open match between Stefanos Tsitsipas vs Borna Coric
PREVIEW: Stefanos Tsitsipas vs Borna Coric
S. Tsitsipas is in the quest of a maiden grand slam title at the US Open this year. Indeed his performance is up to the mark and moreover he is looking comfortable against his opponents. The Greek player has gone past Albert Ramos Vinolos and Maxime Cressey in straight sets. Fourth seed Tsitsipas will be up against B. Coric in the round of 62.
In complete contrast B. Coric has been in the news for wrong reasons only this season. Coric was a part of Djokovic's Adria tour where he was tested positive for Covid-19. The Crotian has knocked Pablo Andujar in the first round where he looked in complete control. On the other hand he had to battle very hard in 2nd round against Juan Ignacio Londero to win. Furthermore this is the second time Coric is up against Tsitsipas and Tsitsipas has one the previous match against Coric.