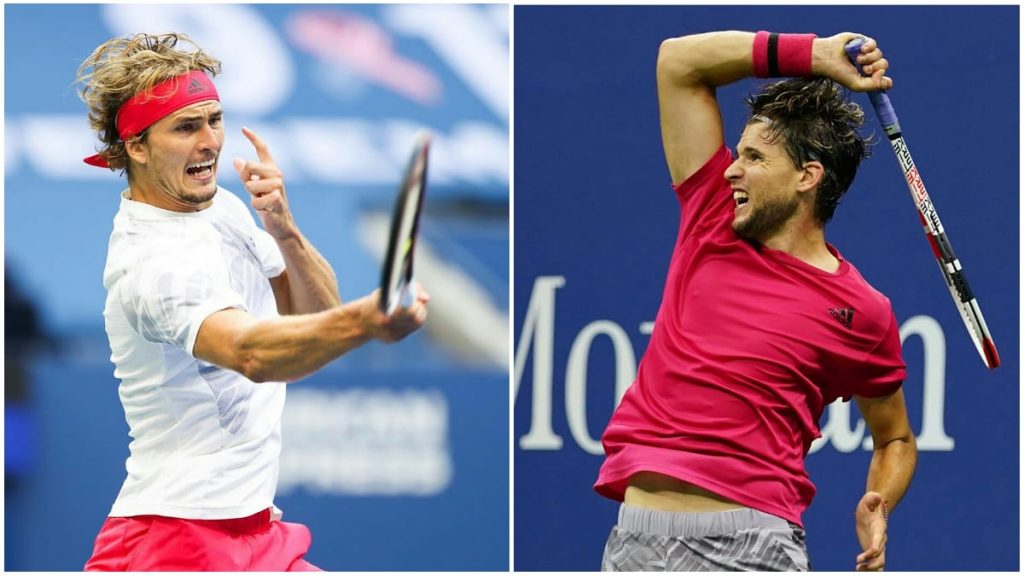 Summary:
What a great battle in the finals of US Open 2020. Indeed a treat to witness to young guns fighting with all the troops. Dominic Thiem has now won US Open 2020 championship. The Austrian has become the 1st player since 1949 to make a comeback from 2 sets down to win the major tournament.
Surprisingly Alexander Zverev the underdog started like an unstoppable beast on court. He was fearless as well as ruthless with his approach. But he could maintain that tempo till the 2nd set only. The 5th seed won 6-2 and 6-4 the first 2 sets. On the other hand the rest of the match was dominated by our US Open 2020 champion Dominic Thiem. He is a sensational player who has got his first nail in the coffin.
US Open 2020 Final LIVE Updates: Dominic Thiem beats Alexander Zverev
5:49 IST: Unbelievable scenes! We have got the new Champion Dominic Thiem.
5:48 IST: 6-6 all.
5:43 IST: 3-3 all. Even in the tie-breaker. It will take a magnificent effort to take this title.
5:38 IST: Another twist in the tail. The 5th seed is determined to win this US open cup.
5:32 IST: Oh yes Dominic Thiem will serve for the championship.
5:28 IST: 2 unbelievable forehand shots from the 2nd seed to stay in the hunt. Zverev gave it his all but .
5:22 IST: We are back on serve. Unbelievable up and downs in the match. 5-4 Dominic behind.
5:17 IST: Excellent wake up! Better both the players. 5-3 Zverev he will be serving for the tournament.
5:13 IST: Zverev 4-3 Thiem.
5:08 IST: 3-3 all . No one is ready to give up.
5:02 IST: Zverev 3-2 Thiem. Who is going to win ??
4:58 IST: Thiem 2-2 Zverev. They both are not easy players at all.
4:53 IST: Both the men are in supreme form its 2-0.
4:48 IST: Zverev breaks back now its 1-1.
4:45 IST: Thiem clicking at the right moments. He breaks and leads by 1-0.
4:40 IST: Thiem making things look very simple here. Takes the second set. 6-4 IST.
4:37 IST: Thiem is 1 game away from pushing the match in finals. 2-1.
4:28 IST: This is turning out be a cat and mouse match. 4-3 Deepak hi hai abhi bhi.
4:26 IST: Seed no. 2 play a breathtaking forehand shot.
4:24 IST: Its 3 game to all now. Which way is this game heading toward!
4:17 IST: Seed no. 2 is now looking to make the break.
4:14 IST: They have square by 2-2 all.
4:11 IST: Thiem is leading 2-1. Both men are reluctant with their serve here.
4:07 IST : Game. Zverev has hold the serve here. He needs to finish it now in the cinema!
4:02 IST: Thiem right back on track. 1-0 Thiem ahead.
3:57 IST: Thiem fights back.
3:52 IST: Brilliant outing for Zverev. He leads by 5-4.
3:46 IST: One handed backhand from seed. 2. 4-4 now.
3:40 IST: Thiem holds and lead by 4-1.
3:35 IST: 3 games to all. Thiem looking to come in the grey.
3:31 IST: Thiem leads 3 games to 2 now.
3:28 IST: Seed no. 2 squares it off! Now Thiem breaks and is this the subtle time to do that.
3:19 IST: Stunning! Absolutely magnificent! Zverev breaks again. The second seed is looking completely clueless about what happening on the court today. 2-1 Zverev is leading.
3:14 IST: Its 1-1 all now. Zverev holds his serve with some powerful big serves.
3:12 IST: Thiem leads 1 game to none in the 3rd set.
3:08 : One thing Zverev needs to avoid is of thinking. In the middle it looked like he was thinking how is he gonna celebrate after winning this title. As a result lost a few games in the second set. Zverev needs to stay in the moment and not let Thiem interrupt his rhythm.
3:06 : Zverev does well to hold and take the second set 6-4. Absolutely flawless this man.
3:01 IST: What a winner to hold the serve from Thiem. Just a wristy flick and was enough. 5-4 now Zverev ahead but is this change of momentum here!!!!!!!!
2:58 IST: Thiem breaks. Its 5-3 but Thiem still behind. Zverev lacked focus here as it seemed that he was peeping in his past during the break.
2:52 IST: Thiem holds the game in deuce after a long battle. Its 5-2 now.
2:45 IST: Another amazing hold from Zverev. 5-1 Thiem is well behind in this set and match.
2:42 IST: Zverev 4-2 Thiem. Disappointing from the Austrian. Another double break for Zverev . This 23 year old lad is on top of his game.
2:37 IST: Zverev leading 3 games to 1. How costly this early break will be for Thiem!
2:33 IST: Another break for Zverev. This is marvellous from him. Power, precision and timing everything up to the mark from him. 3-1 Thiem is trailing.
2:30 IST: Absolutely amazing forehand winner for Zverev.
2:28 IST: Zverev holds quite comfortably. Its 1-1 all.
2:25 IST: Thiem takes the 1st game of 2nd set. This will give him some confidence as he took this game which was looking tough. 1-0 Thiem leading.
2:22 IST: Conversely Zverev has come in this match with all guns blazing. The thing that matters is that how long can he keep this sensational tempo up in this final.
2:20 IST: The history of Dominic Thiem in major finals is well known to everyone. But if he wants to turn this match around then, he really needs to keep those previous finals aside. Thiem is lacking focus.
2:17 IST: Perfect way to grab the first set courtesy an ace by Zverev. He takes the set 6-2.
2:13 IST: Zverev is making Thiem live's very difficult here in the middle. He breaks twice and is leading by 5-2 now.
2:08 IST: This is powerful from Zverev. He is on with a plan of taking vollys in his serves which is mind blowing as he is doing that in his second serves as well. 4-2 Zverev leads.
2:05 IST: Thiem holds and now it is 3-2.
2:04 IST: Its deuce and a chance to make the double break for Zverev. Thats the last thing Thiem wanted actually!
2:00 IST: This is exhilarating start from Zverev. He is serving big accurately today. 3-1 Thiem is behind.
1:56 IST: First break and its Zverev who has done it. He is in the lead now by 2-1. Interesting how Thiem retreats to this early break now!
1:55 IST: Golden opportunity for Zverev. He has got 2 break points here.
1:52 IST: Zverev fired up with couple of aces holds his serve and looking in good touch today. 1-1 all.
1:50 IST: Right on the money from the word go- Thiem. He starts well and leads by 1-0.
1:41 IST: Surely best chance for Dominic Thiem to open his account in major grand slam titles. He would love to keep the history of certain final defeats in the major tournaments. On the other hand Alexander Zverev is the youngest ever alongside Novak Djokovic who was also 23 to appear at this stage. Zverev will fancy his chances to be the champion here.
1:24 IST: History in the making for sure today as we will get a very fresh US open champion.
US Open 2020 Men's Singles Final LIVE: Dominic Thiem vs Alexander Zverev, Preview
The stage for the US Open Men's Singles Final is set with two of the most promising NextGen players up against each other at the Flushing Meadows on Sunday.
Finally, after years of being dominated by the Big 3 and losing to them, Thiem and Zverev will battle it out at the biggest stage in their bid to claim their first Major. We witnessed two gripping semifinals on Friday night with Zverev overcoming Pablo Carreno Busta in 5 sets while Thiem, surprising many fans got better of Daniil Medvedev, 3rd seeded Russian in 3 straight sets.
Alexander Zverev, 5th seeded German who was known to crumble under pressure in big games was faltering again in pressure during his semifinal clash against the Spaniard Pablo Carreno Busta. He lost the first 2 sets without putting up a fight and making 23 unforced errors in the 2nd set. To the viewers, it looked as if Zverev had given up but he proved yet again why he is considered one of the most promising talents on tour by staging a classic comeback winning the next 3 sets and making it to the final in 5 tough sets.
Alexander Zverev has had a few hiccups along his way to finally dropping a set each in his first 3 round games. He started off defeating Kevin Anderson in 4 sets in the first round, before getting past A. Mannarino in 4 sets, A. Fokina in 3 sets in the later rounds. In the quarterfinals, he defeated Borna Coric in 4 sets before playing a 5 setter against Pablo Carreno Busta in the semifinals. This is the first-ever final Zverev has reached in his grand slam career.
Dominic Thiem has been in the form of his life this tournament. The 2nd seeded Austrian has dropped just one set this tournament. He has defeated Marin Cilic, 2014 US Open champion in 4 sets, Felix Auger Aliassime in 3 straight sets in the last 16, before beating Alex de Minaur in another straight-set victory in the last 8. However, Thiem's opponent in the semifinal was Daniil Medvedev and fans expected to witness a 5 set thriller. Surprisingly, Thiem cruised past the Russian and 3rd seeded Medvedev in 3 straight sets setting up a final clash with his good friend Alexander Zverev.