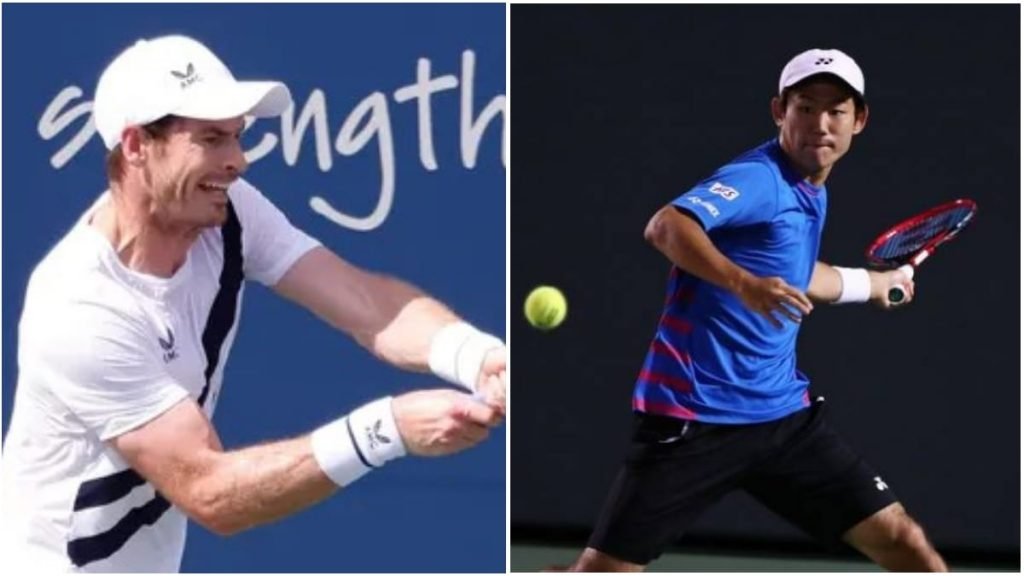 MATCH SUMMARY
Nobody imagined that Murray would come back to the US Open and play a five setter against an unseeded Nishioka lasting over 4 hours.
The first and second set were solely dominated by Nishioka and Murray tried to step up but failed. The Japanese had a match point that he failed to convert. But what Murray did post that was phenomenal and surreal. First match point for Nishioka came in the third set which he failed to convert! Murray took the leads from there and there was no looking back.
Murray won third and fourth set in a tie-break. Though the Scot could dominate the tie-break the way to reach the tie-break was filled with breaks, missed chances, smashes, winners and double faults.
The Scot won an easy final set that ended 6-4. Murray will surely look back at the double faults that made him struggle today.
LIVE UPDATES
02:22 IST: Murray seems to be proactive for the Break, 30-30 before Nishioka steals a point to lead DEUCE!! and MATCH POINT#1 for Muzz and GAME SET MATCH!! 6-4
02:16 IST: Murray on the serve, he trailed 15-30 but now leads 40-30. His ground strokes have been bombastic. GAME! 5-4 Murray leads
02:12 IST: Nishikoa on his serve, and an easy HOLD on the way as he leads 40-0. HOLD Nishioka 4-4
02:08 IST: Over 4 hours in the match, Murray's magic still intact. A quick HOLD from Murray puts him back in the lead. 4-3
02:06 IST: Murray takes a charge to break Nishioka 15-30 but a quick point for NishiokaAn unforced error by Nishioka provides Murray a breakpoint. A lob by Murray and BREAK! GAME 3-3.
02:03 IST: Nishioka holds 2-2 is the score. But Murray is trailing on his serve and BREAK! 3-2 NISHIOKA
01:48 IST: A successful hold from Nishioka and he equates it to 1-1. The match is going with the server as for now. The next game is again just as simple, Murray leads 2-1.
01:44 IST: Murray starts to serve in the final set. Murray saves a breakpoint in the first game itself. DEUCE! and a winner from the baseline fetches him the ADVANTAGE and GAME! 1-0
FINAL SET
A medical time out before Murray begins the last set. He seems to have an issue with the thumb on his right foot.
01:37 IST: Murray leads 6-2 and Nishioka brings in an amazing point. He is mentally not looking strong yet wins a great point 6-3. Another point for Japanese, 6-3 and finally Murray converts!! 7-6 (3)GAME, SET MURRAY IT IS 2 SETS ALL
01:34 IST: Nishioka trying hard to come back in the tie break after trailing 1-4 he wins a point.
01:32 IST : TIE BREAK in the fourth set has Murray in the lead 2-1. A great aggressive point from Scot as he hits a smash and leads 3-1
01:28 IST: First MATCH POINT for Nishioka and a big serve lands in but Nishioka cannot return. DEUCE, followed by ADVANTAGE for Murray. Murray survives and GAME! 6-6
01:23 IST: Murray leads on his serve 30-0 if he holds we will see tie break soon. But Nishioka is close behind as Murray has given a free point to Nishioka by missing an easy volley. Yet Murray is in the match and grunts "come on" as he wins next point to lead 40-30 and DEUCE!!
01:17 IST: Nishioka makes a successful hold and has a lead again, 6-5. A very tight competition in this match.
01:17 IST: Murray is providing no chance for Nishikori, he leads 40-0 on his serve. Nishioka earns one point for himself as Murray misses in the net. Yet Murray wins a point and HOLD, GAME 5-5
01:11 IST: Nishioka on the serve and straight forwards holds. 5-4 A perfect opportunity to break for Nishioka and seal the match.
01:10 IST : A wide ace from the deuce court and Murray leads on his serve 40- 0 GAME!! 4-4
01:06 IST : Nishioka again at his serve and seems confident to hold it. He leads 40-15 on his serve. HOLD 4-3
01:00 IST: Nishioka wins two consecutive points, he leads 0-30 but grunts at a poor return to a rather easy serve, but ultimately fails to break and Murray holds. 3-3
00: 58 IST: Easy domination for the server Nishioka , he leads 3-2.
00: 54 IST : Murray starts strong for a hold, an ACE ! and 40-0 for him. Pretty easy hold for Murray. GAME 2-2
00: 51 IST: A pretty easy HOLD for Nishioka 2-1, it is the fourth set now and the duo is just not ready to give up.
00:40 IST : Murray starts with a powerful serve, 15-0 but Nishioka is here to compete with great returns 30-30. Murray has a game point and DOUBLE FAULT!! DEUCE!! Break points saved from Murray but here is another one for Nishioka but Murray enters the volley and finishes the point. Murray HOLDS!! 1-1
00:39 IST : Nishioka wins the opening game with a hold as Murray cannot return the serves. 1-0
SET#4
00:25 IST: Nishioka back to equate the score 4-4 but to no avail, Murray wins the tie break. GAME SET MURRAY 7-6, NISHIOKA LEADS 2-1
00:23 IST: The third set pushed into a tie-break and Murray asserting his dominance with 2-0 lead. Nishioka sets up a point entering the volley 1-2.
00: 21 IST : Nishioka leads 40-30 and GAME!! 6-6
00:20 IST : Murray and Nishioka are head to head 30-30.
00:16 IST : Murray seems to have a good grip in the set he leads 6-5.
00:05 IST: In a crazy turn of events, Murray now leads 5-4. Dominant game play and aggressive strokes have landed Nishioka a game and it is 5-5
23:49 IST: Murray is back. Yet he will have to work hard to win the set. Nishioka wins the first point on his serve. WHAT A POINT!!!!! Murray sprang to the net and finished the point with an overhead!! 15-15 Murray wins a HOLD 4-3
23:46 IST: Nishioka seeking a hold here, which shall be vital. He trails 15-30 and another unforced error scot pockets a double break point. BREAK!! Murray breaks Nishioka 3-3
23:40 IST: Murray wins the first point with a big serve, a dominant point as he puts Nishioka on the run and hits winner in the open court. 40-0 and Murray seeking a hold, as the Japanese struggles to return. But Nishioka hits a powerful winner just near the baseline and a double fault. Yet Murray seals the service game. GAME 3-2
23:38 IST: Nishioka on the lead at his serve. 40-0 as Murray has no chance to bounce back in this game, Nishioka is serving well and GAME! 3-1
23:37 IST: Murray striving hard to remain in the match. He holds his serve and closes the gap to 2-1.
23:33 IST: Nishioka leads 30-0 on his serve. Nishioka's heavy topspin seems to trouble Murray, another point for the Japanese, and GAME. 2-0
23:28 IST: Nishioka leads on Murray's serve 30-40. Murray goes to change a racket and DOUBLE FAULT!! Murray is broken yet again! 1-0 Nishioka leads
SET#3
23:24 IST: Murray trails 0-30 on Nishioka's serve before he can win a point. Nishioka strengthens the lead with a down the line winner, SETPOINT. But, Murray enters to volley and win the point. Set point #2, GAME SET Nishioka Leads 2 sets
23:20 IST : Murray on the serve and leads 40-15. A big serve and Nishioka fails to return it is 5-4. Crucial game up next.
23:19 IST: Nishioka manages to HOLD serve and steadily move towards sealing a victory. He leads 5-3
23:10 IST: Murray leads 40-15 on serve before awarding Nishioka a lob to smash. 40-30 and Murray sees history repeated. Again he fails to convert the early game point and DEUCE it is Murray seals the game after winning an advantage. GAME 3-4 Murray close behind Nishioka.
22:58 IST: Murray is in the lead on his serve with 40-30. But Murray is not going to have it easy, Nishioka makes it DEUCE. Now Murray trying to hop in the match but has one point lead. A sensational passing shot from Nishioka and DEUCE. Too good from Murray as he targets the backhand of Nishioka and enters the volley to hit it deep. DEUCE #3 now, An early prediction from Murray on the volley and quick reaction wins him the ADVANTAGE. GAME, 4-1 Nishioka
22: 50 IST: Nishioka is dominating the second set, but Murray plays the first point aggressively and wins 0-15. Nishioka with a beautiful drop shot, Murray just cannot reach. Nishioka now leads 30-15 after winning two consecutive points. Nishioka misses a shot which goes long. Nishioka is super aggressive. He enters the volley and wins 40-30 and GAME. 0-4 Murray trails
22:45 IST: Murray seems to have mentally lost. He has already done 3 double faults. Murray wins a lead to head to HOLD he is leading 40-15 and loses the first game point. He still has another chance. Yet another double fault. Nishioka earns himself an advantage and OUT from Murray. GAME Nishioka leads 3-0
22:44 IST: Murray is trailing as his errors are adding. Nishioka leads 40-0 on his serve and Murray misses another return to award him the game. 2-0
22:38 IST: Murray starts the set, point for Nishioka 0-15. Another point for Japanese, 0-30. Murray looks for a cheeky winner and finds it. Another point for hi and it is 30-30 in the blink of an eye. A long rally, great defence by Murray but with a forehand mishit, the Japanese has a breakpoint in the first game itself. Murray tries to go just close to the baseline and misses. Murray is broken and trails 0-1
SET#2
22:37 IST: The Japanese wins two consecutive points and he is serving for the set. Nishioka turns a defence to attack and wins by hitting a down the line winner. Double setpoint. GAME SET. 1 SET UP- NISHIOKA
22:30 IST: The duo has all guns blazing, as Nishioka enters the net , Murray too attacks and hits right near the foot of the Japanese, which he fails to return.0-15
22: 28 IST: It is rather ironical that Murray had been holding his serve rather easily than Nishikoa yet was broken. This game, he leads 30-0 and ACE!! 40-0, he wins another point to win the GAME! Nishioka leads 5-4
22:23 IST: Nishikoa begins with an ace wide from the deuce court. Yet loses the next point with an unforced error. However, he moves ahead to HOLD and is close to seal the set. Nishioka leads 5-3
22:18 IST: Time violation for Andy Murray, as he trails 15-40 now on his serve. But a save, he is now one breakpoint down on his serve. Murray runs around the court but finally gives an easy lob for Nishioka to smash. Murray trails 3-4
22:11 IST: Nishioka starts with a big serve 15-0, but the next point is given to Murray as the Japanese does an unforced error on the net. Another long 23 shots rally but Murray misses a backhand in the net to lose the point. A double fault for Japanese and 30-30 is the score. WOW! the young Japanse is up in the volley and a block crosscourt as he earns a game point for himself. GAME!! Nishikoa holds but clearly had a bit trouble on the way. 3-3
22:09 IST: The match is a treat to watch with amazing rallies amongst the duo. Murray has started off hiss serve and he leads with three-game points and GAME!! 3-2
22:07 IST : The Japanese took the charge and attacked as Murray fails to return the ball. The advantage for Nishikoa and GAME!! 2-2. Andy Murray is in for a tough match it seems!
22:06 IST : The duo is having a neck to neck competition. As Nishikoa is serving, it is 30-30. A big forehand fro the baseline and just OUT! A breakpoint for Scot, but he fails to convert. DEUCE! Murray has won the point and has the second breakpoint. What a phenomenal rally and a winner from Nishioka. DEUCE.
22:00 IST : The Scot has been leading his service game 40-15. He is going ahead to lead 2-1
21:47 IST: A long 23 shots rally in the second game 15-15. The Japanese heads on to hold an easy service game. 1-1.
21: 51 IST: A brief disagreement as Murray takes a challenge and the ball was out. A lengthy opening game before Murray can HOLD. GAME 1-0
21:49 IST: Andy Murray was trailing 15-30 before making it 30-30. Murray is seeking for a HOLD in the first. A great point won by Murray as Nishioka entered the volley only to miss it in the net. GAME point for Murray but Nishioka comes back to win a point with a SMASH! DEUCE
21:47 IST: Andy Murray begins with a lob to win the first point.
21:43 IST : Andy Murray and Yoshihito Nishioka hitting some balls and warming up.
Match Preview
In 2020, Murray has been a part of just one tournament. The 33-year old Brit participated at the Cincinnati Open last week and showed the glimpses of his past form. The World No. 115 defeated Frances Tiafoe in the first round before getting the better of Alexander Zverev. However, Murray's run ended when Milos Raonic outclassed in straight sets 6-2, 6-2 in the Round of 16. The one thing which was delightful to see at the Western and Southern Open was that Murray did not look in any sort of pain whatsoever while moving around the court.
On the other hand, Nishioka has had a moderate season so far. The 24-year old Japanese reached the third round at the Australian Open before receiving a thrashing at the hands of the eventual champion Novak Djokovic. The Serb breezed past Nishioka 6-3, 6-2, 6-2. World No.49 Nishioka gave his best performance at the ATP 250 Delray Beach event. There, the Japanese reached the final before losing out to Reilly Opelka in three sets 5-7, 7-6, 2-6.
HEAD TO HEAD
The two players are yet to face each other on the Tour. Their match on Tuesday will mark their first meeting against each other.