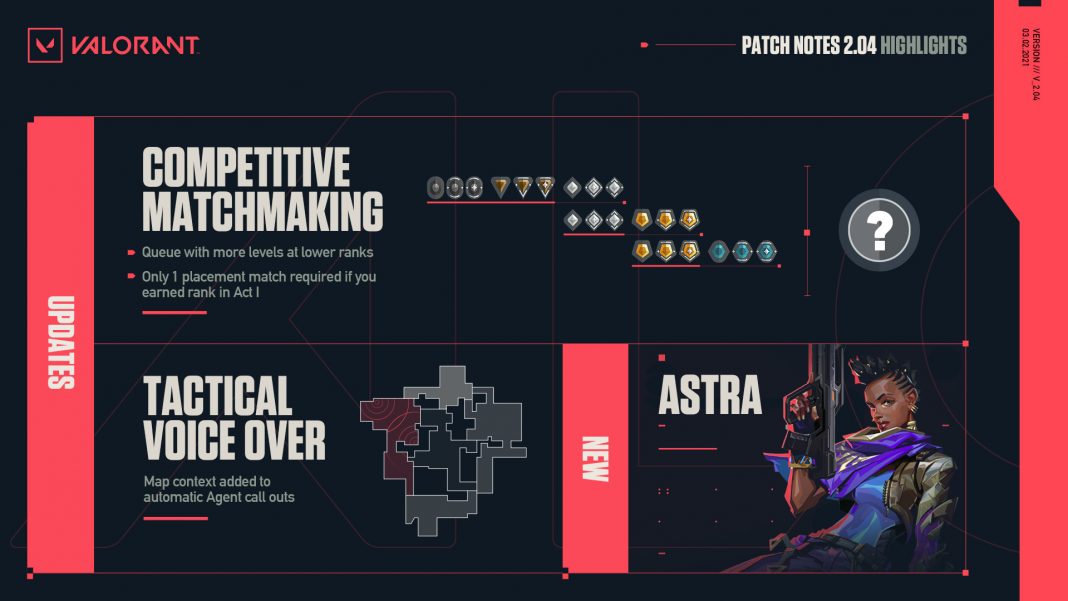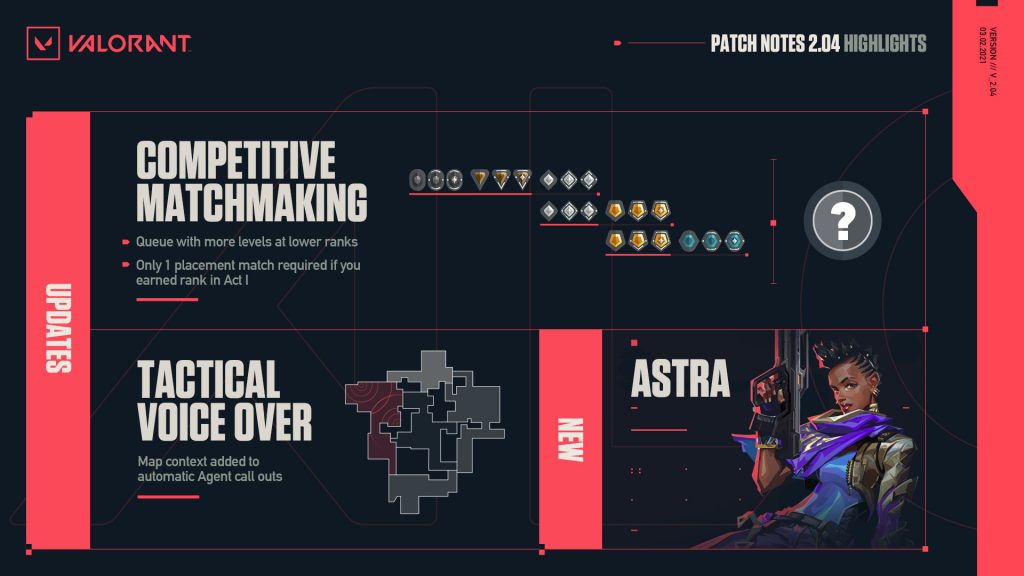 The new Valorant 2.04 patch notes are live now. It comes in the new Episode 2 Act 2 that also includes a new battle pass, new agent, and a new competitive season. All these changes have come in the 2.04 patch notes released today on March 3. Scroll down to learn more about the features and updates coming along.
Valorant 2.04 Patch Notes: All You Need to Know
Newest Agent, a fresh Battlepass, and the Prime//2.0 weapon skin line are some of the popular items trending with the arrival of new patch notes. Competitive matchmaking gets some fairly comprehensive adjustments to not only let you queue with more friends at different levels in the lower ranks but make sure the highest levels are for the ones who can continue to prove they are VALORANT's best.
The newest character Astra is live now. The character has been leaked before and more information about Astra and other characters is here.
Modes Updates – Valorant
Bind Teleporter exit doors are now permanently jammed open — if you want to camp it, get ready to fight for it!
Bind's pickrate is again evenly weighted

During Patch 2.03 we reduced Bind's pick rate for Escalation. We're returning it to normal levels, but if Bind continues to be frustrating to play, we'll look into changing its pickrate again and go back to the drawing board.
Competitive Updates – Valorant
This patch marks the start of Competitive Episode 2: Act 2! Placements have changed for the start of an Act. Now, if you have already placed this Episode, then:
Your rank will no longer lower at the start of an Act
You're only required to play 1 placement match to display your rank

Your RR (and potentially rank) may change based on how you perform in your placement game, but the maximum change will be based solely on that game.

Players who have not previously placed in Competitive this Episode will still need to play 5 placement games to earn their initial rank. Radiant will be more challenging to earn. You must achieve a certain level of RR before being able to ascend to Radiant. This adjusts per region based on rank population size and RR distribution.

LATAM & KR: 100 RR
BR: 200 Rank Rating
NA & APAC: 300 RR
EU: 400 RR
Bug Fixes – Valorant
Following key things have been rectified in the latest patch notes of Valorant:
Jitteriness when using the ghost mode modifier in custom games — the character now moves more smoothly without constant movement corrections
An issue where casting Brimstone's Sky Smoke right after picking up an Ultimate orb would result in ability charges lost, and smokes not deployed
A bug that caused the Custom game server dropdown to loop infinitely
Parts of Reyna's Soul Orb feedback triggering when assisting kills on non-players
Reyna's Soul Orb timer not properly syncing with its actual duration
Issues were teleporting into narrow areas created by Sage's wall with Omen's Shrouded Step pushed him into a wall
Ult active indicators not working for Killjoy, Cypher, Brimstone, Sage, Breach, Jett, and Viper.
Note: These Valorant 2.0 Patch Notes are first released on the official website of the parent company. Click here to check more.
Also Read: Astra New 15th Valorant Agent Abilities Leaked: All You Need to Know