As the arrival of Valorant in androids was the center of discussion recently, it was no so much of a surprise when the community witnessed Valorant Mobile Pre-Registration became available on TapTap. Valorant is a free-to-play FPS shooter, continuously enhancing game experiences by introducing new elements, and Valorant Mobile is one such probable happening that might release sooner than we expected.
Valorant mobile pre-registration seems to be the cherry on top of every new element added to Valorant PC since the last act started, including a brand new map, Breeze, and recently, a new game mode named Replication.
Here are all the details you need to know about the Valorant Mobile Pre-Registration Available on TapTap that recently started.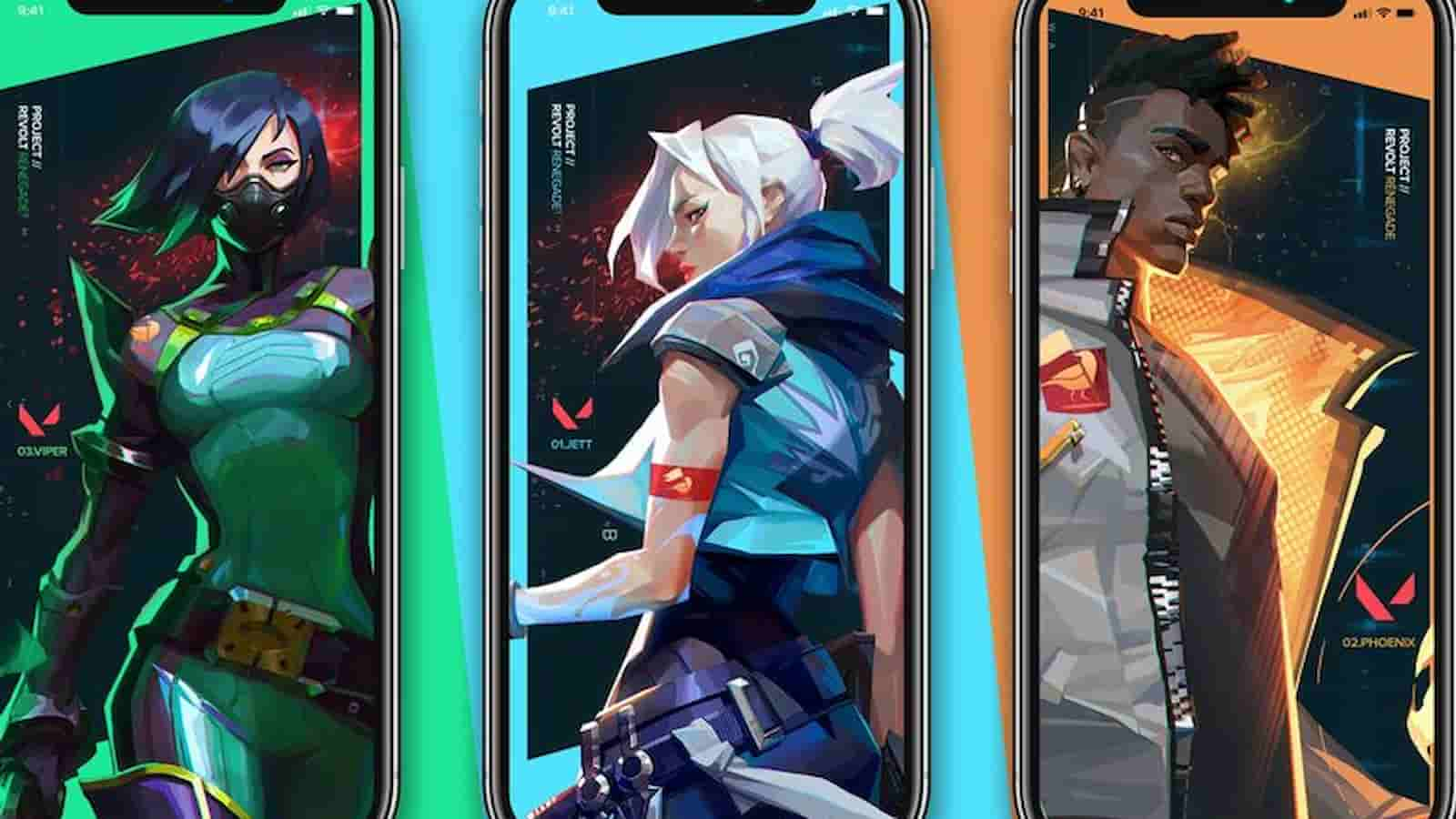 Valorant Mobile Pre-Registration Begins
Valorant Mobile might just be finally happening with new leaks and pieces of information being scavenged by data miners. With the onset of Apex Legends and PUBG Mobile India set to debut on mobile devices later this year, Riot releasing Valorant on mobile platforms might be just the good news we needed.
Valorant on mobile and consoles would be a great move for Riot and with the mobile UI discovered last year, it was already suggested that Riot may be working on a mobile version of their popular competitive shooter. With Valorant Mobile Pre-Registration beginning on Tap Tap, that dream might not be so far away from the Valorant community gamers.
How to pre-register Valorant Mobile on TapTap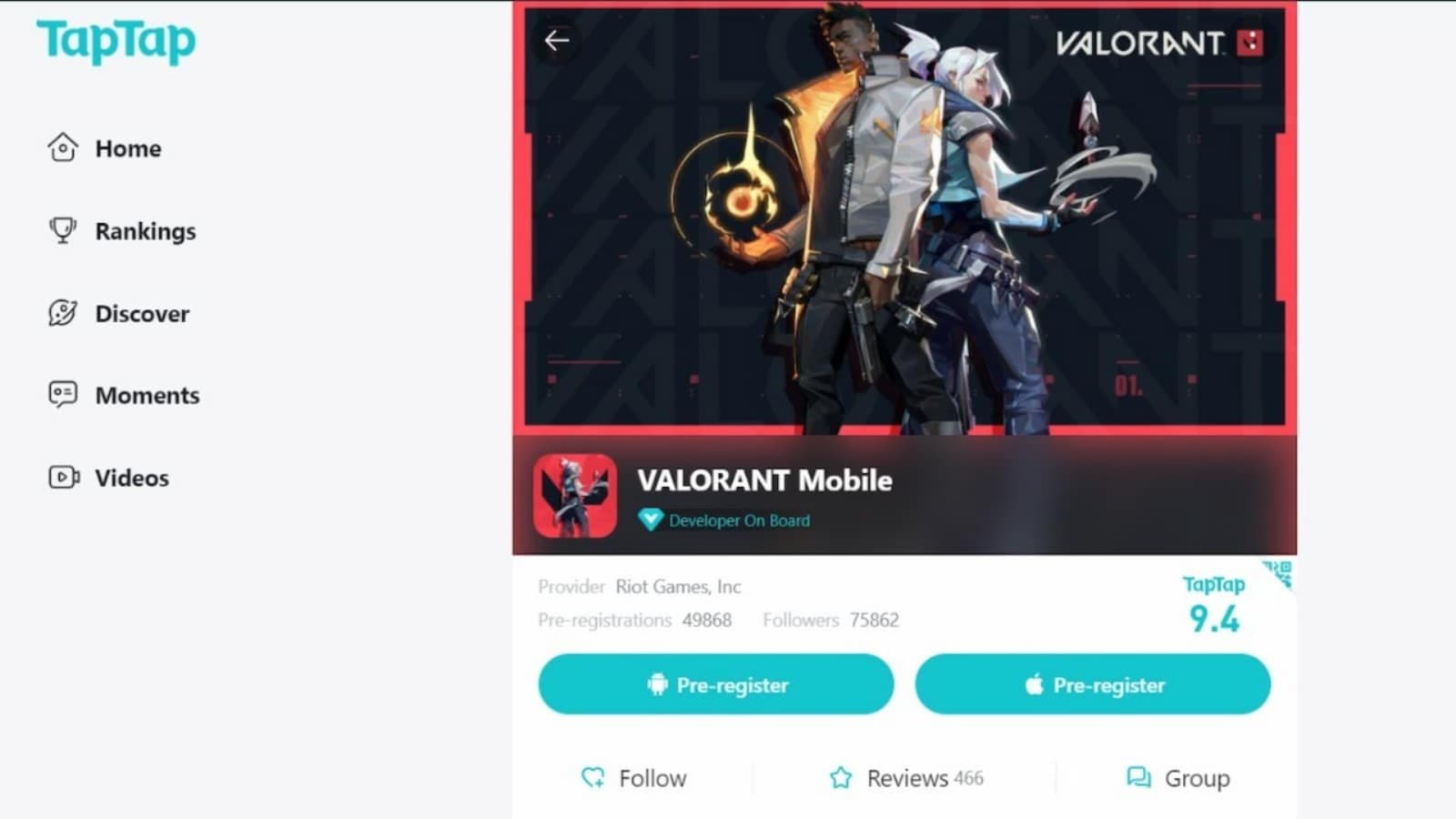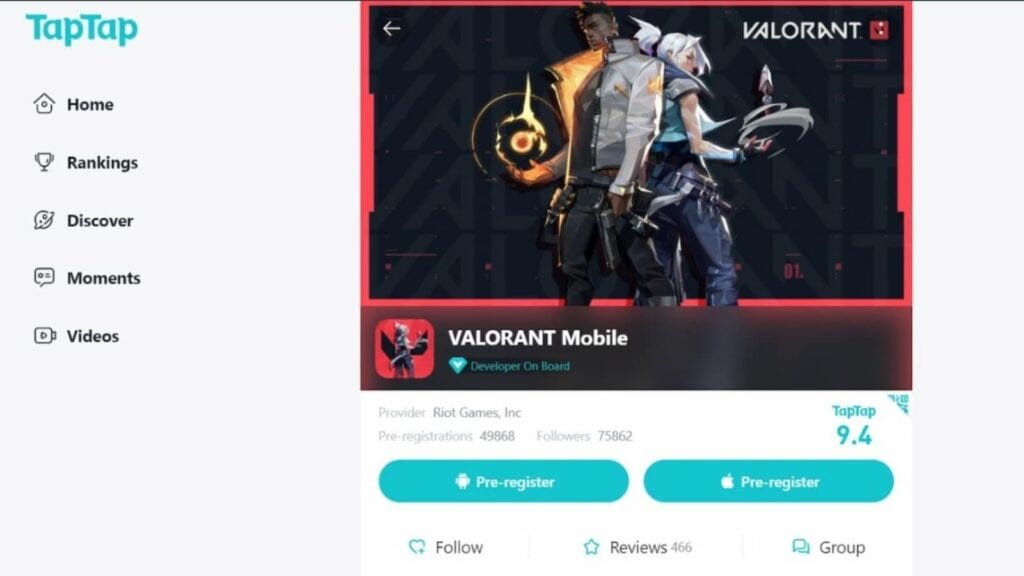 Step 1: Download TapTap application on mobile, from Google.
Step 2: Create an account on TapTap. Search for Valorant Mobile.
Step 3: Click on Pre-register.
TapTap, a third-party mobile game-sharing community application store has enlisted Valorant Mobile as an upcoming title and has started the pre-registration process for this game. Riot Games has not confirmed the development of Valorant Mobile yet but the pre-registration is already available on TapTap. Although there are some doubts about the authenticity of the process, the listing has done under the badge holder of 'Developer On Board' with Riot Games Inc. listed as the developer.
The developer page which listed the VALORANT Mobile has other Riot Titles listed. The creator page that listed VALORANT Mobile is inconsistent, which in turn is creating doubt if the page is official or not. Furthermore, there is no official announcement of Pre-registration yet by the Riot Games. Moreover, the footage used in the Valorant Mobile listing on TapTap shows old footage from the PC version of the game, while any in-game screenshots or touch controls are showcased on TapTap.
Here's a detailed video on the Valorant Mobile Pre-Registration Available on TapTap:
TapTap has been known for its inconsistency with providing pre-registrations for games that never did arrive, like PUBG mobile India, a game that never surfaced, or Fortnite Mobile, which provided only a website-exclusive pre-registration. Hence, although people might go for the Valorant Mobile Pre-Registration Available on TapTap, this does not confirm a Valorant Mobile Launch or an authentic pre-registration for the game. We might as well have to wait for RIOT to confirm the Valorant Mobile Pre-Registration.
Also read: Valorant Mobile| Release Date Bumped Ahead of Schedule?