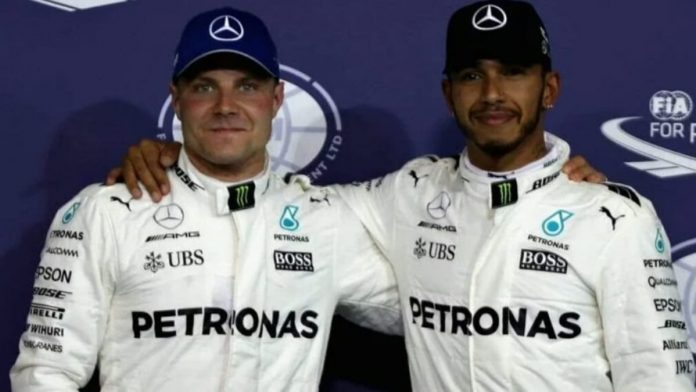 The Mercedes Driver, Valtteri Bottas has often been criticised for not being able to drive constantly alongside Lewis Hamilton. Yet the Finn driver has stood tall against such criticism. Valtteri Bottas uses the criticism to motivate himself rather than beat himself down. A report states that during Episode 3 of the Drive to Survive series.
Bottas takes a hilarious jab at his teammates' singing skills. For those unaware, Hamilton's taken a keen interest in music and is often seen creating or sharing his work on social media.
Valtteri Bottas takes a hilarious dig at Lewis Hamilton
Bottas started by saying, "The fact Hamilton, who we hear singing in the room next door while the cameras are filming, with Bottas saying with a smile, 'I think he's a better driver than a singer' – is known around the world does not make him a better racing driver."
"Lewis is a big worldwide star compared to me. Pretty much everyone knows the name Lewis Hamilton, but not so many people know the name Valtteri Bottas. But my strength against him is that I want the title more than him," said the Finnish driver.
The Finnish driver had a string of bad luck last season. He fell way behind in the championship race.
"Although Lewis has won the titles, [whilst we have been] team mates over the years I've been with the team, I'm going into the new year starting afresh with this edge."
"Absolutely I believe I can fight for the title and that's of course my goal for the season. That's my target, but it's a long way until that and we need to take it really step by step," said Valtteri Bottas.
Also Read: Sebastian Vettel gives his verdict after experiencing Mercedes F1 power