Vehicles are the most important element to move within the map of any battle royale game. They are easy to locate and jiggle around in the Free Fire. You can pick any one of them and protect your teammates from enemies. There are different vehicles available on the map – rating from best to worst. For the strategic approach in the Free Fire tournaments, vehicles are the key deciding factor.
Free Fire Vehicles: Different Vehicles Available in the Game
Jeep
The vehicle Jeep perhaps the most preferable vehicle in the game. Helpful in the defensive modes, you can have your whole team moving in it. It looks quite similar to UAZ in PUBG Mobile. The vehicle is a stable choice in the game. The total HP of the Jeep is 500.
Sports Car
The Sports Car is the exact copy of the real-life car Ferrari GT812. It is the fastest car in the car, but, not preferable in the hilly areas of the Free Fire map. Keep your belt tight before moving it inside the zone or rushing at your enemies. The total HP of the Sports Car is 400.
Monster Truck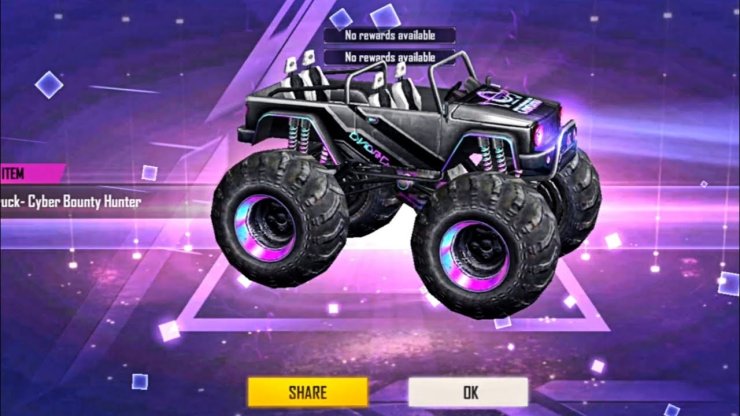 The Monster Truck is popular for its extra-large tires. The tires give you stability during the movements. The vehicle is best known for its high acceleration in the game. If you are moving on a hill, get this vehicle with you. The total HP of the Monster Truck is 800.
Motorcycle
The motorcycle is another most preferable vehicle in the game. Famous for its high acceleration and top speed, the Motorcycle is also easy to control. But, it doesn't provide you protection during the movements on the map, and it takes time to get at its best speed. The total HP of the Motorcycle is 300.
Pickup Truck
The Pickup Truck is constructed based upon the Ford F series – a retro manufacturer for ages. The vehicle is famous for its high speed. However, it comes to acceleration, the Pickup Truck doesn't stand top. The truck is not preferable in the hills of Free Fire. The total HP of the Pickup Truck is 400.
Also Read: Top 3 best Pets for Free Fire Clash Squad for February 2021