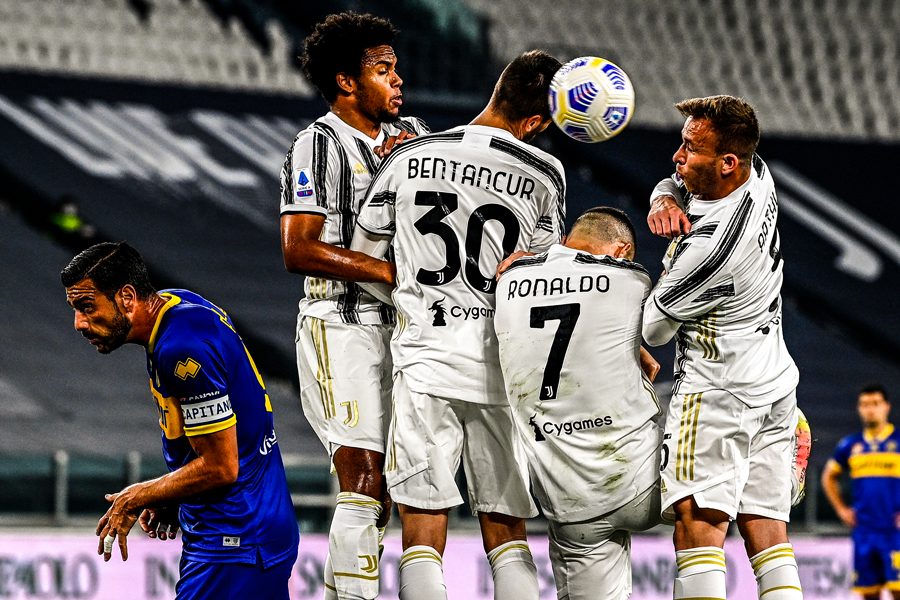 Juventus recorded a comeback win against Parma in the Serie A. The unlikely hero was left back Alex Sandro who bagged two goals in the match. However Cristiano Ronaldo once again came under the spotlight as his defensive mistake cost Juventus a goal.
Andrea Pirlo speaks on Cristiano Ronaldo's defensive duties
Due to his height and physique, Cristiano Ronaldo is often tasked with standing in the wall against free kicks for Juventus. However this has proven costly for the Italians as Ronaldo is unable to block most deliveries and costs then a goal.
This was evident in the UEFA Champions League round of sixteen match against FC Porto when Cristiano Ronaldo was unable to block Sergio Oliviera's shot which resulted in the defeat. Now it has happened again against Parma.
Andrea Pirlo must make a decision now because clearly, Ronaldo isn't suited with standing in the wall. He was asked in the post match conference whether Ronaldo will be removed after he ducked.
"Unfortunately these things happen, we will evaluate what to do in the next matches and whether to put him in the wall."
Andrea Pirlo also spoke about the recently dissolved European Super League. Juventus President Andreas Agnelli has resigned from the board after the plan failed.
"We all know the same things. Something has to be changed on the European level, because the ideas that were proposed were good ones, but we are also open to other suggestions and will respect the rules."
ALSO READ: 'We are trying to save football': Florentino Perez's delusions continue to rise