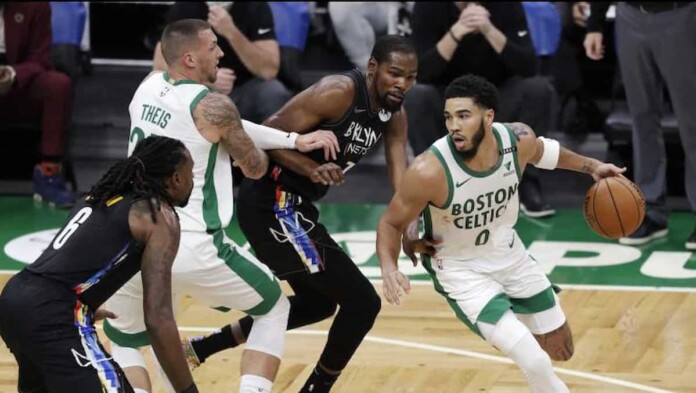 If there was one player who could revive Boston Celtics out of dominance of Brooklyn Nets and their Big 3, it could only be Jayson Tatum. Having done it numerous times in the past, Jason Tatum knew just how he had to approach Game 3 against Boston Celtic sin his home court, after the humiliation faced in the first 2 games.
Since the first minute of the game, Jayson Tatum seemed unstoppable and having led Celtics in all the quarters, Tatum looked in no mood to rest and insisted on staying on the court to inspire his team the most. It is still rare sight to see James Harden, Kevin Durant and Kyrie Irving getting dominated, but such was today's occurrence with Tatum on song in today's game.
Jayson Tatum knocks 3rd 50-point game to bring Boston Celtics back against Brooklyn Nets
Having knocked 50 points, Jayson Tatum became the 3rd youngest player in NBA Playoff history to knock so many points in a single game.
Brooklyn cut a 16-point, fourth-quarter deficit to five with just under a minute left but Tatum nailed a step-back jumper from the top and Boston held on. Tatum scored 11 points in the final 4:46 of the third, helping Boston turn a one-point deficit into a 96-84 lead entering the final quarter.
Talking about the backstory, After scoring 50 points in Boston's play-in tournament victory, Tatum struggled in the two games in Brooklyn but steadied the Celtics in Game 3 after the Nets shot out to a quick 15-point lead.
Game 4 of the best-of-seven series is set for Sunday night in Boston, where the Celtics will be allowed to have a near-capacity crowd in TD Garden when Massachusetts lifts the limits Saturday on crowd sizes due to the pandemic. It was limited to 25% on Friday.
Marcus Smart added 23 points for the Celtics, Tristan Thompson gave them a huge lift with 19 points and 13 rebounds and Evan Fournier added 17 points. Kemba Walker had a rough night, scoring only six on 3-of-14 shooting.
Also read: NBA 2021 Playoffs: Key games to not miss this week
Also read: Michael Jordan donates $1 Million at Morehouse College to boost journalism