Free Fire has once again rocked the Indian gaming community. The game was released after a year of being banned and prominent figures in the gaming community are once again coming up! Games like Free Fire and BGMI have always been the backbone of the Indian mobile gaming community and their popularity is always through the roof! Furthermore, one of Free Fire's prominent players, Lokesh Gamer, a.k.a the Richest Noob is gaining popularity again!
Free Fire is a popular battle royale game that has seen substantial growth over the years. The game is hitting new standards with each passing day with its popularity and revenue reaching the skies. The game offers an extensive gameplay experience for everyone which is one of the reasons behind its popularity.
Moreover, the amount of in-game cosmetics in Free Fire is no way near less! There are accounts that are worth tens of thousands of Rupees due to their long list of owned cosmetics! And one of India's Free Fire players to have a really intensive inventory is Lokesh Gamer, known as the Richest Noob!
Related: Garena ropes in Sunil Chhetri, Saina Nehwal and other big athletes for the grand return of the highly anticipated Free Fire India
Who is the richest Noob in Free Fire?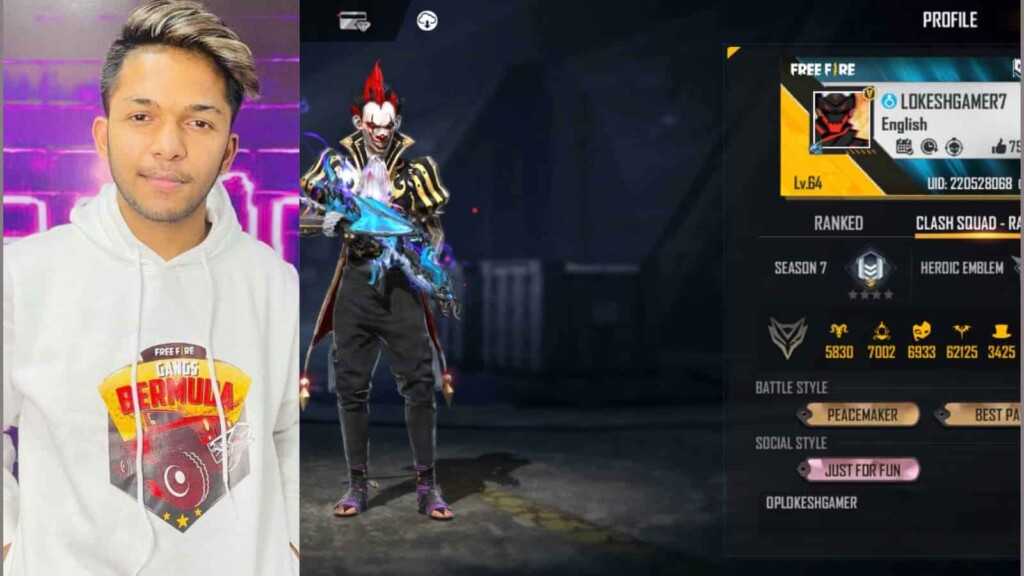 Lokesh Gamer is called the Richest Noob in Free Fire by his fans in the Indian gaming community. He's also a prominent YouTuber and gained popularity from his YouTube career! His channel has more than 15.5 Million subscribers. Lokesh Gamer and his fame in the community is really high as he's the one who hosts almost every major tournament for the game and his title of Richest Noob in Free Fire is apt!
When it comes to the richest players of Free Fire in the Indian region, no one could ever pass the name 'Lokesh Gamer.' Viewers do not get to see his gameplay often, but they find him buying lots of diamonds and spending them on cosmetics every time. In one of his videos, he also mentioned that he had spent over 17 lakhs purchasing badges alone. This was one of the reasons why Lokesh Gamer was called the Richest noob in Free Fire.
---
Lokesh Gamer Free Fire ID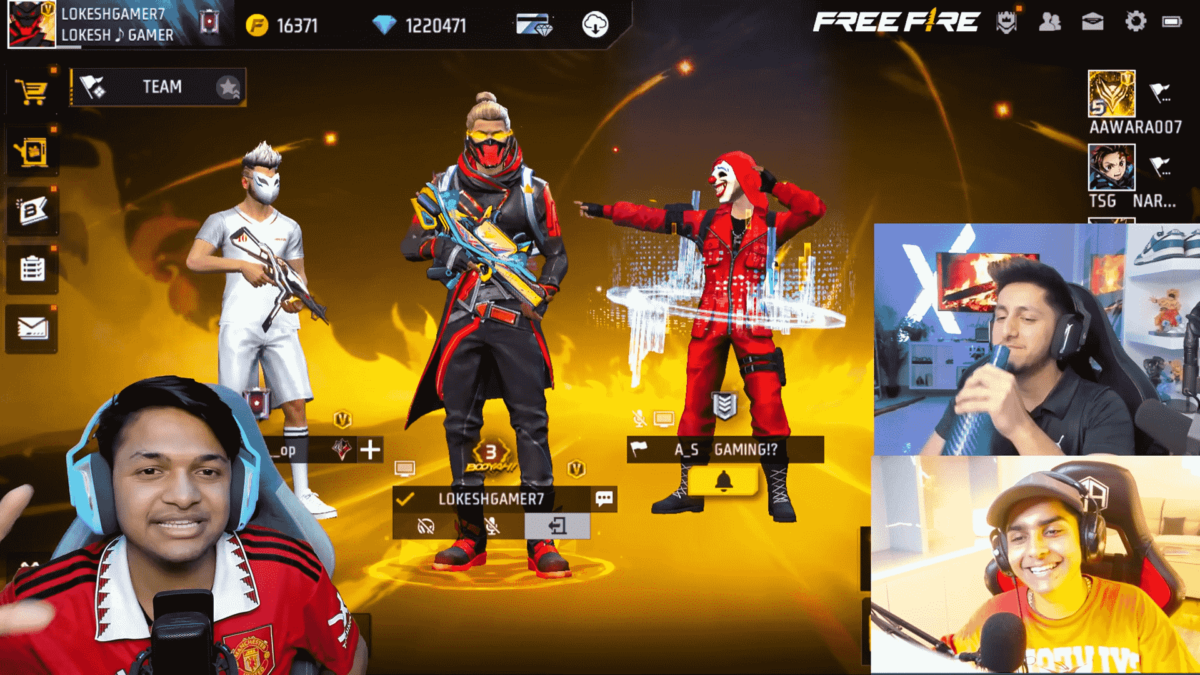 Lokesh Gamer's Free Fire ID is '220528068.' He has achieved loads of stuff in Free Fire and is totally beyond any other player in the game. His popularity in Free Fire has given him major success and his official YouTube handle has seen major growth!
---
Lokesh Gamer Stats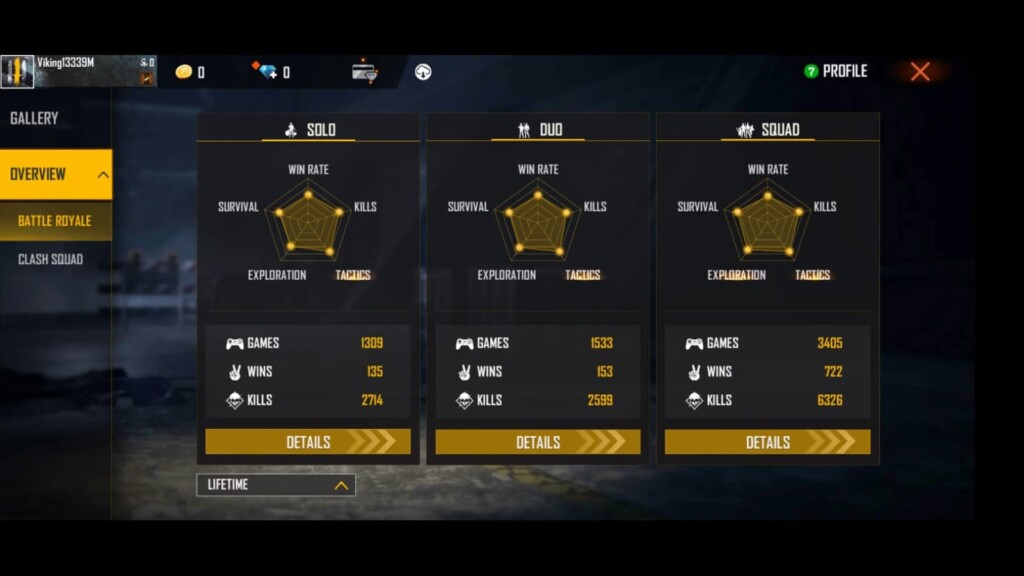 Lokesh Gamer's Lifetime Squad Stats
| | |
| --- | --- |
| Games | 3405 |
| Wins | 722 |
| Win rate | 36.34% |
| Kills | 6326 |
| Headshot Rate | 20.87% |
| K/D | 2.36 |
Lokesh Gamer's Lifetime Duo Stats
| | |
| --- | --- |
| Games | 1533 |
| Wins | 153 |
| Win rate | 36.34% |
| Headshot rate | 20.89% |
| Kills | 2599 |
| K/D | 1.88 |
Lokesh Gamer's Lifetime Solo Stats
| | |
| --- | --- |
| Games | 1309 |
| Wins | 135 |
| Win rate | 36.34% |
| Headshot rate | 29.18% |
| Kills | 2714 |
| K/D | 2.31 |
Also Read: Marvel's Spider-Man 2: How to start "The Flame" side quest?
---
CS Career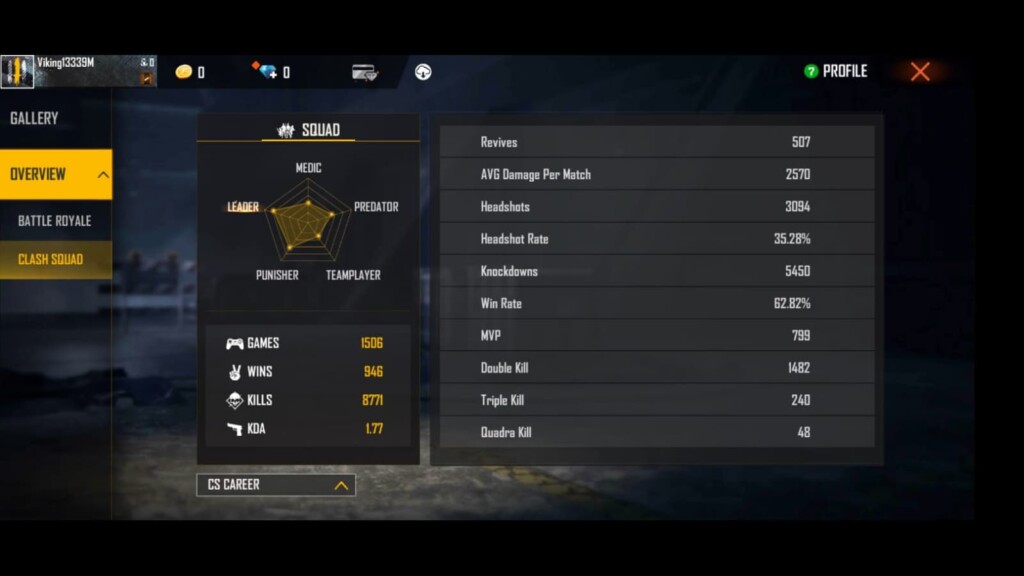 | | |
| --- | --- |
| Games | 1506 |
| Wins | 94 |
| Win rate | 62.82% |
| Headshot rate | 35.28% |
| Kills | 8771` |
| K/D | 1.77 |
These are the CS career stats of Lokesh Gamer and his lifetime stats!
Note: The stats of Lokesh Gamer Free Fire stats and earnings are to the date of the article written or information disclosed on the Internet.
Lokesh Gamer YouTube Channel
Lokesh Gamer is one of the popular Free Fire content creators on YouTube from India. The creator joined YouTube back in November 2017, whereas his first video on his channel dates back to 7 April 2019. Since then, the gamer has garnered massive heights in popularity and subscriber numbers. The channel has around 15.5 million subscribers and the channel has garnered more than 1.5 billion views.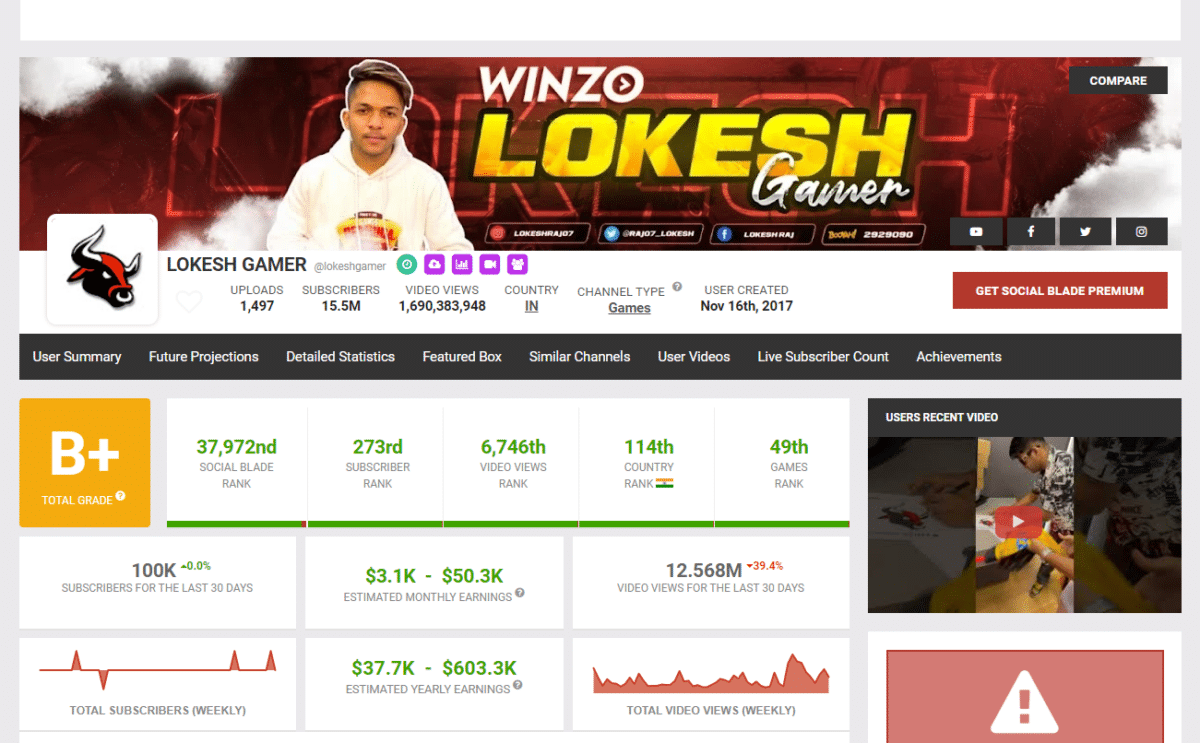 According to Social Blade, Lokesh's estimated monthly earnings from YouTube are between $3.1K and $50.3K. Meanwhile, his yearly earnings are between $37.7K to $603.3K. The creator has bagged more than 12.568 million views and over a hundred thousand (100K) subscribers in the past 30 days. The numbers have decreased due to Free Fire being banned in India. However, with Free Fire being back, so is the Richest Noob's popularity!
Lokesh Gamer is active on several social media platforms and here are his official social media handle links:
Lokesh Gamer is one of the prominent figures in the Indian Gaming industry and runs it along with other similar figures. Being called the Richest Noob of Free Fire is a satire considering his skills and inventory! Fans love the YouTuber and his gaming content and all his fame is very well deserved!
In case you missed it: