Novak Djokovic has gone onto clinch his record tying 20th Grand Slam by winning the Wimbledon 2021 against Matteo Berrettini 7-6, 6-4, 6-4, 6-3. With this win the world no.1 has joined Rafael Nadal and Roger Federer in winning the most amount of grand slam titles. More notably, this was the Joker's sixth Wimbledon victory as he came back after the first set deficit to register his name in the history books.
Novak Djokovic has become the second player ever in the history of the sport to win first three legs of the Grand Slams. As ESPN Stats and Info noted, Rod Laver in 1969 was the only man to earn that achievement prior to 2021. In addition, Diario Record's Jose Morgado pointed out that Djokovic is the fifth-ever player in the Open Era to reach that feat among men and women.
Twitter Reacts to Novak Djokovic Winning Wimbledon 2021 to Tie 20 Grand Slams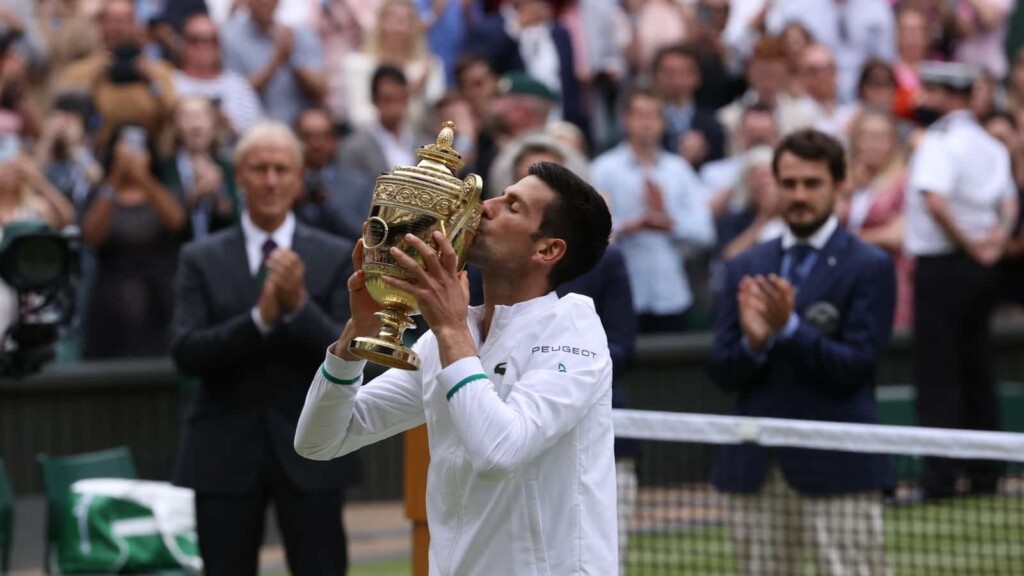 Berrettini became the sixth different player to lose to Djokovic in his last six Grand Slam victories. Rafael Nadal, Roger Federer, Dominic Thiem, Daniil Medvedev and Stefanos Tsitsipas all fell to Djokovic since the start of the 2019 season.
Having said that, after the Wimbledon 2021 victory, Djokovic will be all set to claim the golden medal for his country in the Tokyo Olympics. Only a handful of players, both men and women, have ever won all four majors in a calendar year, but Djokovic will be uniquely suited to accomplish the feat and could do so while picking up a gold medal at the Olympics.
Lastly, this win at the Wimbledon 2021 will be surely one of the most cherishing ones for the Serbian World No.1. Having earned the respect of his opponent and bouncing back in emphatic style after the loss in the first set. Hopefully Djokovic could have more success in the remainder of the 2021 season.
Also Read: Marija Cicak creates history! Becomes the first female chair umpire in…
Also Read: Double Delight! Tom Cruise in the audience at Wimbledon 2021 for…