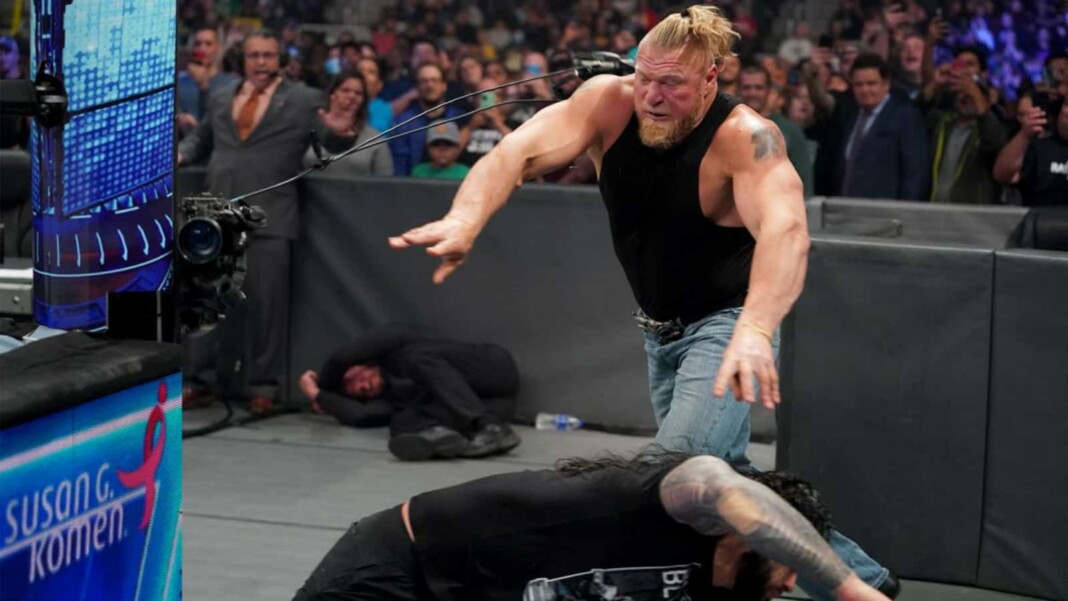 Brock Lesnar lost the WWE Universal Championship match to Roman Reigns at Crown Jewel 2021. Lesnar would've picked up a decisive win over the Tribal Chief, if the referee had not passed out during the match. With no referee in charge, The Usos were able to attack and even Reigns was able to use the title as a weapon, to defeat Lesnar.
Right before Lesnar departed from Riyadh, Saudi Arabia he vowed to beat Roman Reigns senseless as soon as he was on Smackdown. The season premiere of the Blue brand opened with the Universal Champion coming out with Paul Heyman and declaring that he was the best Universal Champion of all time.
During the opening segment, Reigns acknowledged the comments of Lesnar and dared him to come out and attack him. He said that he will not be leaving the ring until the Beast Incarnate shows up. After a while, Brock Lesnar showed up and one of the best opening segments for any WWE show, in a really long time, unfurled.
An all-out brawl kicked off between Reigns and Lesnar. While the Universal Champion tried to fight off the Beast, he was no match. Lesnar slammed Reigns into the steel steps and even smashed the steps into his face. He was about to deliver an F5 to Reigns before the Usos showed up. But they couldn't do much.
The Usos were taken down too. But Lesnar didn't just stop there. He destroyed a camera and even attacked a couple of members from the production crew. WWE official Adam Pearce was forced to call out some members of the roster to stop Lesnar. This allowed the members of The Bloodline to escape, as Lesnar proudly posed with the Universal title.
WWE official Adam Pearce suspended Brock Lesnar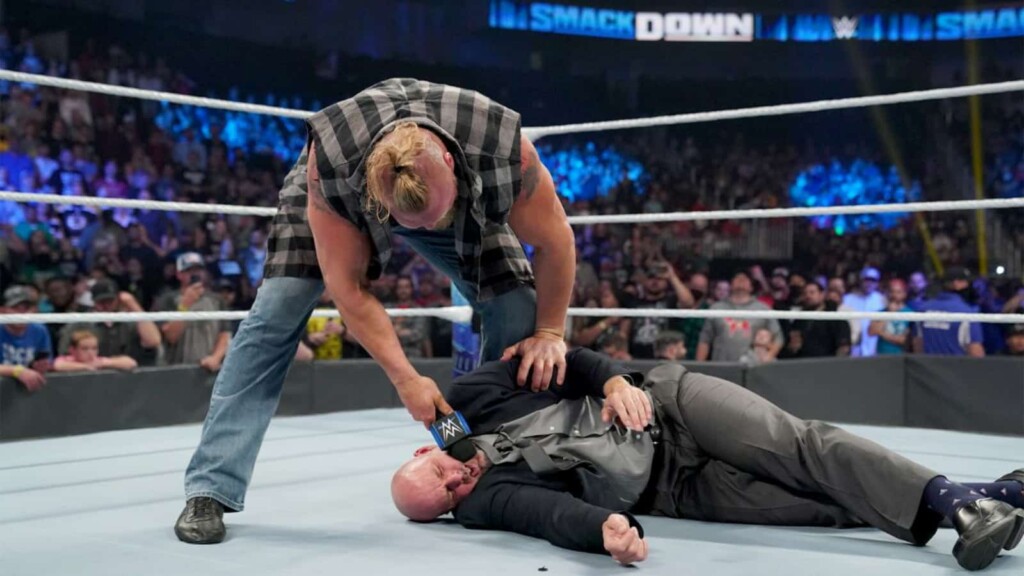 Moments after the carnage stopped, WWE official Adam Pearce came into the ring, and mentioned that Lesnar has threatened the well-being of the crew, the Superstars and the WWE Universe. He said that such things will not be allowed on his watch. He went on to suspend Brock Lesnar from WWE, indefinitely.
This piece of news did not go down well with the Beast Incarnate and he came out once again. He delivered two vicious F5s to Pearce before smiling and leaving the ring. The suspension of Lesnar allows WWE to build Reigns vs Big E for Survivor Series. Till then, the Lesnar – Reigns rivalry can be put on hold and resumed once the build to Royal Rumble kicks off.
Also Read: "A moment bigger than me," EST of WWE Bianca Belair reacts to her match at WWE Crown Jewel 2021