Goldberg has been one of the most dominant names in the entire professional wrestling industry. The WWE Hall of Famer rose to global stardom after he appeared on WCW. He was massively pushed as an unstoppable force – where he is believed to have an undefeated streak in a staggering 173 matches.
While this number is often considered to be highly inflated number, there is no doubt about his in-ring abilities. In fact, the WWE Hall of Famer is often regarded to be the inventor of the iconic Spear move. After the closure of World Championship Wrestling, he signed with WWE in 2003 but departed from the company next year.
Goldberg returned to WWE in 2016 and has been making sporadic appearances since then. He was the Superstar who had pinned The Fiend Bray Wyatt. Over the course of his run with the company, in addition to being a Hall of Famer. he has won the World Heavyweight Championship once and the Universal Championship twice.
One of the events where Goldberg has consistently appeared are the ones that take place in Saudi Arabia. He faced the Universal Champion Roman Reigns in the opening match of the event. He gave a tough fight to the Tribal Chief, but in the end Reigns emerged victorious – in what could be the Hall of Famer's final match.
There is no doubt that he has been one of the biggest Superstars. Clearly, he himself thinks so and has gone as far as comparing himself to Mike Tyson. While talking to Dr. Beau Hightower he mentioned, "I was the Mike Tyson of wrestling. My goal was to be something completely different. Black tights, black shoes, I didn't fricking talk for six months. I just squished motherf***ckers."
Goldberg's WWE contract has expired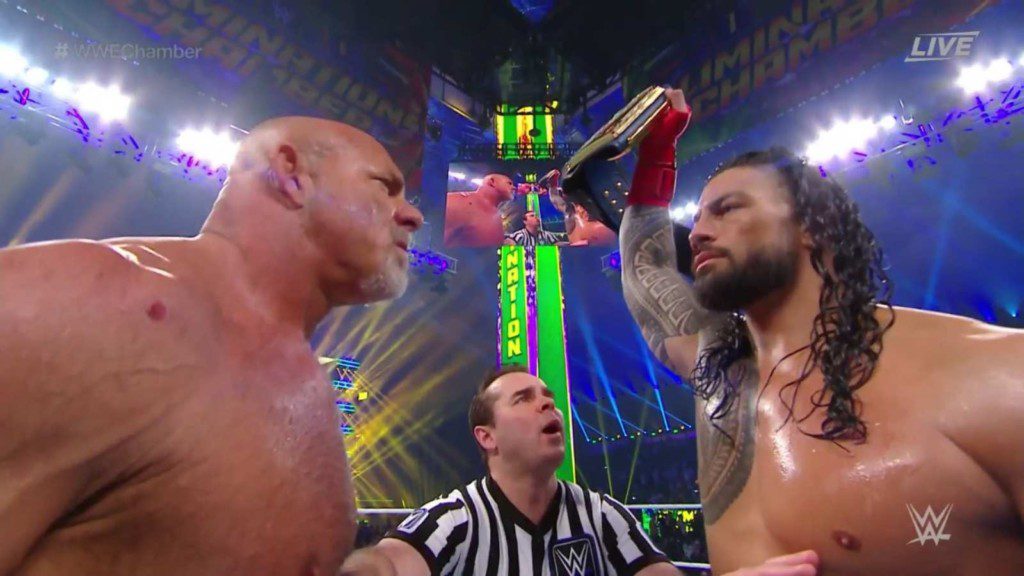 WWE Hall of Famer Goldberg was last seen in action at Elimination Chamber, which had taken place in Saudi Arabia. He had challenged Roman Reigns for the Universal Championship. Interestingly, this was the final match in his contract with WWE. This led to the speculation that a loss to the Tribal Chief, could well be the last one in his WWE career.
But then he still has a massive fan following and WWE would be looking forward to capitalize on his popularity. While there is no news on the company signing him again, but currently there is no need as well, Whenever a possibility arises we could see the Hall of Famer appearing again.
Also Read: WATCH: Women's Champion Becky Lynch breaks character on Raw