WWE Money in the Bank ladder matches are considered to be one of the most exciting stipulation matches. Several WWE Superstars compete in a ladder match for a briefcase that hangs high above the ring.
The stipulation matches began as a part of the Wrestlemania card in 2005. But over the years, the stipulation grew extremely popular for its breathtaking nature, and the match got their own pay-per-view in 2010.
In the brief history of the WWE Money in the Bank Ladder matches, the Big Red Monster Kane holds the record for most appearances in the stipulation matches. He jointly holds the record with Kofi Kingston, with 7 appearances. His 7 appearances are spread over a decade – he participated in the first ever MITB ladder match and made his final appearance in the 2015 ladder match.
The Superstar, who has dominated WWE Royal Rumble, has also made the Money in the Bank ladder matches his stomping ground. His sheer presence was threatening for his opponents and he always came close to winning on numerous occasions. But surprisingly, Kane has won the match just once!
Kane has won the WWE Money in the Bank briefcase only once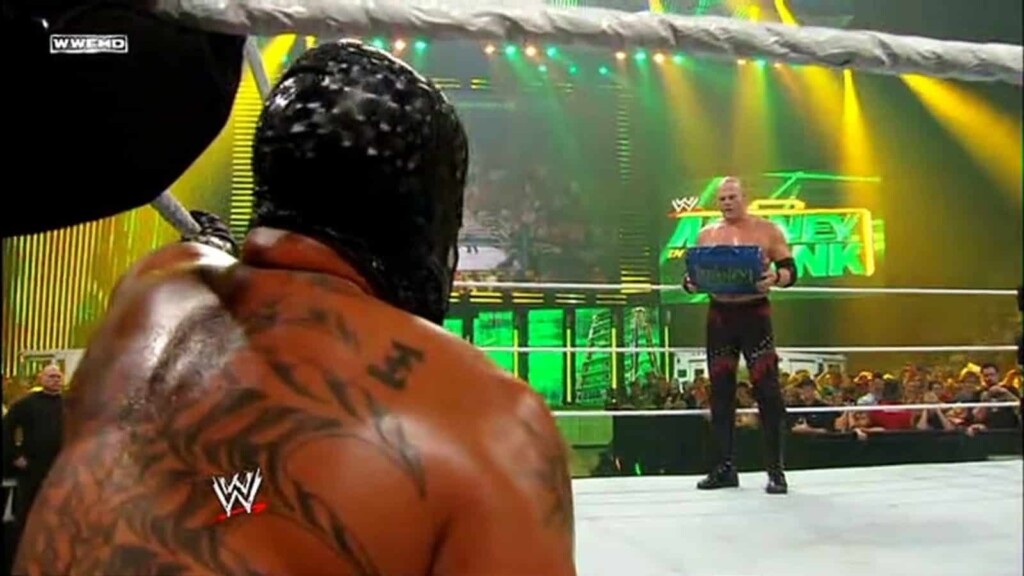 Despite having the highest number of appearances, Kane has managed to win the ladder match only on one occasion. In the 2010 Money in the Bank ladder match, of the Smackdown brand, Kane defeated – Big Show, Christian. Cody Rhodes, Dolph Ziggler, Drew McIntyre, Kofi Kingston and Matt Hardy – to win the contract.
Interestingly, Kane held the contract for just 49 minutes and cashed it in on the same night. The then WWE World Heavyweight Champion Rey Mysterio had just defended the title, when Kane walked in to cash in his contract. He delivered a Tombstone Piledriver to become the new World Heavyweight Champion.
Also Read: Final participants announced for WWE Money in the Bank ladder matches