Everyone was wrong when they thought WWE buried Austin Theory after losing the MITB contract because of a failed cash-in. Theory did not let it affect him and bounced back with a laser focused mindset and ended up winning the WWE United States title for the second time in his brief career.
The rivalry involving Theory, Bobby Lashley, and Seth Rollins is intense, and all three men desperately want to win the US Title. The match at the Survivor Series WarGames was phenomenal and combined with Austin Theory and Seth Rollins' athleticism, and Bobby Lashley's power, it served as a perfect dose of entertainment for the audiences.
This year has been a roller-coaster ride for Austin Theory. He was also speculated to face John Cena at SummerSlam, but that never happened. However, the two crossed paths at John Cena's 20th-anniversary celebration on Raw. Cena paid no heed to what the US Champion was saying and simply walked away when the US Champion attempted a selfie.
During a recent interview with CityNews Ottawa, Theory recalled his meeting with Cena on the June 27th edition of RAW. He stated it was a monumental moment for him, as it was the first time he had done something with John Cena. Theory said that even though it was just two minutes for him, that promo meant a lot to him.
"That was a huge moment for me actually because that was the first time that I have done anything on screen with John and for it to be a promo was pretty special and not just a walk by, it was a confrontation and just getting to have that two minutes with him, it meant a lot to me,"
Also Read: Austin Theory refuses a previous World Champion's challenge on Raw despite being insulted
Austin Theory says he doesn't want to take selfies forever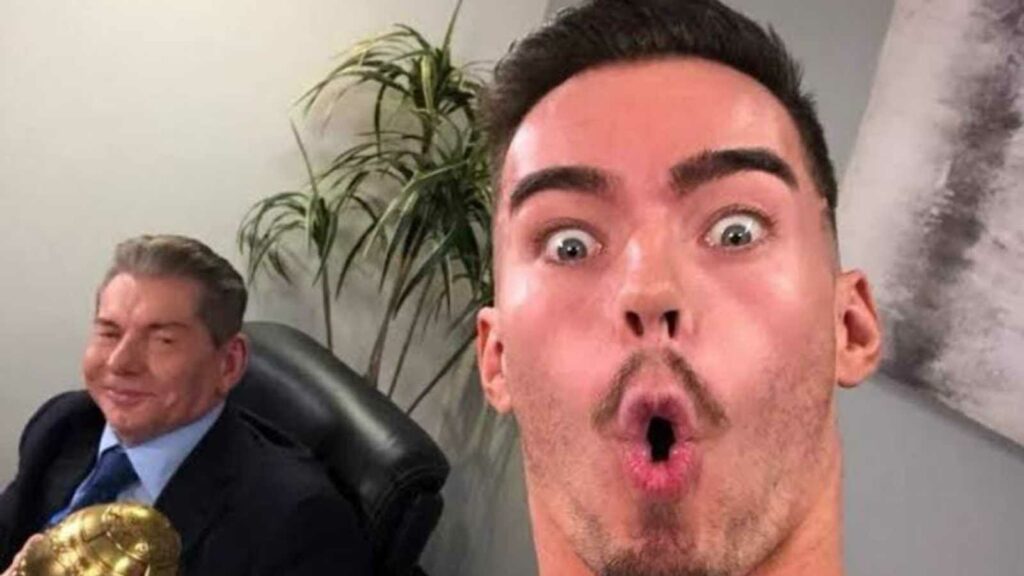 The Aggressive Austin Theory under Triple H's regime is far better than Vince McMahon's prodigy. These days, the United States Champion appears tough, and smart and has kept trash talk at bay. On RAW this week, we also witnessed the altercation between Rollins and Theory, which showed Theory's toughness and the fact that he is no longer the silly young man he once was.
During a recent interview with BT Sport, Austin Theory stated that the recent changes in the WWE have been wild for everybody, and for him, it was a chance to develop his character. Theory stated that he doesn't want to be the one taking selfies forever and be a goofball. He said that finding the next chapter is going to help him become a world champion, so he is on the right track.
"I'd say it's as wild as it has been for everybody else. You go from being so used to something to a quick switch, and pretty much that quick switch changes everything, but for a good way, I feel like. For me, it was a chance for Austin Theory to evolve and go to that next level, and I can't take selfies forever and be a goofball."
Also Read: "He sh*t the bed": CM Punk gets verbally DESTROYED by WWE Hall of Famer
Seth Rollins and Austin Theory may collide again for the United States Championship. As for Bobby Lashley's involvement in the US Championship scenario, we don't know what the plans are for him. The change in Austin Theory looks great, and his character transformation will surely help him become a world Champion one day.
Also Read: WWE Commentator makes a cheeky reference to Vince McMahon's hush money allegations on Raw