Bianca Belair and Becky Lynch had an ongoing on screen rivalry for the WWE RAW Women's Championship. The match was worth watching as the two fought with all their might at Nashville. The two contenders were equally deserving and passionate for the title.
SummerSlam 2022 has indeed been the most exciting event of the year so far. The event started with the Bianca Belair going against Becky Lynch to defend her title. The match went on perfectly fine and Bianca was able to defend her title against Becky. Bianca was celebrating her victory when the WWE Universe witnessed not one, not two but three women returning back to the ring.
ALSO READ – It's painful and even traumatizing", Nikki Bella talks of her situation post breakup with John Cena
SummerSlam 2022 witnesses Bayley, Dakota and Iyo return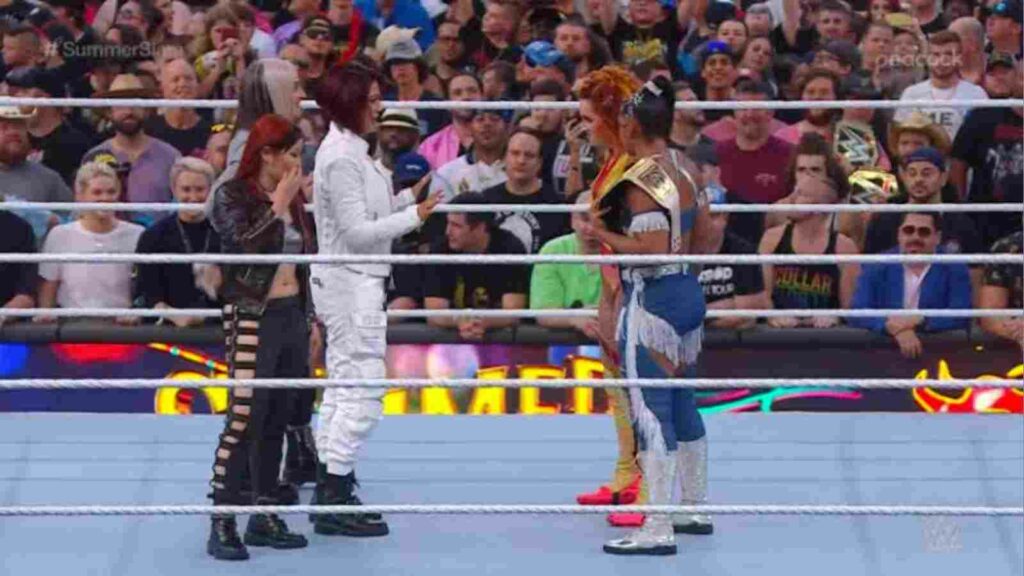 The crowd went mad when they saw Bayley making her way towards the ring. Bayley had been out of the Company for almost a year due to injury. Because of her torn ACL during her training at the WWE Performance Center, she was not even drafted for the WWE 2021 draft. She has not been able to perform since then. Her entry snatched the smile from Bianca's face in a go.
The two were just beginning to get involved with each other when Dakota Kai too appears. The crowd gets super excited to see two WWE Superstars making their surprise returns. Dakota has been out of WWE for not renewing her contract with the company. She had no plans to renew for the company before her release. Now she has returned indicating she is here for a long time.
In addition to this, the WWE Universe also got to see the return of Io Shirai. The NXT wrestler had been out of action for a long time owing to injury. She has returned back to the main roster stronger and confident. She no longer is Io Shirai but will now fight with the ring name of Iyo Sky.
As Bayley, Dakota and Iyo marched their way bravely to the ring, Bianca Belair seemed nervous to face all the three at once. It was then Becky Lynch came to her rescue. Both the players stood tall and strong against the returns. The sight witnessed Becky Lynch having true sportsman spirit. You can relive the moment by watching the video also . 
It might also be indicative of a possible tag team match between the new returns and Bianca Belair and Becky Lynch. The feud was not seen during SummerSlam. However, it made the platform for any match, between Bayley, Dakota, Iyo, Bianca and Becky.
ALSO READ – "It means a lot to me"; Bianca Belair gets overwhelmed while commenting on Triple H's remark of "finding the next her"
ALSO READ – "Wouldn't mind slapping the head off Ronda Rousey"- When Becky Lynch made a scintillating claim about the Baddest Woman on the Planet
Do follow us on: Google News | Facebook | Instagram | Twitter