Roman Reigns has been one of most talented and popular WWE wrestlers of the current generation. Roman Reigns is the current WWE Undisputed Universal Champion and will defend his title against Brock Lesnar at SummerSlam today. The Tribal Chief became the longest reigning Universal Champion in 2022 and thereafter he defeated Brock at the WrestleMania 38 in a winner takes all match to become the Undisputed WWE world Champion. Roman Reigns will be a tough competitor for Lesnar and an experienced player in the last man standing matches, whereas Lesnar has not competed in a Last man standing match in his career.
In January 2021, WWE Official Adam Pearce had qualified for the universal championship match against Roman Reigns at the Royal Rumble, but then on an edition of RAW, he mentioned during the contract signing that he wasn't medically cleared to compete against reigns and named Kevin Owens as his replacement. At the event Roman Reigns gained victory by applying the guillotine choke on Kevin and immobilized him as a result. Owens then failed to get up until the 10 count and Roman retained his Universal Championship. This was Roman's recent Last man standing match win in WWE.
ALSO READ: "Crowd crapped on it" Dolph Ziggler calls out fans' hypocrisy over Austin Theory's push in the company
Roman Reigns and Daniel Bryan feuded in April 2021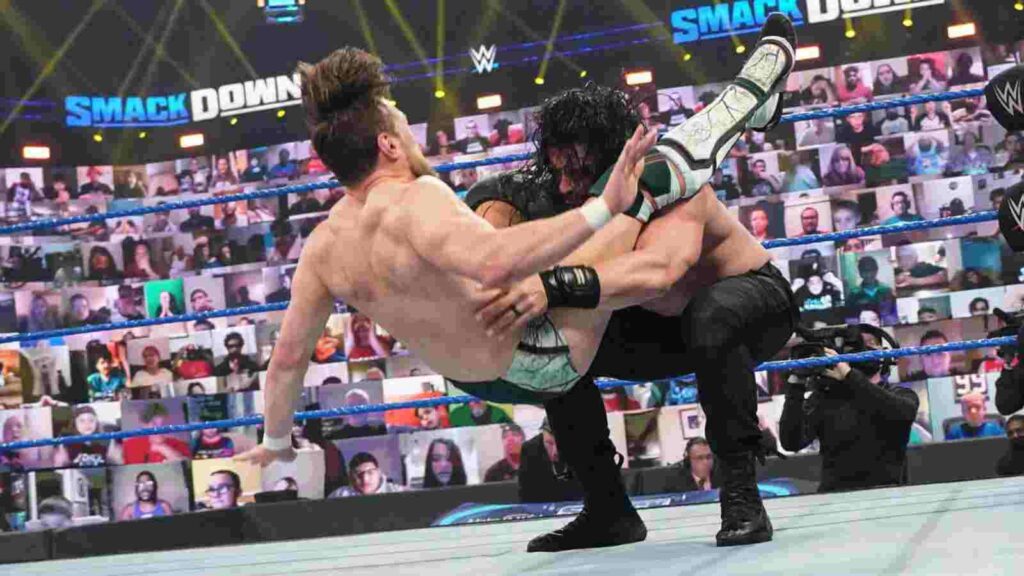 At WrestleMania 37, Roman Reigns defeated "The Rated R" Superstar Edge and Daniel Bryan to retain the Universal Championship. He pinned both the wrestlers simultaneously to win the match. Thereafter Daniel Bryan faced Roman Reigns on April 30th edition of SmackDown, with the stipulation that if Daniel loses, he will be expelled from the SmackDown Brand.
At the event, Daniel managed to escape from Roman's guillotine trap and applied his submission YES Lock on Roman Reigns. Bryan pulled Roman back as the latter tried to reach the ropes. Roman Reigns finally succeeded in slamming Bryan to the ground and hit him at the back of his head before delivering another powerbomb to Bryan. In the climax Roman Reigns applied the guillotine on Daniel Bryan to retain the WWE Universal Championship.
This was Daniel Bryan's last match in WWE as his contract expired thereafter and he wasn't interested in signing a new one even after WWE pushing him hard to sign one. Daniel Bryan has now reflected on his last match against Roman Reigns. Speaking on My Mom's Basement with Robbie Fox, Daniel revealed that his last match in WWE against Roman Reigns at the Thunderdome included a lot of shouts and programmed noises, which he enjoyed. Daniel stated that it was the ideal way to leave WWE, implying that his farewell match was excellent. Daniel finished by adding that he didn't want WWE to hang up on him and that he was going right away.
"The one unique experience at WrestleMania where it was just like, 'Woah, this feels empty, Ironically, my last match in WWE with Roman, I was pumped for. I loved it, and it was in the Thunderdome. It was a bunch of screams and canned-down noises and stuff, and I was, 'This is great! I love this,' and like, I honestly thought that's a perfect way to go out. Because I also wasn't sure if I was even going sign with AEW, I was debating back and forth, but I was also debating on just kind of — I don't want to say hanging it up, but just stop doing it full time and focus more on being a dad."
Daniel Bryan has been a four-time WWE Champion and one-time world heavyweight champion in WWE. He has also been the winner of the Money in the Bank Ladder match in 2011.
ALSO READ:SPOILER : Seth Rollins could face a former World Heavyweight Champion in a shocking match tonight at WWE Summerslam
ALSO READ: "Wouldn't mind slapping the head off Ronda Rousey"- When Becky Lynch made a scintillating claim about the Baddest Woman on the Planet
Do follow us on: Google News | Facebook | Instagram | Twitter