Ronda Rousey surprisingly showed up on WWE Smackdown last night crashing out the contract signing segment scheduled between Liv Morgan and Shayna Baszler for their Smackdown Women's Championship match for Clash at the Castle. Rousey came through the crowd and savagely entered the ring with a bag in her holds which she later revealed to have a lot of money and said they fined the hell out of me so I brought the double of them.
It is almost confirmed for now that Ronda is going forward as a heel now as it was clearly being depicted from her attitude last night and the crowd was loudly chanting her name, a reaction that she had dreamt for during her latest babyface run but fans weren't fully invested in what she was doing. On the her way back into the gorilla position, Rousey encountered one of her friends in Shayna Baszler whom Ronda claimed used to be a Killer once, this was a potential future dream match right there on the entrance ramp which was teased heavily last night.
After that, we got down to the scheduled business and followed the contract signing between Liv and The Queen of Spades. Liv Morgan looked confident enough and said she will beat'em come Clash at the Castle and signed on the dotted line. After they were done with the formalities, Baszler showed her true colours and turned the tables on an already injured Morgan (literally not though). Baszler kept targeting her injured arm and tried to even break it out of the socket. At the end, Morgan bulldogged Shayna through the table to somewhat restore her credibility.
As of now, things still stand clear one on one between Shayna and Morgan but Ronda Rousey will sure as hell be lurking in the background as she's still pissed off over how things went down for her at Summerslam. We will have to wait and see how events will be unfold between these women in the coming weeks on Smackdown.
RELATED : WATCH: Ronda Rousey INVADES Smackdown, makes a statement before being asked to leave by the officials
Conor McGregor reacted to Ronda Rousey's last night return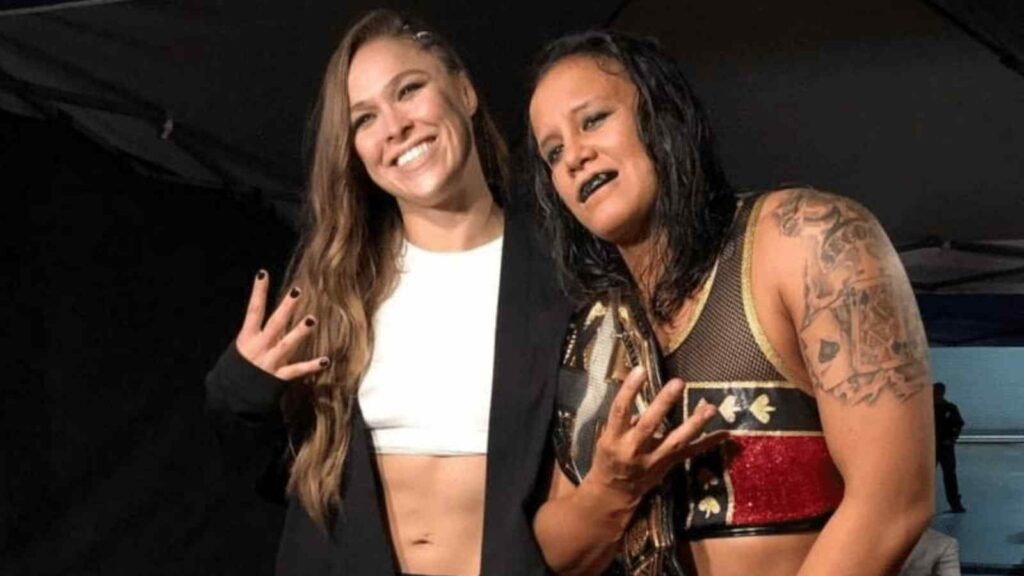 As we all know that Ronda Rousey is one of the most decorated combat sport athletes of all time who was also a huge name in UFC and is a former Bantamweight Champion too. Her UFC record speaks for herself which stands at 12-2 with those two losses coming at the evening of her career against Holly Holm and Amunda Nunes.
Another spectacle of UFC namely the Notorious one Conor McGregor also reacted to the Ronda Rousey crash-party last night on Smackdown simply writing – "G" in the comments section of the Instagram post of The Baddest Woman on the Planet in which she wrote the caption, "Being the baddest gets expensive, but I can afford that". You can check out that here.
ALSO READ : "He's got a rocket ship up his BUTT and to the moon"- Goldberg heaps tons of praise on Brock Lesnar for his unselfish nature & creative brilliance