WWE announcer and commentator Corey Graves finally apologized to the two-time Hall of Famer Booker T. Booker T is a legendary wrestler who has won WWE Championship and World Heavyweight Championship on six different occasions. He is also the winner of King of the Ring which makes his legendary King gimmick where he was getting called King Booker.
Booker T recently was on a podcast of the show called The Hall of Famer where he talked about his last appearance on Raw where he was a one-match special commentator the match was a tag team match between Rey Mysterio and Dominik Mysterio against The Usos for the WWE Undisputed Tag Team Championships.
Booker T discusses how a small argument took place between him and Corey Graves in which Corey Graves was wrong and did not apologize to him after the argument took place in 2018 after that they both have not been in a good relationship with each other since then and have not even talked.
ALSO READ WATCH: Becky Lynch works out in the gym despite injury.
Booker T talks about when Raw went off the air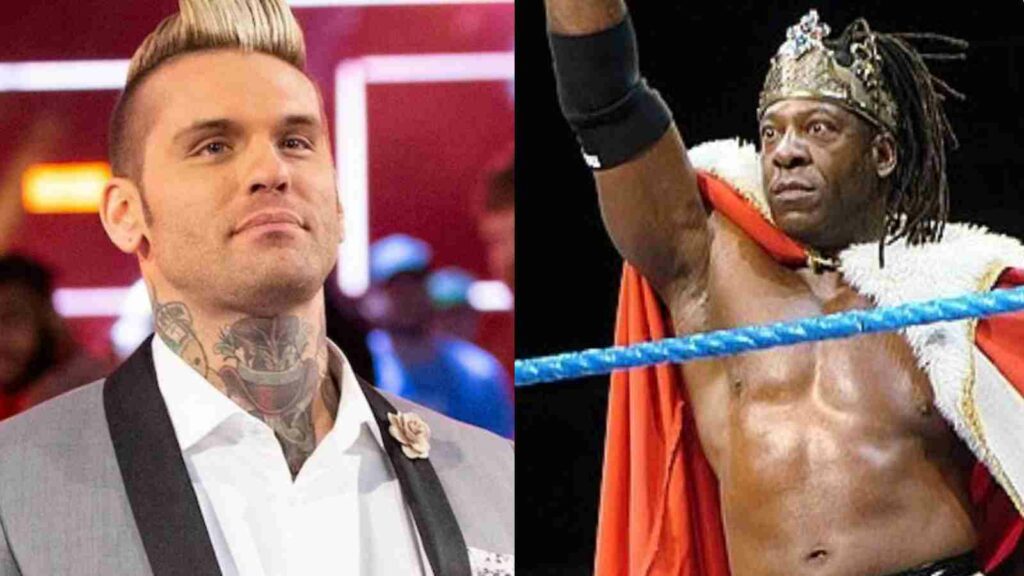 Booker T explains what talk he had with Corey Graves after Raw went off the air as after the match both men when goes backstage they talked and gets connected on a personal level and both men discussed their argument but this time properly and got each other's point even after the conversation Corey apologized about how wrong he was and both men get their terms right.
Corey Graves has been a good commentator in WWE for many years now he also won the 24/7 championship on an episode of Raw. Even though his commentary is scripted till now he does very good work in delivering the work. He is also simp over some Women Divison superstars the biggest example on whom he does this is Mandy Rose.
On the podcast, Booker T also shared that he and Corey Graves have not only known each other since the 2018 argument but they actually go back way back and have been friends for a long time. They both are excellent commentators. The exact words of Booker T on the podcast were,
"As well as Corey Graves, him and I, we go way back. Finally caught up with him and he finally apologized for that little riff we had back in the day. I didn't have to run up on him at Starbucks or anything like that. So yeah, man, as well as Jimmy Smith — cool hanging with Jimmy and Byron Saxton. I hope they won't be calling me to take Byron's spot," said Booker.
ALSO READ:"I think he's the greatest performer in WWE history," : Paul Heyman lauds Roman Reigns as being the best performer in WWE's long-stored history
ALSO READ:"We could make a special provision to defend the title and smash Dwayne Johnson" Paul Heyman rekindles 'Roman Reigns vs The Rock' flame
Do follow us on: Google news | Facebook | Instagram | Twitter