Dwayne Johnson aka The Rock is one of those people in the wrestling world who has not only established a name for himself in the squared ring but has also reached their crescendo of success in other fields as well. Whether it be business or Hollywood, Dwayne has made a different league for himself. At the beginning of his Hollywood career, as Johnson had revealed earlier, he didn't know what Hollywood would do with him. A 6ft tall bulky wrestler who just knew some acting and could pull off some wrestling was not expected to become the star he has become today.
The People's Champ has given trailblazing chartbusters like Red Notice, The Fast and Furious franchise, Jumanji, Sky Scrapper, The Scorpion, and many more. The Bhrama Bull would next be seen in DC's latest venture Black Adam which will hit the theaters on October 21. Dwayne would be seen in an anti-hero role, which he hasn't done in the past, and is also excited to see himself in a villainous role. Dwayne Johnson is one of the highest-paid stars in Hollywood today and holds great star power to turn lacklusters into blockbusters.
ALSO READ: "We could make a special provision to defend the title and smash Dwayne Johnson" Paul Heyman rekindles 'Roman Reigns vs The Rock' flame
AEW Referee says She is a great admirer of Dwayne Johnson's work in Hollywood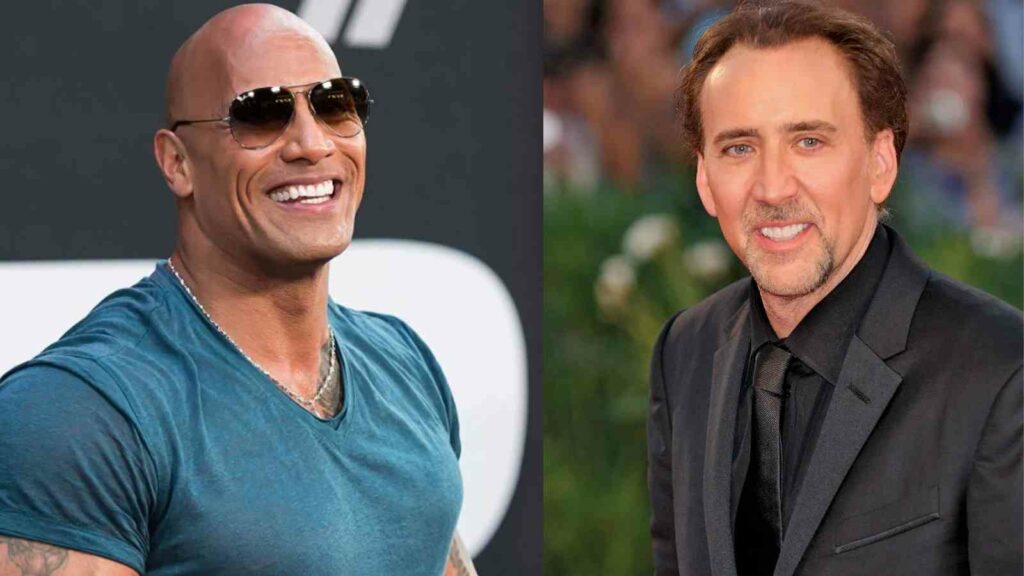 The star has fans around the world and people of the wrestling fraternity also speak highly of him. Recently AEW Referee Aubrey Edwards praised Dwayne Johnson for his contributions to the world of wrestling and even praised him for his exceptional work in Hollywood when she gave him the title of modern era's Nicolas Cage. In a recent episode of AEW Unrestricted Edwards spoke- "Dwayne Johnson has the ability to come in and make anything. He's like this generation's Nic Cage, where he can take any B-movie and makes it an A-movie, and it makes a f*ckload of money, and it's great. "
"So I know I'm gonna enjoy myself, and I'm not even a comic book nerd, but I'm a big Dwayne fan." She said that Dwayne has that magic that Nicolas Cage had who can turn any B-Grade movie into an A-Grade one. She said that she is a great Dwayne fan and enjoys seeing him on the screen whichever character he plays. She went on to say that all his movies are blockbusters and fetch a lot of money because Dwayne acts as a great crowd puller.
ALSO READ: "I was speaking from a point of selfish ignorance"- When John Cena revealed that his judgement about Dwayne Johnson's Hollywood transition was incorrect
ALSO READ: "I was speaking from a point of selfish ignorance"- When John Cena revealed that his judgement about Dwayne Johnson's Hollywood transition was incorrect
Do follow us on: Google News | Facebook | Instagram | Twitter