WWE has a long history of having wrestlers ranging in size from small to giants. Hornswoggle, who was half the size of his fellow wrestlers, was one such wrestler. Despite that, he got to live his dreams against all odds and gave innumerable moments to the company. The Little Man brought smiles to the faces of the fans and his fellow co-workers throughout his career.
Hornswoggle debuted in 2006 in the WWE. However, his appearance remained a little oblivious to the fans as he was seen coming out from under the ring. During an interview, Hornswoggle revealed that when WWE hired him for the character, he was just supposed to come out with Finley every week. And then one day, WWE decided that he would come out from under the ring and make an appearance for 8 seconds. "As far as living under the ring, I don't know where that came from; I don't know," he said.
In an interview with Chris Van Villet, the former WWE star revealed that the company had named him "Little Bast*rd" during the early days of his career. He said that it came out of nowhere. Furthermore, WWE had thought to create a character that children might actually enjoy. They also thought if they made toys out of it or anything else or any merchandise, they were going to put "Little Bast*rd" on it. He went on to say that it all started with "Little Bast*rd," and then WWE realized it wasn't going to work.

At WrestleMania 34, Hornswoggle got his real entrance, which was a memorable moment in his career. The Little Man has amazed WWE fans with some incredible and hilarious storylines in the past. He has previously appeared in several Royal Rumble matches. Moreover, the former WWE star created some of the craziest moments in this industry. Hornswoggle has brought smiles and laughter to the younger and older generations of WWE fans throughout his career.
Related: "We don't use that word," Hornswoggle reveals Vince McMahon stood up for him against a slur
Hornswoggle to be inducted in WWE HOF?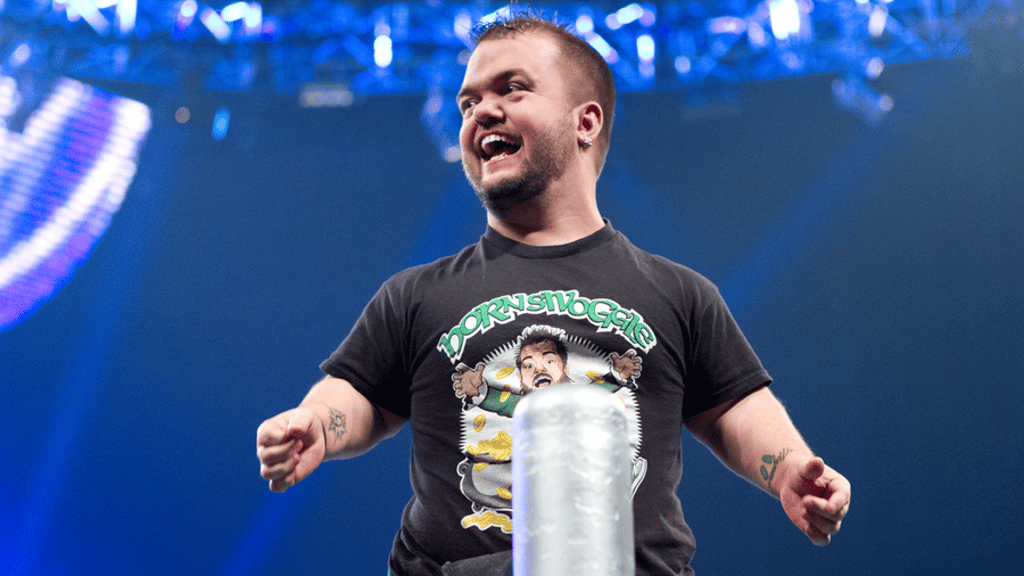 The WWE Hall of Fame is one of the most prestigious things in sports entertainment. It honors and glorifies the careers of the legends and icons in the wrestling industry. Every year, the fans remain on the edge of their seats to see who's going to be inducted into the Hall of Fame. The Hall of Fame induction ceremony takes place a night before WrestleMania. Legends like Hulk Hogan, Ric Flair, Shawn Michaels, Bret Hart, Stone Cold Steve Austin, and The Undertaker remained part of it. The one name that never made the list is Hornswoggle.
During his interview, the little man stated that if WWE ever inducts him into the Hall of Fame, it would be the best surprise of his life. The fans would be glued to their seats to see that happen. However, things have changed in recent times. Now that Triple H is in charge, the possibility remains open. The WWE Universe might actually get what it wants to see.
In case you missed it: