JBL, one of the greatest wrestling legends of all time, is presently playing Baron Corbin's manager on television. The WWE Universe has once again fallen in love with Bradshaw for his character as a multi-millionaire who doesn't give a damn about anything.
The WWE Hall of Famer has taken a lot of heat for himself and Corbin, but fans are also criticizing him for his baggy jeans. JBL frequently wears large, baggy pants, but it appears that he has adapted to this fashion sense because John recently commented on an edition of WWE After The Bell.
Bradshaw stated he doesn't think males should not dress in skinny-fitting clothing and that the things he is wearing now are appropriate for his age—55, not 17, who is free to dress however he pleases. He also made a remark about how huge his a** is.
Bradshaw was serious about this and said, "Let me tell you something. Men don't wear skinny jeans. Nobody wears skinny jeans that is a man. Okay, I'm wearing clothes that are appropriate for me. Plus, I'm 55 years old. I'm not gonna dress like some stupid little punk rock 17-year-old, alright? I'm gonna dress like a man who is a legend, who's made a lot of money, and is wealthy enough to buy whatever the hell he wants and I happened to buy pants that fit me."
Also Read: "Dumbest f**kin' thing" – When Dana White SLAMMED his production team for trying to be matchmakers after a Ronda Rousey fight
JBL asserts that he can win the world title in 2022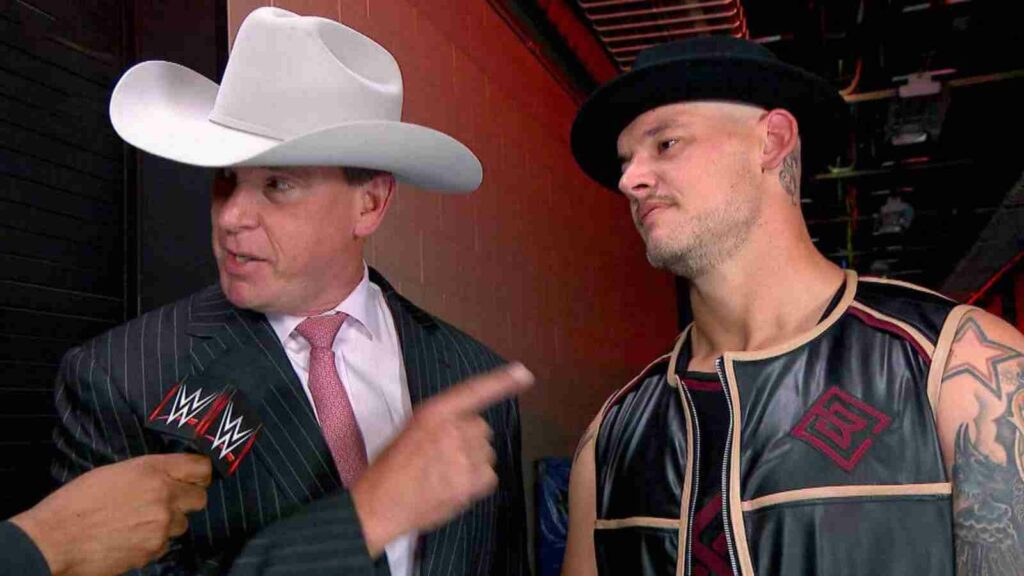 In his career, Bradshaw has won the WWE Championship once, but he still craves more. JBL was a guest on the most recent episode of WWE Bump, and his remarks concerning the WWE World Championship startled everyone since he still thinks he can win it.
John was adamant that he could accomplish this even at 55, and Baron Corbin is the only obstacle standing in his way. He believes Corbin will win the world championship since it is not his time anymore and he cannot achieve it.
Also Read: Former WWE Superstar Reveals Why Triple H Never Booked The Two Strongest Factions on NXT
Fans responded favorably to JBL's remarks, since he gave Corbin more credibility. It appears like WWE and Triple H have plans for Corbin in the future, and who knows, maybe he will be the one to break Roman Reigns' tyrannical reign as champion.
Also Read: "You're F**king Hulk Hogan": WWE Legend Trashes The Hulkster for Leaving Brock Lesnar High and Dry