Karrion Kross shocked the WWE Universe by returning to the SmackDown Brand on this Friday. Karrion Kross was a big name in the NXT Brand in 2020 and won the NXT Championship just within a few months after his WWE debut. He defeated Keith Lee at the NXT: TakeOver XXX on August 22, 2020. Karrion Kross delivered a Doomsday Saito from the top rope to Keith Lee to clinch the NXT Championship and begin his reign. Karion's reign lasted for only 4 days as he had injured his shoulder during the match and thereby was forced to vacate the NXT Championship.
Karrion Kross returned to WWE in December 2020 and went on to have a rivalry with Damien Priest and defeated Priest at the NXT: New Year's Evil. In March 2021, Karrion confronted the then NXT Champion Finn Balor at one of the editions of NXT and thereafter Balor was scheduled to defend his NXT Championship NXT TakeOver: Stand & Deliver. At the event Kariron escaped a submission by Finn Balor and delivered him a Saito Suplex, which was followed by two northern forearms, thereby successfully pinning to win the match. This was the beginning of Kross' second reign as NXT Champion.
ALSO READ: "…everybody went in a shock." Kurt Angle recalls when Brock Lesnar had a massive injury
Karrion Kross had expressed his views on WWE's approach in the Wrestling industry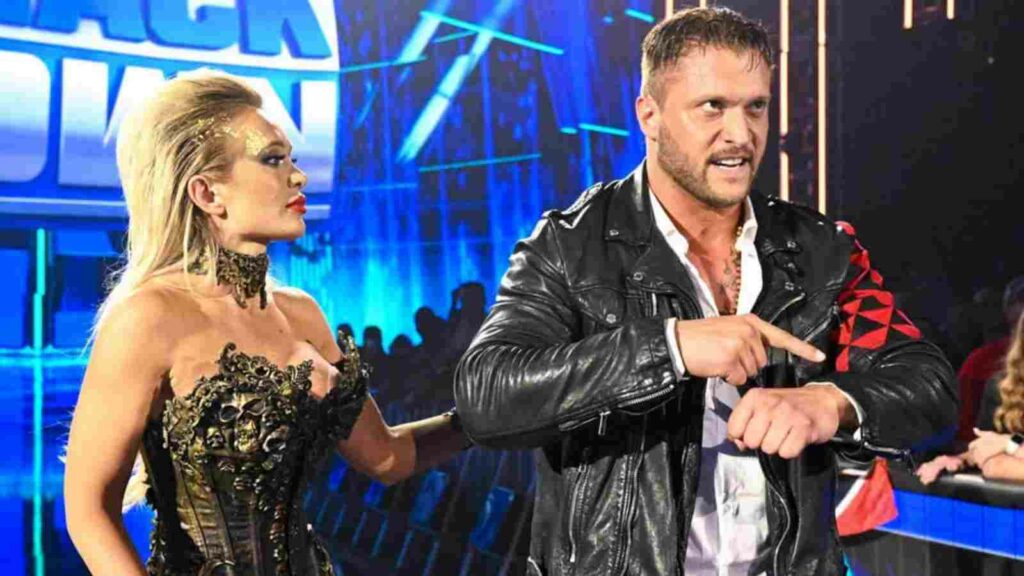 Karrion Kross stated in July of this year, after being released from the organization, that WWE has their own way of doing things and that whether one hates or loves WWE, it generates millions of dollars internationally. Karion Kross stated that he was really interested in how WWE handled things, how they intended to use things, what their goal outcome was, and witnessing the conclusion.
This week on SmackDown, Roman Reigns entered the ring and began to deliver his promo when Drew McIntyre, the man he would face at the clash at the castle, interrupted and started speaking. At that moment, Karrion Kross entered the room and attacked McIntyre by slamming his head over the steel steps before knocking him out. Kross' wife Scarlett then kept the hourglass in front of Roman Reigns.
Now that Drew McIntyre has reacted to Kross' assault, McIntyre tweeted that he has had better Fridays in the past and questioned whether he was attacked by a man who wore a helmet and bondage.
"Was I just jumped by the guy last seen wearing bondage and a helmet? I've had better Fridays…"
Karrion is speculated to be involved in the Championship scenario with Drew McIntyre and Roman Reigns.
ALSO READ: "I'm coming for them" Drew McIntyre determined to fight for Undisputed Universal Championship
ALSO READ: "I think that would've been an EPIC THING for both of us," Triple H regrets only one thing in his feud with The Rock