Nikki Bella is a retired WWE superstar who wrestled her last match back in 2019. She's the longest reigning Divas Champion in history and she formed a formadible team with her real-life sister Brie known as The Bella Twins. They were a mainstay on the female roster in their active days and the Twins hosted the reality series Total Divas.
Nikki was in a relationship with 16-time World Champion John Cena few years back which was a result of their dating which started way back in 2012 and they took nearly 5 years and they got engaged on the night of Wrestlemania 33 on April 2, 2017. The couple enjoyed being together and spending quality time with themselves but out of nowhere, the pair announced their separation in July 2018 citing different views on the way of their lives a reason for getting aside.
Recently, Nikki Bella spoke with Entertainment Tonight about the certain causes which cracked a split up from John Cena with one her most strong statements about the relationship was she doesn't wanted to have kids and she also said it was extremely harder for her to walkout off that especially when the bond between them was so strong. Bella called her break up from Cena as a part of the destiny and stated that sometimes we meet amazing people throughout our journey but are meant to live different lives whatsoever.
"It's so much harder to walk away when it's loving.""I think a lot of women get into that situation and it's like, 'But I love this person, but I don't know if it's right for my life,' and that's a hard thing about life, is we meet amazing people, but sometimes we're just meant to live a different life, I just knew that I didn't want to bring a child into a relationship that I didn't know if this life was right for them and I went with it, and then Artem came waltzing into my life," she said.
ALSO READ : TOP 5 all-time favourite superstars of Vince McMahon
John Cena and Nikki Bella worked as a Tag-Team on WWE television in 2017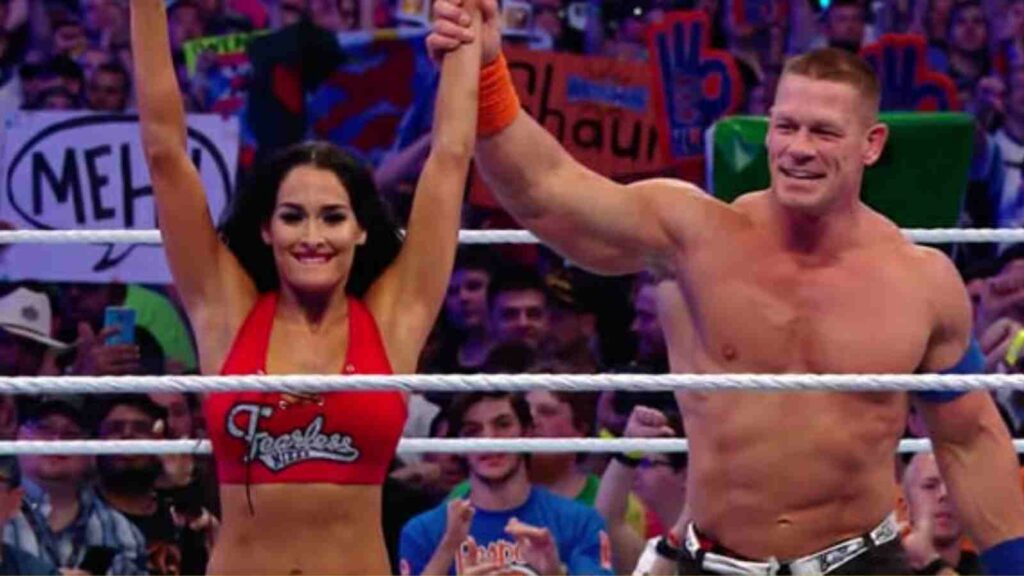 WWE thought using their real-life partnership would be a great idea to implement for their television when they let work both the guys as a mixed Tag-Team on their shows in 2017. The most notable feud for the couple was at Wrestlemania 33 when they fought against The Miz and Maryse in a highly octane mixed Tag-Team match. At the event, John Cena and Nikki Bella defeated their enemies by planting them with their patent finishing manuevers. After the match, John Cena proposed Nikki Bella in front of the 75,000+ fans and to which "she said yes".
ALSO READ : "Number one priority is taking care of your opponents' health" – Randy Orton talks about his legacy and that he misses Daniel Bryan
ALSO READ : "Why am I even here? I don't feel important at all" Jeff Hardy reveals what went through his mind in his last few months at WWE