Roman Reigns is currently having a dream run as he now holds both World Championships and has not been pinned or submitted in more than 1000 days. It appears like the Tribal Chief won't be overthrown anytime soon as he is unstoppable at the moment.
Roman had a lot of rivalries during his time as the WWE Universal Champion and WWE World Heavyweight Champion up until this point, and some of them were excellent and well-presented in the WWE. A few of these rivalries were Edge, Daniel Bryan, Cesaro, Brock Lesnar, and others.
RELATED: "I'm not a 15 year old girl"; Roman Reigns sweeps out any credibility to controversial YouTuber in a brutal verbal decimation
Roman Reigns arch rival Brock Lesnar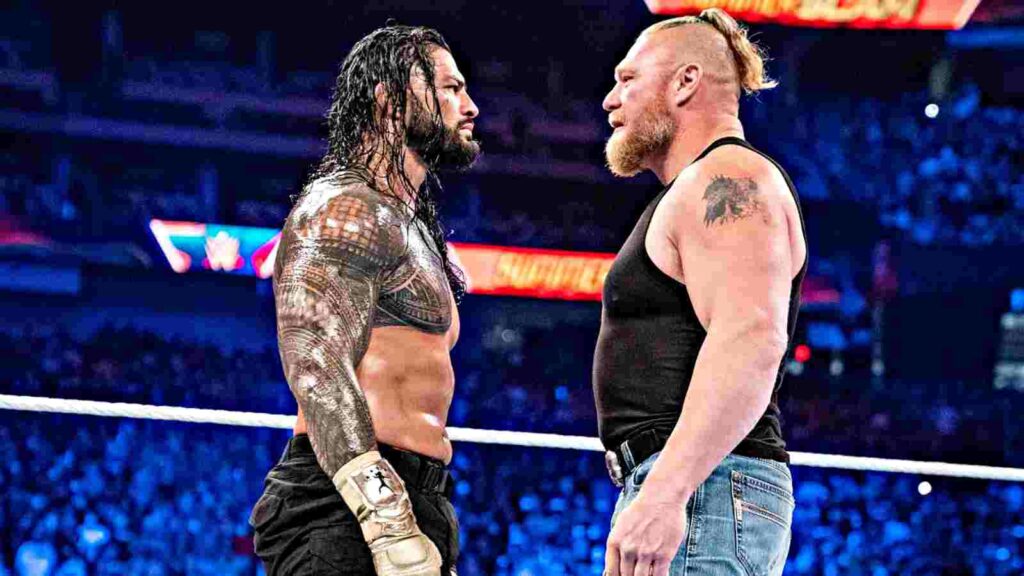 Roman recently discussed his bitter adversary Brock Lensar in a podcast with Logan Paul. Logan questioned Roman about how occasionally it seemed like Brock's work was difficult and that it might even be affecting the other person so much that it would even cause an injury or anything worse.
Roman Shockingly concurs with this opinion and stated that, despite being one of the safest wrestlers of all time, sometimes being in the ring and standing there is too much for anyone. He believes it is too difficult to work with Brock Lesnar because he is too talented.
As this situation is really serious in regards to other wrestlers, Logan continued by inquiring as to whether Brock Lesnar would have done something major and wounded him or something similar. Roman responds that he never considered Brock Lesnar to be an adversary or someone who would harm him.
Although Brock can be quite rigid in the ring, he has a rule that states that no one should ever play with his jaw. If someone does, and it prevents him from eating or doing anything else, then the other person has some serious problems with Roman. However, this has never occurred to Brock Lesnar or in WWE.
ALSO READ: Former NXT Champion was also considered to beat Brock Lesnar at Wrestlemania besides just from Drew McIntyre