Roman Reigns will lock his horns against Logan Paul at the Crown Jewel in November, he will defend the Undisputed Universal Championship against Paul on November 5th at Riyadh Saudi Arabia. Roman Reigns is having one of the finest seasons of his career, having recently reached the 800-day mark as Universal champion and the 1000-day mark without getting pinned. He now holds the record for having completed most days as the Universal Champion. The Tribal Chief recently defended his title against Drew McIntyre at the Clash at the Castle, thereby securing a win in UK in his career.
Roman Reigns and his cousins seem to have a clout in the WWE as all of the members have titles around their waist. The Bloodline will undoubtedly go down as one of the best factions in WWE history, and his work as a heel is one of the best works of his career. Roman Reigns presently has everything he needs, including the assistance he need during matches from his cousins and professional advice from Paul Heyman.
The Tribal Chief recently spoke to Matt Kempke, where he spoke about Heyman is helpful in his career. Reigns stated that it would have been difficult for him if Paul Heyman had not been present. Roman Reigns stated that being a champion is difficult for him, thus he appreciates having Paul at his side.
"Its stressful man, its stressful being really good at what you do sometimes. You wanna know how we do it? We coat (ride) together, me and the Wiseman. This burden that we bare, sometimes I feel if we didn't have each other it'd be rough out there."
Paul Heyman, in a recent interview was all praise for Roman Reigns. Paul said that he often tells Roman Reigns that he is the greatest of all time and the greatest performer in WWE history.
RELATED: Bayley doesn't approve the audience to singing their song for her, says its "DISTRACTING"
Roman Reigns speaks about Tyson Fury knocking out Austin Theory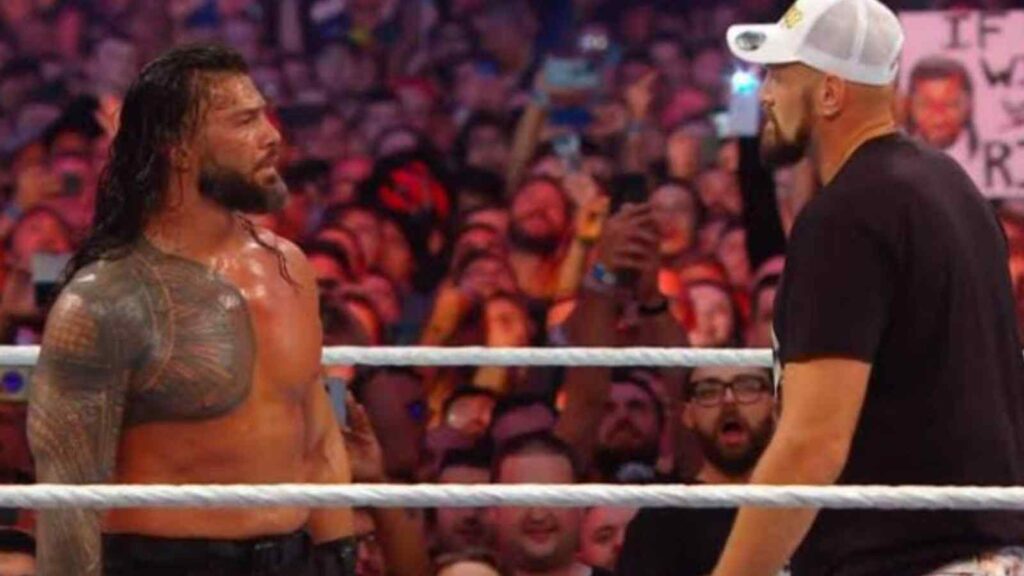 During a recent interview with Radio Rahim after the Clash at the Castle press conference, Roman Reigns was asked about Tyson's Fury's involvement in his match at the Clash at the Castle. Reigns said that Tyson Fury did a great job in knocking out Austin Theory. Reigns thinks that Tyson being involved so much in the match saw Theory's interference as a sort of distraction and so Tyson was annoyed and decided to knock Theory out.
ALSO READ: "Every time I step in the ring"- Bianca Belair reveals some MAJOR expectations of Triple H from her